EpiServer 7.1 was released yesterday and with it come some new features for those in the marketing world including new multivariate testing, additional personalization and more. With previous EpiServer releases, you would have to download the latest edition and follow an upgrade process. With this release, however, you can upgrade directly with a few clicks through the Add-on Store (introduced in EpiServer 7). The benefits of this type of upgrade capability are obvious; no more dependency handling requirements and more peace of mind knowing you can quickly and easily get up to date with the latest feature sets.
Also new in this release:
Multivariate Testing
The new multivariate test feature is intelligent.  It learns over time what content works best for your visitor segments and displays that more often. This allows marketers to optimize the customer experience with less effort. You will notice that you work with test and optimization following the same pattern as for content – using drag and drop.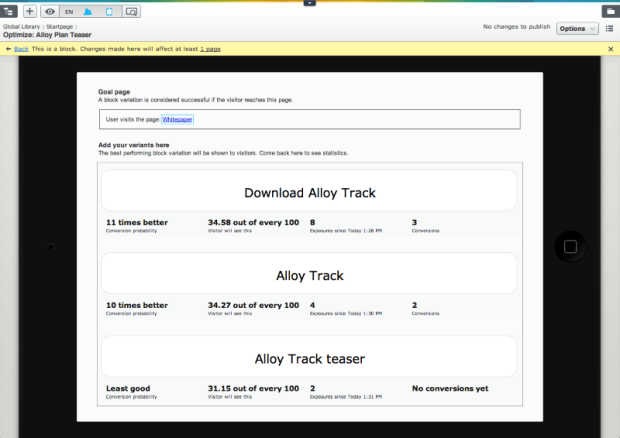 Personalization of Blocks
In EPiServer 7.1 CMS personalization goes one step further making it possible to create blocks in one place that later can use information about the visitor and target the message accordingly.  This information, or user context, can for example be the location of the user, what type of content he or she has interacted with on your site earlier or what device that's being used. Since blocks can be re-used across channels this becomes really powerful. Another example is to run a multivariate test only for a specific visitor segment.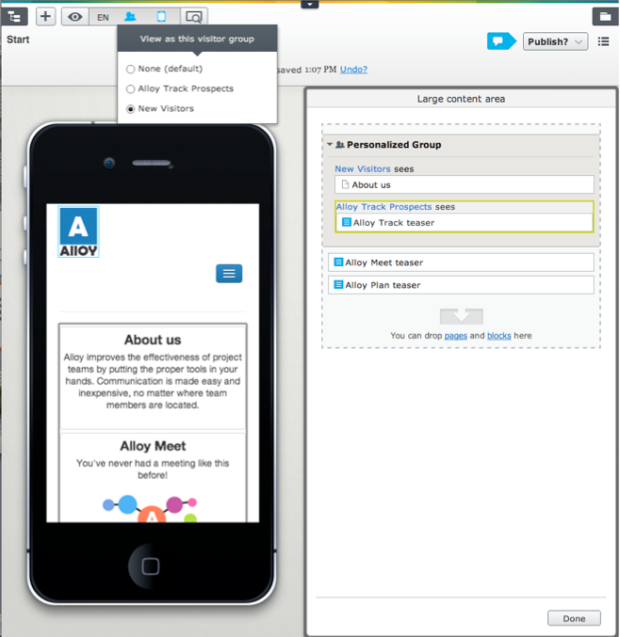 Workflows and languages
Standard workflows have also made a comeback in this release. You can now use all workflows from within the UI. Active workflows are highlighted making it easy to find what's assigned to you and take action on it. Language handling has also been improved. You can now toggle between different languages using the View Settings button and all content, including blocks, can be in different languages.
Additional improvements include a faster and more responsive UI and a settings header available on all content giving you quick access to the most important properties. Just scroll up when inside edit mode to see it.
Social Reach
A new version of EPiServer Social Reach is also available through the add-on store. Social Reach drives traffic from social media to owned media and connects the content creation process with social media communication.  The add-on allows for social messages to be created, delivered and tracked within a single interface. New features include scheduling, the possibility to re-send failed messages, and on page access to social engagement. By removing many small steps such as publishing content in social networks, creating shortened URLs, and adding analytic tracking tags, marketers become more agile in increasing traffic to their sites.
Looking to learn more? Visit EpiServer online at http://episerver.com