Ingeniux certainly has been racking up a lot of accolades lately. It was named to the EContent 100, a KMWorld Trendsetting Product, a High Performer G2 Crowd, and to the Inc. 5000 as one of the fastest growing companies in the world. One of the reasons for the recent success of Ingeniux is its focus on innovation around core content management features that help brands manage their digital experiences.
After looking at the some of the core features of Ingeniux, its standing as a SaaS solution, and its positioning as an ASP.NET CMS, it's time to wrap up this featured week with a focus on the platform's digital asset management capabilities.
The Significance of Digital Asset Management
A CMS acts as the orchestrator for managing and deploying content and digital assets. That includes images, videos, audio files, and more.
Without a solid DAM system in place, brands can struggle to upload assets, organise them, find them, and deploy them whenever necessary.
Many brands rely on third party Digital Asset Management systems to do the job, but in today's market, Content Management Systems like Ingeniux are attempting to close the functionality gap.
The Ingeniux Approach to Digital Asset Management
Ingeniux CMS users can upload multiple images, documents, media files, templates, and other assets using the Ingeniux Digital Asset Manager. Its part of the CMS platform and is designed to provide the same level of management and control that web pages and components have in the system.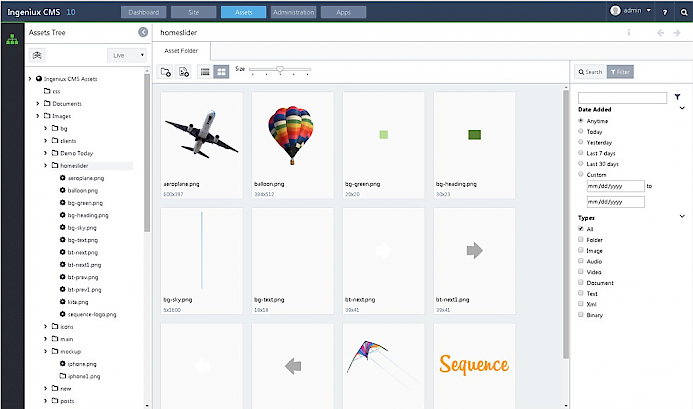 Assets can be edited with full meta data and usage rights, supporting group-level security and collaboration. The Asset Manager also supports true federation; including integration of Microsoft SharePoint lists for document management, media servers and CDN's for rich media storage, and file level storage in NAS and SAN systems.
Speaking of meta data, Ingeniux supports taxonomy categorization for assets, automatically extracts "machine meta data" from files, and wraps assets with an XML content type with full meta data support.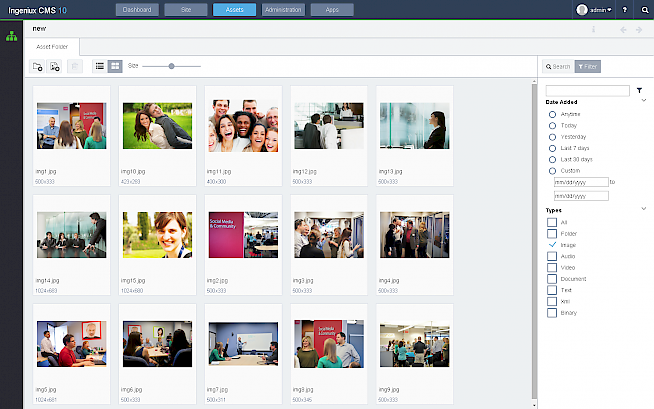 The Ingeniux asset manager empowers developers to take control over their code with in-CMS code editing for CSS, ASP.NET, and other languages, code deployment, and code versioning. Ingeniux understand that developers do not want to do all of their development and code management in the CMS, but it's very handy for quick edits and updates to templates. The CMS also works with Git and other systems.
Furthermore, Ingeniux has recently introduced feature to help teams collaborate better when it comes to digital assets. Such new collaboration features include connectors to cloud-based systems and applications for asset storage and import, along with easy staging for reviews and approvals.
"The Same Capabilities as a Standalone DAM Tool"
Dave Hillis, the VP of Business Development over at Ingeniux, has also chimed in on the importance of DAM within Ingeniux:
"Assets have never been more important. Ingeniux believes in the shift from web content management to digital experience management. Content is now multi- or omni-channel and needs to be deployed in many locations.

The rise of Content Marketing has placed more value on asset management within CMS solutions because assets are often deployed standalone, and more focus is on asset development.

Our aim was always to make Assets first class content citizens, meaning that an asset in Ingeniux has the same capabilities as text-based content, including; versioning, workflow, direct publishing, and more.

All in all, we wanted to provide a connected DAM solution that provided the same capabilities as a standalone DAM tool, but with better integration and content publishing capabilities."
To find out more about Ingeniux, visit their website.
Furthermore, you can explore more of Ingeniux via our CMS Directory.