After the success of day one, day two of the eZ conference kicked off with an interactive presentation hosted by Yann Gourvennec, the CEO of Visionary Marketing.
Throughout his talk, he asked the crowd a series of questions directed at the IT and marketing teams within most modern organizations.
The audience got to cast their votes for each question via a website accessible by short URL or QR code, with separate URLs being provided for Team IT and Team Marketing in order to compare the answers coming out from the two camps. The answers were presented as they came in via pie chart on the big screen.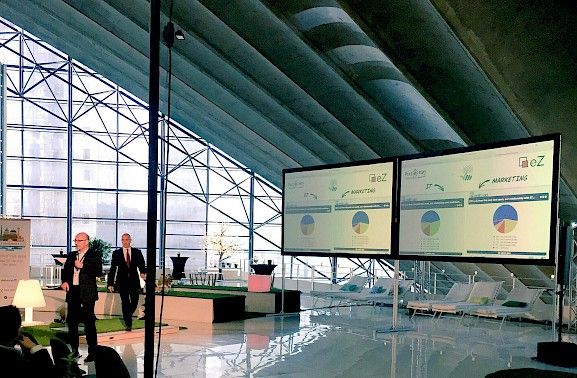 It was certainly different, and it was cool to see what the audience was thinking in real time – even if there were far more IT guys than there were marketers!
Content & Commerce
Later on in the day, Roland Benedetti, the Chief Product & Marketing Officer at eZ Systems, opened up the discussion of eZ Systems bringing together content and commerce.
He stressed that eZ was all about content – and although it has been used as a framework in order to build stellar online selling solutions for big brands – eZ didn't want to focus too much on churning out eCommerce features.
It simply isn't their field, and they're showing intelligence by sticking to their strengths.
"@eZSystems' focus is:

• Content management
• Content personalisation
• Content delivery"

– @RolandBenedetti #ezConf2016

— CMS Critic (@cmscritic) October 6, 2016
During the breaks, I was back to my finger foods and games. Yesterday it was Candy Crush, but today, I got to play Super Mario Bros between sessions. A proper classic.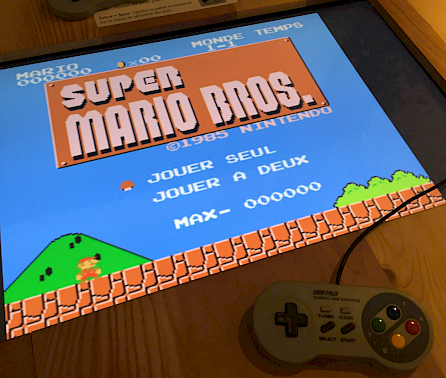 As the event went on, I also got to learn a little more about the evolution that eZ Systems has undergone over recent years. They've moved on from being that software company that only has content publishers for clients. Instead, they have branched out into various verticals, and now boast clients like BMW and the European Space Agency.
So, it's still all about content, but that doesn't mean it's all about content publishers.
I managed to grab eZ's Roland Benedetti for a chat on this subject after he delivered his presentation. I'll be sharing the full interview with you guys at a later stage.
A Belter from Paul Boag: Defining Digital
To bring the two-day event to an close, Paul Boag of BoagWorld – a renowned public speaker and consultant – delivered the closing keynote. He was enthusiastic about digital transformation, and he addressed some of the more real problems surrounding the struggle that most traditional businesses face when it comes to embracing digital.
He spoke about how going digital involved far more than just embracing technology, and then asked us if we could actually define 'Digital' if we really had to. Nobody gave him a solid response.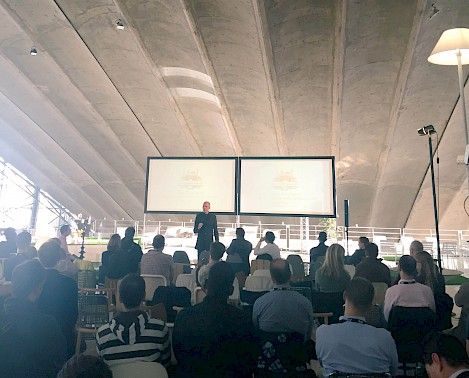 'If it [Digital Transformation] was just about the technology, we would all be sorted by now. But it's not about the technology, it's about the impact of the technology.' – Paul Boag
He said some pretty profound things, and he left us thinking about digital transformation in a very different way. It wasn't a talk designed to wind the crowd down, it was a talk designed to intrigue us – and it did.
It was a great end to a brilliant event. An event which I thoroughly enjoyed.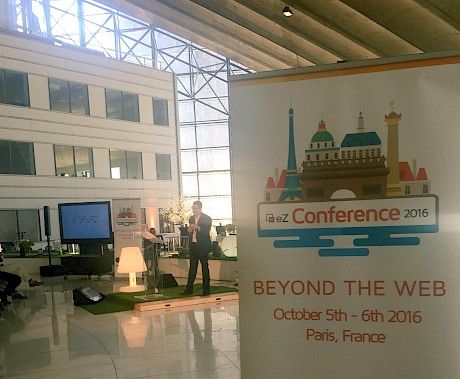 The atmosphere was friendly, the venue was amazing, and I felt entertained throughout. A big thank you – and a big congratulations – goes out to the eZ Systems team. I don't envy you in your quest to top this event next year!
To catch up on everything as it happened, be sure to check out the #eZConf2016 Twitter hashtag for our live tweets. As usual, we rocked the official hashtag with videos, images, quotes, and polls.