There is a huge variety of Content Management Systems (CMS) available in the market – all of which seem to have similar offerings that include an assortment of useful and effective features to enable content and asset management. With such similarities between systems, how does one go about choosing the right system? How is it possible to differentiate the robust and reliable solutions from the underperforming ones?
Well, it isn't easy – but of course there are some CMS's that manage to stand out in the market. There happens to be one open-source platform that that takes these features and implements them in a way that enables easy and efficient content, asset, and document management – that is Pimcore.
Pimcore's has several key qualities worth calling out so let's get started.
100% FLEXIBLE, 100% EDITABLE
Pimcore provides everything you need to create and manage exceptional digital experiences. Whether it's a marketing-focused landing page, multi-site web presences for international enterprises, or a web-based mobile app, Pimcore has the power to transform any design to a 100% editable content within minutes. With complete creative freedom, flexibility, and agility, Pimcore is an absolute pleasure for designers, developers and editors.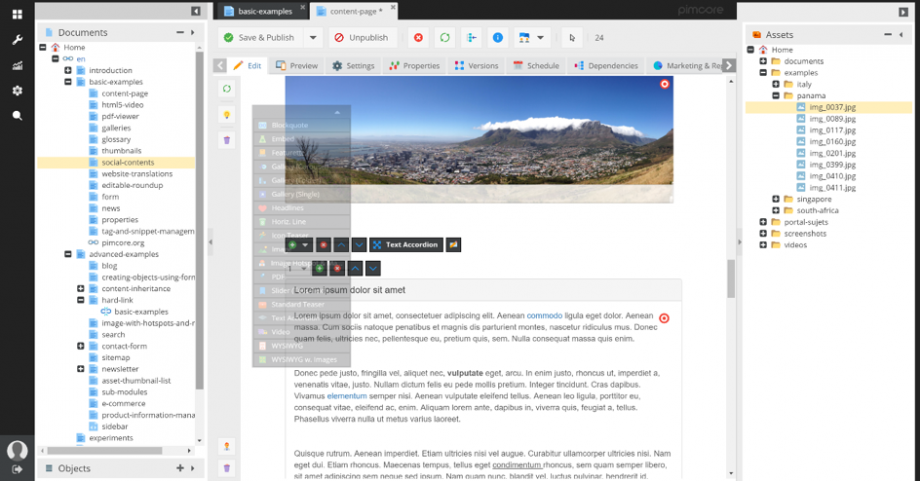 HIGHLY PERSONALIZED DIGITAL EXPERIENCE
Pimcore seriously shines when it comes to web content personalization which is a key ingredient if you want to provide an exceptional user experience. You can get more leads and conversions by presenting each customer with content that best matches their interests. Pimcore is able to do this flawlessly with their behavioral targeting engine that delivers content to the right audience by defining segmentation rules and resulting content actions.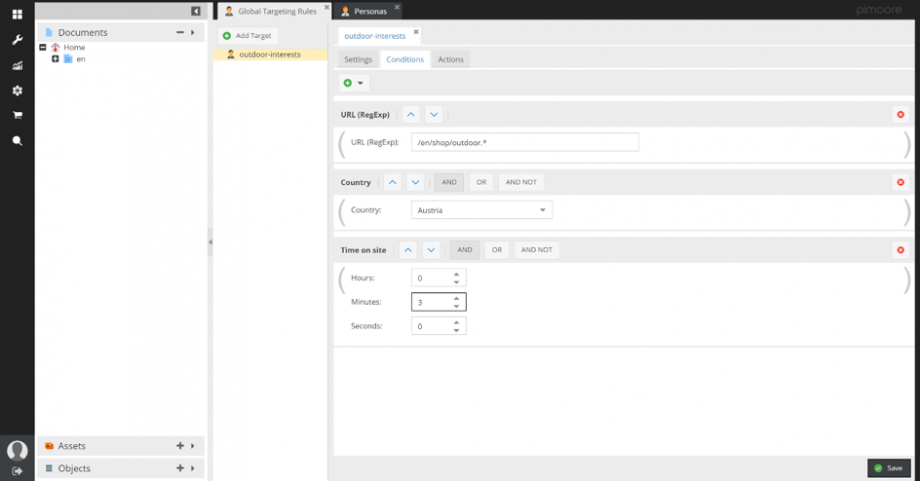 MULTI-CHANNEL & SINGLE SOURCE
From a single-source data repository, users can deliver content to any output channel: Desktop, Mobile, Print, POS & CAAS. With this functionality, users can deliver all messages simultaneously by utilizing Pimcore's single-source publishing methodologies. Website editors will love that they can edit in just one place and reuse it in all communication channels.
MULTI-LINGUAL & MULTI-SITE
Pimcore's multi-lingual content management capability allows editors to create new content in any language and work in their native language to ensure consistent content in country and language-specific output channels. This is an amazing quality for organizations that are becoming increasingly international in terms of their staff and client base.
WEB-TO-PRINT
The Pimcore web-to-print framework provides the tools and functionalities to revolutionize traditional print processes. Web-to-print based on Pimcore stands for pure flexibility, a tremendously reduced time-to-market and still the highest amount of creativity. Instead of manually configuring a product catalog, you can use Pimcore to aggregate all product data and consolidate it into a comprehensive overview of the entire product base.
So, if you're looking for a content management system that is not only strong and reliable; but also, provide advanced features and scale as your company grows, then we highly advise you to check out Pimcore.