Selecting a Joomla template is always a worthwhile job, especially when there are so many free and premium templates available for download. Due to the abundance of ready-made designs, sometimes it's difficult to decide which option will meet your requirements perfectly – a free or a premium theme.
To help you understand the difference and pick the best solution for your next online project, we have decided to write this post where premium and free Joomla themes will be compared.
We will define the key benefits and drawbacks of each solution and provide several cool examples of free & premium Joomla themes.
Premium Joomla Templates
There is an ongoing debate as to which type of template one should choose for one's future website. While some prefer free Joomla templates because of their zero cost, many others are ready to pay for premium designs that offer a wider selection of features and tasty bonuses.
We will talk about free Joomla themes a little bit later in this post. First, let's highlight the key pros and cons of premium designs.
Pros of Premium Joomla Templates
Advanced features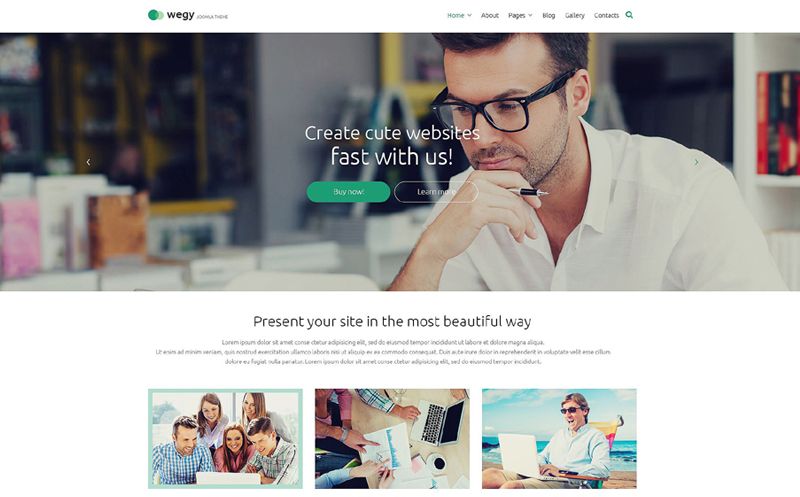 Compared to freemium solutions, premium Joomla themes come loaded with advanced functionality that makes it easier to manage the chosen theme on your own without investing too much time and effort.
The competition is very tough in today's market, so, in order to be in demand among web users, developers try hard to load their templates with advanced functionality that will make them stand out from competing themes.
Here, to attract your attention and create a desire to test how the following theme works, TemplateMonster released Wegy, a revolutionary Joomla template that features every element you might need in order to build a business, education, electronics, software, science, industrial or a personal web site. We enumerated such a comprehensive list of industries that vary from one another for a reason.
This multipurpose Joomla template comes with an easy-to-use admin panel, advanced theme options and multiple Joomla Modules that make it easier to manage the theme in so many ways.
Updates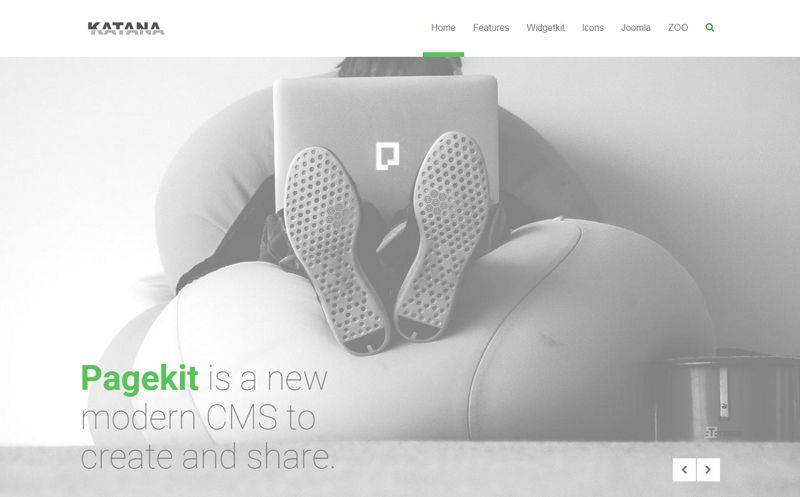 Joomla is a constantly updating technology, so the theme and plugins incorporated into your website should meet the latest web standards. When you decide to build your website with a premium theme, make sure that your theme provider will send you updates when they are available. It's the responsibility of developers to deliver updated and compatible versions of their products to you on time.
Buying Katana for your web project, you will be able to select among three membership plans. Depending on your needs and purposes, you can opt for a Basic, Standard or Developer license, all of which provide technical support and regular updates as well as monthly theme releases.
Support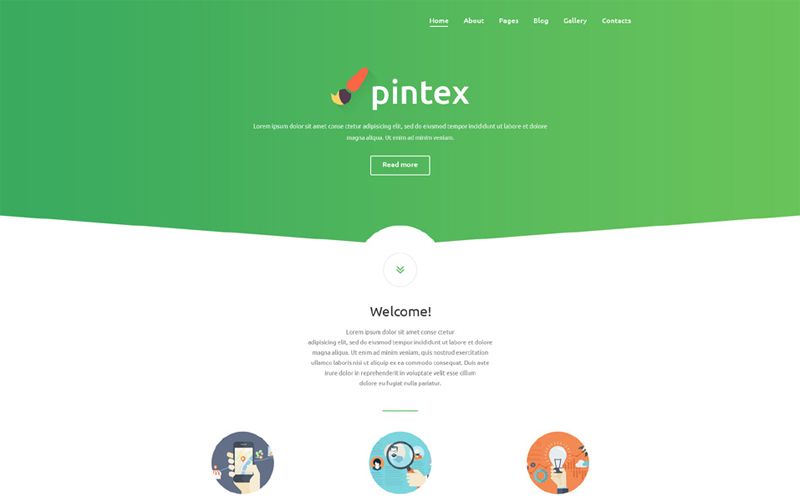 Together with releasing updates, developers of premium Joomla templates provide free support to make it easier for a client to install and manage the product he or she acquired.
If you consider buying a premium Joomla template from TemplateMonster like Pintex, for instance, you may feel confident that together with its advanced functionality and 9 functional pages (a feature that is new to premium themes from this provider) you will get free 24/7 support provided by a team of skilled professionals.
Designed to be fully responsive and cross browser compatible, the template provides a wide selection of features to make it functional from the inside and visually pleasing.
Save your time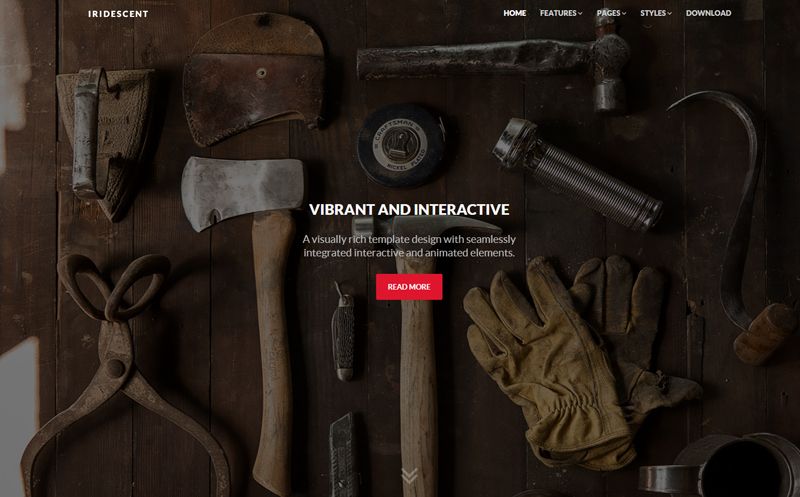 By purchasing a template, you don't need to spend time creating a design that will make your business stand out; nor would you have to sweat over coding. A team of designers and programmers will get the job done for you.
By downloading a website template you get a ready-made solution for building or updating your online resource. Just install, customize, add your content, and apply any other adjustment you might need to create a unique website that is yours.
Featuring a tile-based layout that is so trendy today, Iridescent looks balanced and appealing. Its full-width header slider, Mega Menu and images with hover effect will add a truly elegant and stylish look to your site. Valid code and advanced functionality will make it much easier to create a desired design.
Responsive design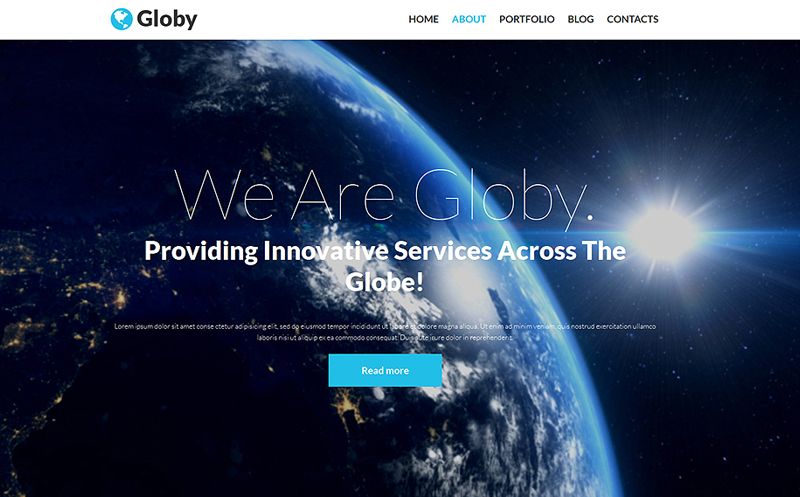 Considering the most recent Google mobile-friendly update, there is a growing trend to make your website adaptive to any screen size and resolution. In order to relieve you from the necessity of creating a separate mobile version of your website or struggle with programming a responsive framework for your website on your own, responsive Joomla themes are released. Many of them are available for public download.
Globy is a 100% responsive premium Joomla template that will help your website run smoothly on any device. It features a one-page design with Parallax scrolling and lazy loading effects, which will not only add more interactivity to your site, but also enhance page loading.
Cons of Premium Joomla Templates
With so many advantages it seems premium Joomla themes should have no drawbacks. However, that is not exactly accurate. Read further to see the key cons of premium Joomla templates.
Cost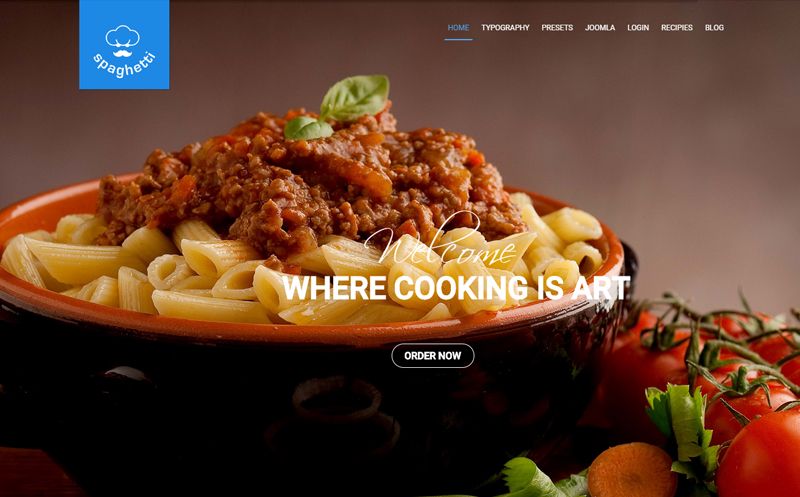 While premium Joomla templates boast rich functionality, not every startup or beginning web developer can afford them. High price is one of the key reasons why web users have to shift to freebies.
Spaghetti, for instance, is a premium-quality theme that runs on the latest Joomla version and has a fully responsive, dynamic and flexible layout. However, its cost is the factor that stops users from downloading the theme to their toolbox.
Unnecessary features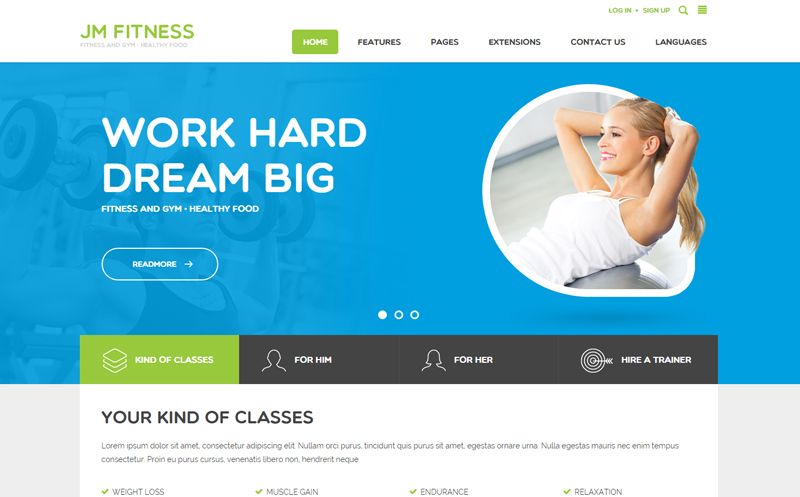 It depends on every user and their end purpose why they decide to download this or that theme. As a rule, premium-quality designs look awesome and come loaded with a vast array of features. However, you may not need them all. You might be using one set or several sub-sets of the total number of features. All the rest will be left untouched.
JM Fitness is a fully-featured, multipurpose solution for creating a sport, healthy lifestyle or food related website. It is powered by a fully responsive framework and includes a number of modules and extensions to make your website look truly awesome. Slider & galleries, CSS3 animation system, various font type options, collapsible module positions, commercial components, and plenty of other features are included in the package.
Free Joomla Templates
Here comes the part where we'll talk about the key pros & cons of free Joomla themes. Once again, it's up to you to decide which option to choose. We will highlight only the main points that make free Joomla themes worthy of your attention, or vice versa.
Pros of Free Joomla Templates
Cost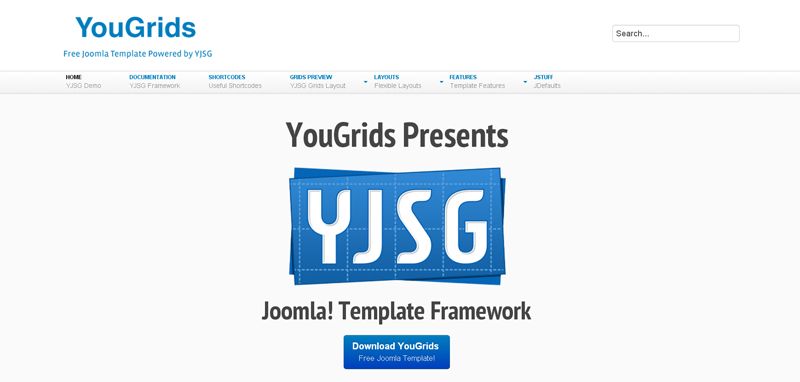 The feature that we mentioned as a drawback of premium designs is actually a benefit of freebies. Free themes won't cost you a penny. Just download and use.
YouGrids is one of many Joomla themes that are available for free download. It is the first Joomla theme ever based on YjSimpleGrid Joomla! Template framework. Compatible with 1.5, 1.6, 1.7 and 2.5 versions of this platform, the template comes loaded with a full set of YJSG features, awesome styles and layout options.
Settings and configurations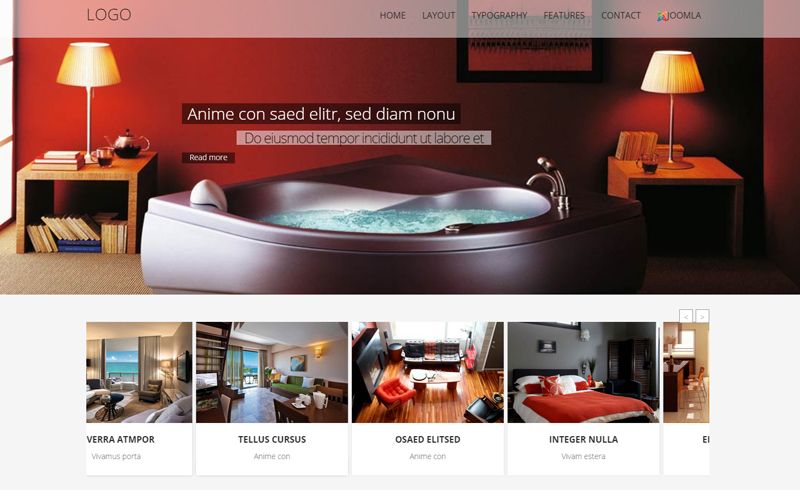 Different theme providers release freemium Joomla themes that vary in the amount of settings and configurations. It's possible to find a design that you can download at no cost and get functionality similar to the one of premium themes. As the proverb says, "all good things come to those who wait", so keep searching and you will find a freebie that meets your needs.
TD Optes is one of those free Joomla templates that boasts a vast array of options and modules that should make it easier to build a competitive web resource at no cost.
Stylish appearance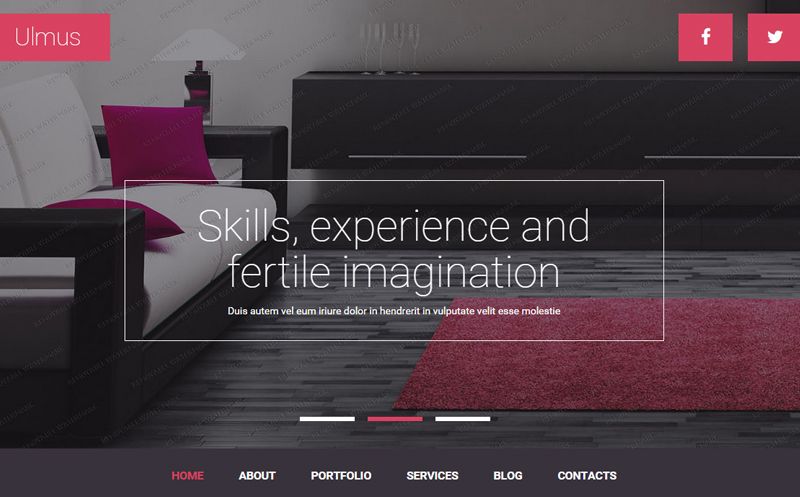 Though most free templates have a rather common design, some of them have quite an outstanding appearance, for instance Ulmus.
This is a free Joomla theme for an interior and furniture website that was designed with the latest web design trends in mind. For instance, it features a full-width layout with a grid-based structure, ghost elements, parallax scrolling and lazy load effects, large and vivid social sharing options, etc. It is built in a clean and minimalist style, which makes it easier to navigate through its pages.
Access to forums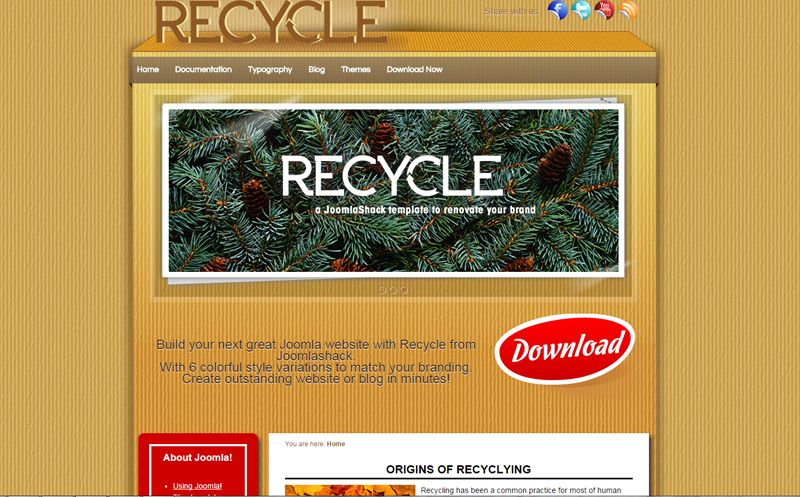 It's more the exception than the rule, but some template developers provide access to community forums to help you with the setup and modification of the chosen theme.
This is the case with Recycle, a free Joomla theme that comes with access to a Community Forum where every client can find answers to questions about installation and customization of Joomla themes.
Cons of Free Joomla Templates
No support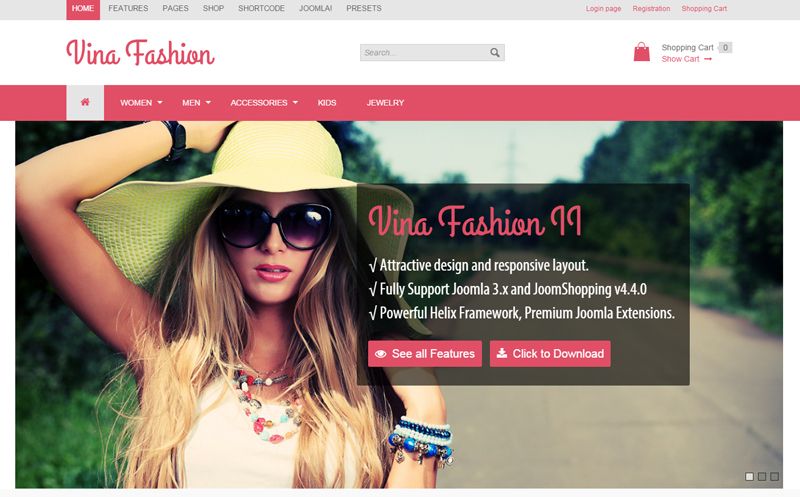 Unlike premium templates, freemium templates don't come with any warranty or support. All you get is a pack with detailed documentation on installation and modification of your Joomla theme.
So, when downloading Vina Fashion II don't expect it to come with top-notch personalized support.
Common design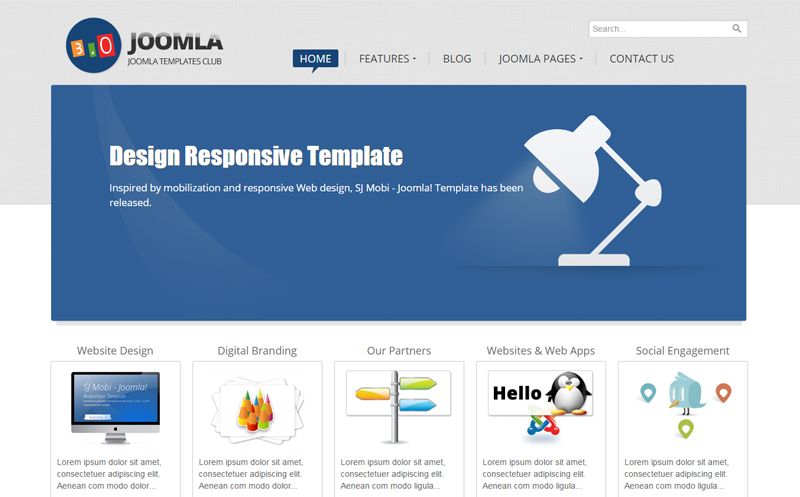 Most free themes have a rather common design. So, if you are looking for a solution that will help you create a unique website or a blog, then a free theme isn't what you need if you wish to leave your competitors behind.
SJ Joomla3 is one of those common free Joomla designs that we often come across on the web. However, if your goal is building an online resource with the main emphasis on content rather than web design elements, then this could be the right option for you.
Limited functionality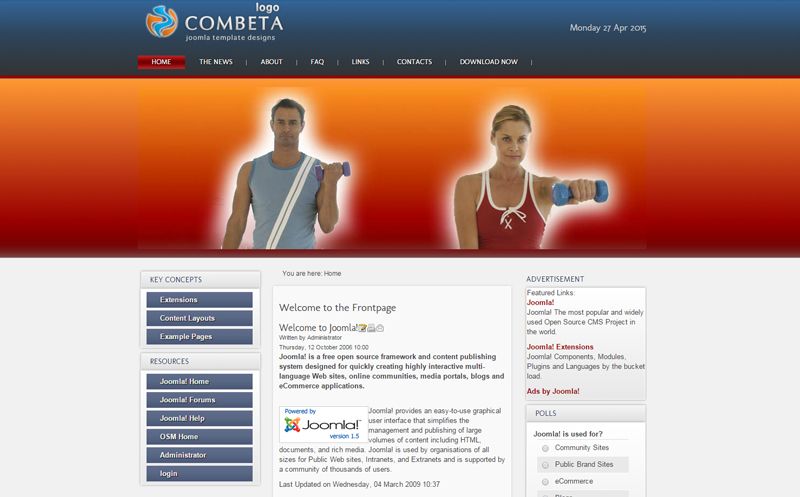 Lastly, there are a few theme providers who release freebies with extended functionality. If you want more features, you will need to pay extra cash in order to add more functional elements to your work.
Td Combeta features a Flash header, Google fonts, Dropdown menu, manageable layouts, and basically that's all.
Which option will you choose for your website or a blog? Do freebies attract you more than premium templates? Feel free to let us know your opinion by leaving a comment below this post.