Do you work in the financial sector? Do you assist different companies in managing their finances? Do you provide various banking services online or work on the online loan market? Do you think of having a website that will present you as a highly experienced professional and help you get new clients?
If you have answered "yes" to any of the questions above, then we have two exciting pieces of news for you! The first is that everything you need is already out there in Income – a professional website template that allows you to present financial services easily and smoothly. The second great piece of news is that you actually do not need anybody to help you. Sounds unbelievable, but it is true. Let's check this template out and see what features it has in store for you!
Benefit #1. Income is easy to manage thanks to the unique website creator.
Drag & Drop Website Creator from MotoCMS is the most important advantage of Income. Use this creator to construct your website, add new content sections, and arrange them on the page as it is necessary for you. Even a child can build a website with the ready-made content blocks, right? You are the one who decides what to do and how to do it! Just several clicks and your stunning website is ready! Its user-friendly design allows you to manage it yourself, even if you have no programming skills. With Drag & Drop Website Creator from MotoCMS you can easily get carried away. How so? It is so much fun to play with content blocks, really! So stay focused while building the website of your dreams.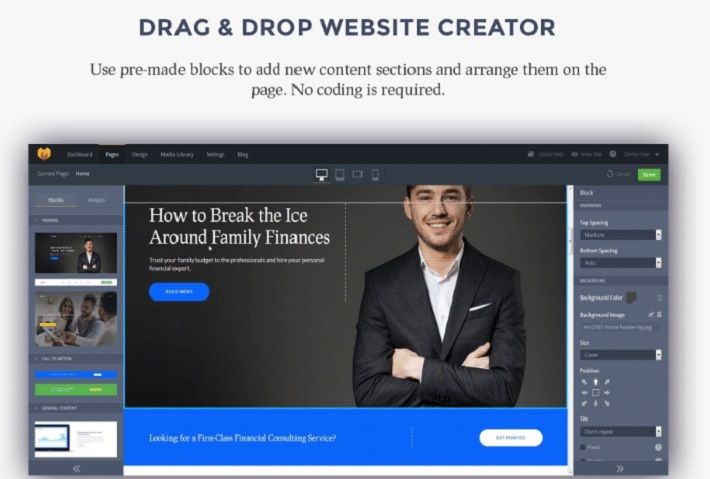 Benefit #2. Income is 100% responsive
Do your customers use mobile phones, tablets, or laptops to browse the web pages? Sure, they do. Do you have to worry about the way your website looks on all these devices? Not really, if you choose Income. This template offers 100% responsive design so you can be sure that your website can be accessed from any device. And, what is also not less important, it looks professional, adjusting to any smartphone or tablet.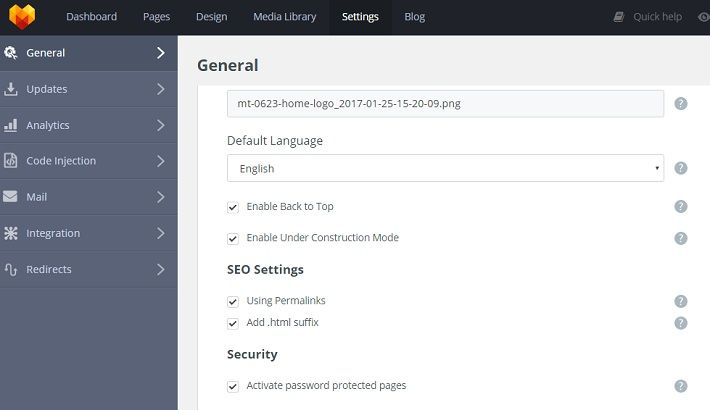 Benefit #3. Income contains pages ready to hand
There is one more outstanding feature that makes your website creation process much easier. Income financial template provides you with 19 ready-to-use pages. It means you do not have to think of your website page design that should fit specifically the financial website. It does not matter what goal you have – offering your services or presenting your team – you can find a wide range of pre-built layouts for any need. Choose the page you like from the options you are given and here you are – a successful professional website for your business is ready!
Moreover, Income has 2 extra home pages! What can be better?! If you provide banking services online, then Banking Home Page is the one that you will definitely appreciate! If you work on the online loan market, Loan Company Home Page is the one that will represent your company to the whole world. Just choose the one that suits your business!
Benefit #4. Income means getting creative about your design
Is the design of your website important to you and you pay a lot of attention to all the tiny details? Do you like playing with fonts, sizes, and colors? Income financial template has everything necessary. You will be delighted to see such fascinating Google Fonts – the rich collection of text styles integrated into your admin panel. Moreover, such feature as Font Icons will help you create a unique project with icons in different sizes and colors. You may adjust graphic elements without loss of quality and your design will look perfect on any display. And with Color Picker you have an opportunity to work out the appropriate color palette for your website with just five main colors. How great is that?
Benefit #5. With Income, you know how to increase your clientele
Do you want to give some valuable pieces of financial advice to your customers? Or you just need a place to store some useful links for yourself?
Use such wonderful feature of Income as an opportunity to create your own blog. You know that a tremendous part of the world population is interested in business, especially in such particular topic as finance. You can post the information that is in high demand among people and customize it easy, using a wide range of widgets that are offered by Income financial template. You are sure to attract your target audience in this case.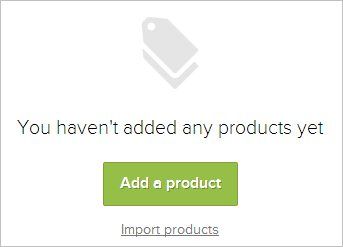 Another reliable way to increase your client base is to intensively use the Subscription Form. This tool can get you new potential customers in a blink of an eye. Just let them enter their email and press the button Subscribe and they will follow you! You can allow them to leave comments and discuss the content you publish.. They may also get emails from you about the changes that occur in the business world in general and in your company in particular. Do not miss the chance to keep in touch with the visitors of your website and an opportunity to increase your target audience!
It is also handy that MotoCMS offers 24/7 Free Tech Support for one year. This is especially important if you want to consult a professional who will provide you with the lightning-fast solution.
As you see, Income is a very promising CMS template for everyone who wants to create a professional website for any financial niche with no third party. In conclusion, don't forget that you can test this website template from MotoCMS free of charge within a free trial period and discover its potential in practice.