At CMS Critic, we're always working hard to bring you the best content management systems so you can make educated choices for your next project.
Our CMS directory is growing all the time, our CMS reviews are plentiful, and there's always CMS news on our homepage.
But how about something to complement your chosen platform?
20 Free or Inexpensive Tools to Complement Your CMS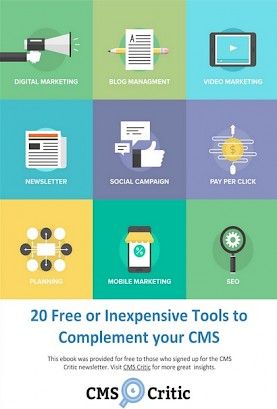 CMS Critic's very first eBook is here, and it's totally free to download over at ebook.www.cmscritic.com.
The eBook covers a range of tools to help with; landing pages, form building, eCommerce, blogging, social media management, and much more. Go ahead and grab it for yourself.
Got comments, feedback, or some more useful tools to share? Get at us in the comments below, or head over to the CMS forum.