Grav is a relatively new open source flat-file CMS. And it looks exciting.
Although Grav 1.0 was released late into 2015, it was voted in as the winner of Best Free CMS in our 2015 CMS Awards, which is commendable in and of itself.

But there's another good reason for my excitement over Grav.
Despite its youth, Grav is the second most starred PHP-based CMS platform on GitHub, and it looks like it's just a matter of time before it's the first.
So what has fuelled this meteoric rise? Let's take a look.
Grav CMS: Free, Flexible & Feature-filled
Grav has an ethos of simplicity.
It runs on PHP 5.5.9 and greater, and requires no configuration during installation; it's just about unzipping it and uploading it to your server.
The flat-file architecture makes Grav a very quick and lightweight platform, while performance and security boosting features like; smart caching, SEO-friendly URLs and configurable user roles, all come bundled.

And yet, Grav's ingrained simplicity doesn't limit it. It runs on modern technology like Twig, Markdown, YAML, Symfony, and one install of Grav can run multiple websites.
At the time of writing, Grav boasts 58 themes are 102 plugins, all of which are free.
Plus, Grav offers up Skeletons, which are pre-packaged foundations for different website types. Each Skeleton comes with a theme and a selection of plugins that are suited to different industries. Think of it as a way of getting a head start on a project.
But to be honest, I'm only sampling a tip of the iceberg here, so I encourage you to find out more about Grav's feature set through their website.
Grav in 2016
The second version of Grav (Grav 1.1) is slated for release some time before July 2016. But there's more on the way this year, too.
Their Admin Plugin for example, which gives users a sleek admin panel to manage their Grav website(s), already exists. But an expansion of the plugin is coming soon.
That expansion is set to include things like; color scheme and logo customization, WYSIWYG editing, media management, enhanced statistics, and even a built-in backup manager.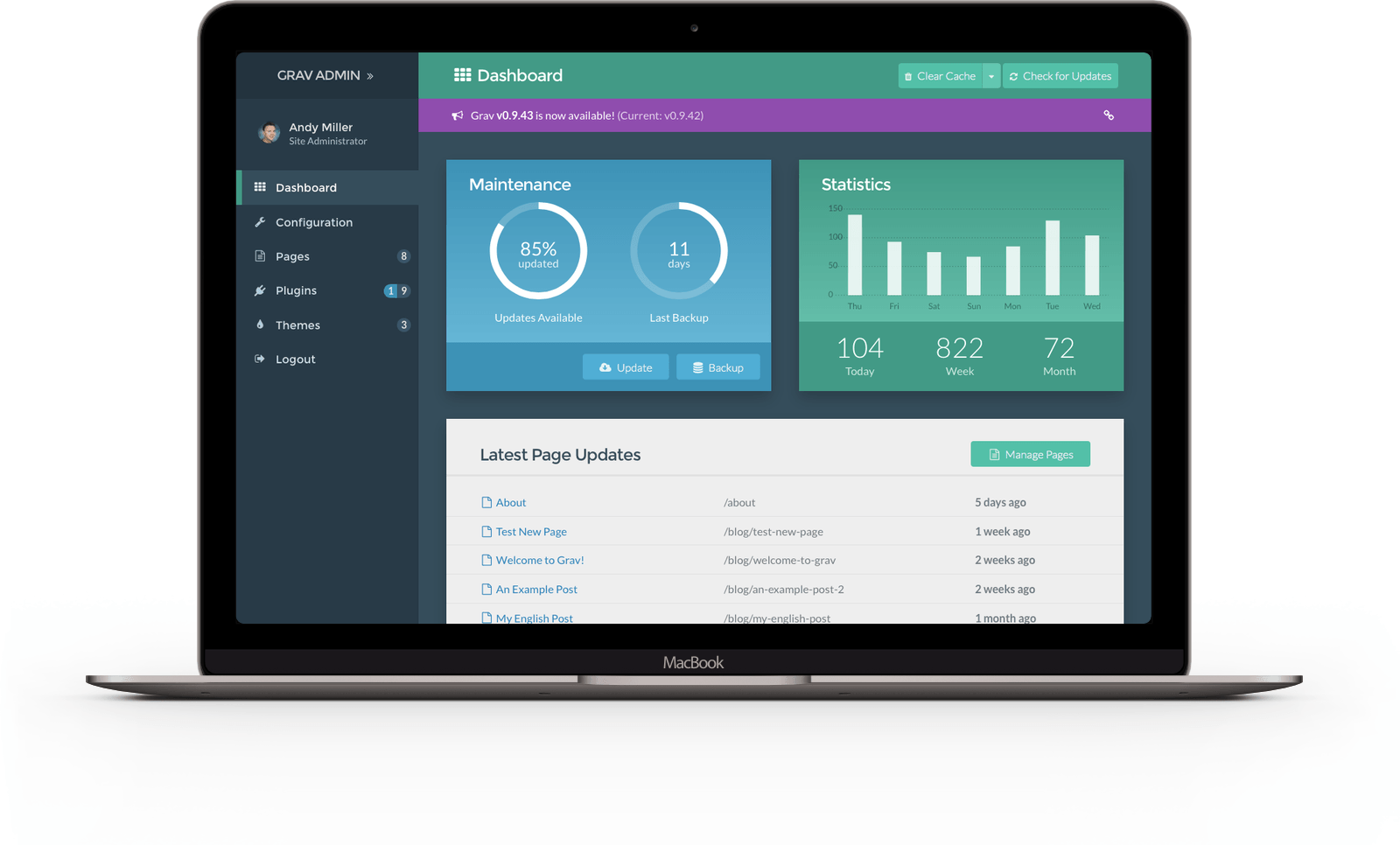 Furthermore, 2016 should also see the introduction of a form building plugin, a Grav marketplace for third-party themes and plugins, and an API.
Those last two in particular are essential to the growth of any open source project, in my opinion.
"Grav is Getting a lot of Converts"
I recently had the chance to speak with Grav's Co-founder Andy Miller, and he was full of enthusiasm about the growing platform.
Here's what he said to me:
"Grav itself has quickly established itself as a go-to open source CMS platform in the past year.

It's getting a lot of converts from WordPress, Drupal and Joomla users who are looking for a faster platform with more flexibility and adaptability compared to traditional content management systems."
Andy Miller is also the CEO of RocketTheme, and it's no coincidence that the Gantry 5 Theme Framework, which is the brainchild of RocketTheme, is on its way to Grav. That'll be piquing the interest of a few theme developers, I'm sure.
All in all, there seems to be lots of bubbling pots and pans over at the Grav headquarters, and I know that I'll be keeping tabs on it throughout the rest of 2016 and beyond.
To find out more about Grav, and to download it, check out their website.
And as always, you can check out the Grav Hub on our CMS Directory.