Ghost isn't exactly brand new anymore, but it's definitely still an exciting project.
The free and cloud-hosted blogging platform is attracting bloggers from far and wide with its snazzy interface and welcoming attitude. The platform was even crowned as the 2014 Critics' Choice Award Winner for Most Promising CMS.
However, as feature-rich as Ghost is, there's always been something quite fundamental missing from its otherwise awesome content editor. A spull chack. I mean spell check.
General Tweaks & Built-in Spell Check
Ghost have introduced mobile image uploads, more responsive scrolling and a fix to stop the cursor getting lost when navigating with keyboard arrows.
Oh, and Ghost's built-in spell check function now finally works.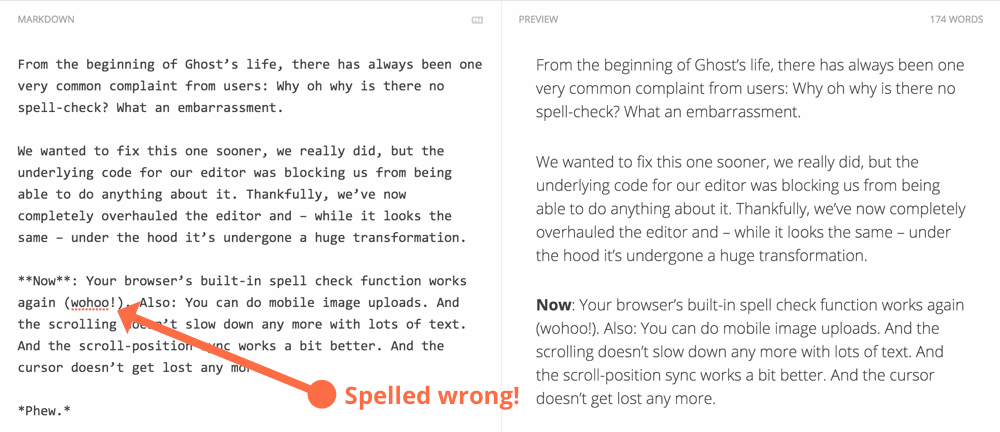 This update seems subtle, but Ghost insist that it took a massive under-the-hood overhaul to achieve. In the end though, the general Ghost use-base won't notice much of a difference.
Ghost's founder John O'Nolan summed it up by  saying, "[It's] basically the same editor that you're used to writing with, it just sucks a lot less."
Find out more about Ghost's slyly improved eidtor.
Lifting The Lid on Two Years of Spending
April 29th 2013 was when Ghost went live on Kickstarter, eventually raking in $300,000 worth of funding.
In line with Ghost's extremely open and friendly attitude towards all that use and consider it, the team behind the platform have decided to expose their entire two year's worth of spending — in detail.
You can see where all the pennies went right here.
Otherwise, be sure to explore more of Ghost via our CMS Directory.