Most of your sales team will never like your CRM. Fact. Regardless of how shiny or new it is, your CRM will still create extra work for your team that doesn't involve selling, and that's a massive faux pas when it comes to keeping a sales person happy.
I should know, I used to be one of them.

There's nothing worse than finding yourself smothered under a ton of admin work on a Friday afternoon when you're 2 sales away from hitting your target, and when your CRM process is standing between you and your $1k commission for the month – it doesn't exactly instil feelings of goodwill.
However, since I've 'switched sides', I've seen just how important it is to have a quality CRM in place that's both implemented and used correctly. When you duck out of sales for a while, you start to look at the long-term objectives of your business rather than your immediate goal of 'hitting this week's target'.
Having experienced using a CRM system from both angles, I'm always on the look-out for a new tool that will cut down on admin for sales teams whilst also providing marketing teams with the customer information they need to do their jobs efficiently and effectively. After all, part of the marketing team's job is to generate inbound leads for sales. So it's a win-win when both parties are happy.
My internal CRM 'sat nav' recently brought me to the site for You Don't Need a CRM. The company say that this system is designed for small businesses of up to 200 employees who want a 'more proactive sales approach to turning leads into deals'.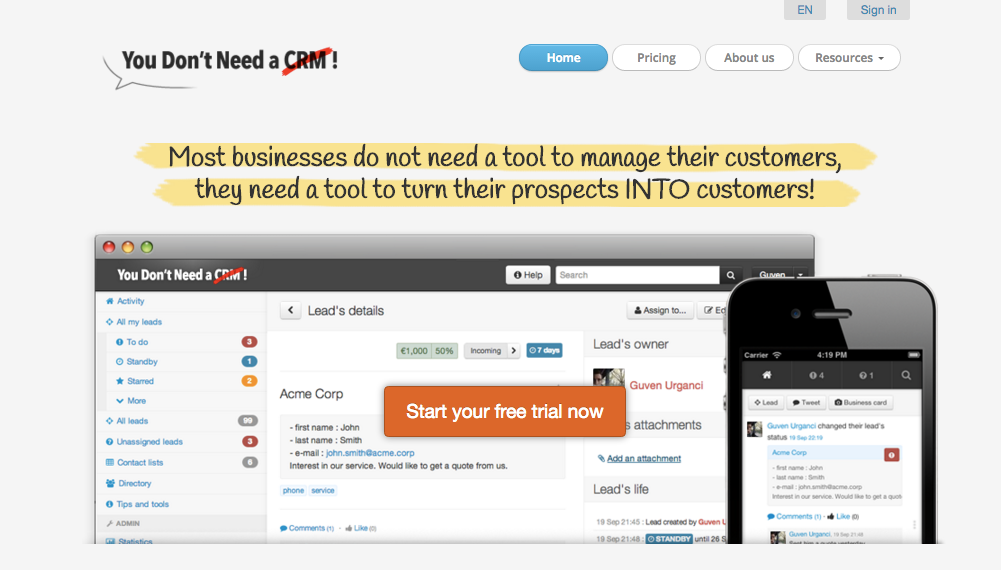 To say I was intrigued is an understatement, so I decided to check it out. Read on for my review of the new 'anti-CRM' to see what this system is all about.
Getting Started
Getting set up with You Don't Need A CRM is a fairly simple process and you have two options if you wish to participate in the free 15-day trial.
To sign up, users can share the site on social media, provide more details via email (if you don't use social media), or enter credit card details for billing for after the 15-day period. I liked seeing this focus on lead generation from the get-go, as it showed that these guys don't just talk the talk.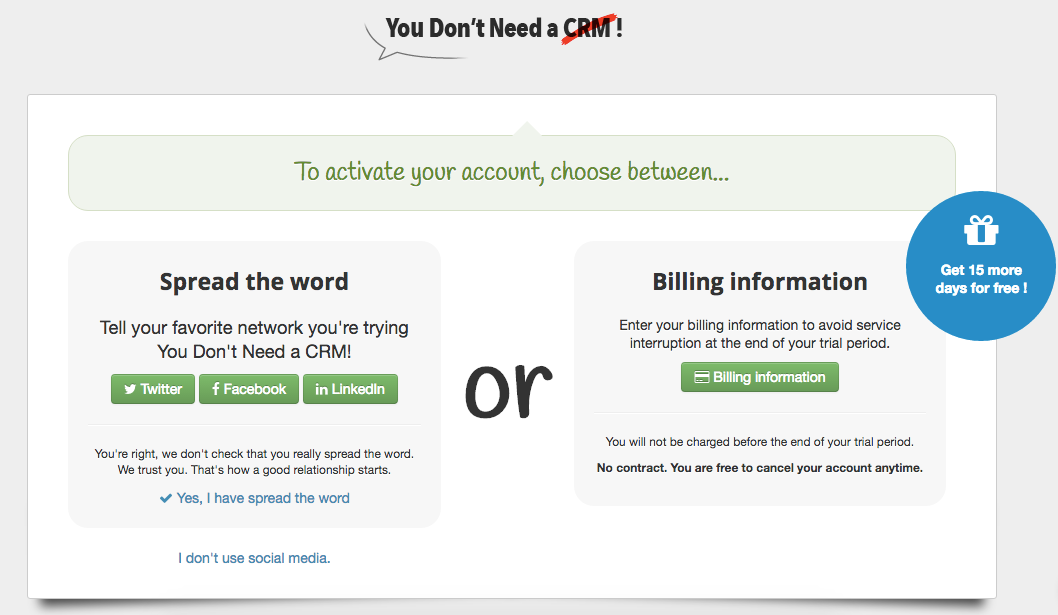 When you log-in, you'll be greeted with an activity page that's all about leads – no CRM extras included. There are regular webinars available if you need a hand with anything and the online tour is really useful also.
Managing Your Leads
To create a new lead, you can insert details manually, add a contact list, or scan in details via a website, business card, or email.
To test it out, I added details for a very important prospective customer.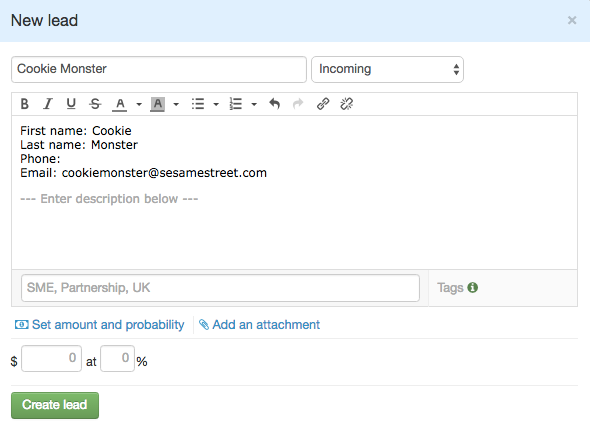 The default lead stages are 'Incoming', 'In-touch', and 'Closing', and lead details are inserted in a textbox that's extremely easy to use. It's a far cry from having to fill in 20+ contact details in a standard CRM, that's for sure. You can also tag your leads for sorting purposes which is pretty handy.
The 'upload via business card' feature is great and will especially appeal to sales reps who are out on the road. Users can simply send a scan of the business card to the supplied email and it will be added as a new lead.
To upload via excel or CSV, simply go to 'Prospecting File' on the dashboard, click on the '+' sign, and you'll be presented with this page where you can add a title, description, and tags for your new prospects list.

The To-Do List
You Don't Need A CRM have streamlined the whole sales management process into a basic 'To-do list'. Each lead goes into the 'To-do' list automatically and remains there until you add a reminder for your next action; once you've added a reminder, it moves into 'Standby'.
From here, it can be moved into the next stages and there are default buckets that allow you to organize everything easily.
For example, the 'Alive' bucket includes all leads listed under 'Standby' and 'To-do'.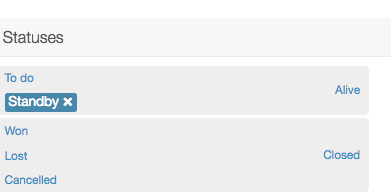 Email Management
As I mentioned above, you can upload leads via email by scanning a business card; but it's also possible to use email to keep track of conversations with those leads.
When you sign up, you'll be given two custom email address – one for lead creation and one for lead tracking. To track your conversations via email, simply bcc the custom email address that's provided.
Reporting Functionality
This isn't great. Whilst the basic nature of everything else on this system seems to be a plus, the lack of in-depth reporting functionality will be a stumbling block for most businesses.
There are 3 main reports; 'History', 'Won', and 'Future' – and that's it. There's no other customization available and you can't create your own reports. Whilst this may not be an issue for very small businesses, most companies will be used to a far more extensive reporting function.
Pricing
Pricing is really affordable at $19 per month for 1 user and an extra $7 per month for every other user. It's definitely a solid option for the small business owner.
So, Do You Need A CRM?
In short, yes. Even if you don't need an extensive CRM right now, you will need one eventually. However, You Don't Need A CRM is a great stepping stone before moving on to a larger CRM, and it will appeal to small businesses with an immediate focus on lead generation and management.
This is a 'love it or hate it' kind of tool that will really suit the business owner who craves a little more simplicity in their CRM. It definitely won't be a good fit for anyone looking for an extensive reporting tool, though.
In the long-term, I can see You Don't Need A CRM taking off as a lead management tool to use alongside a more full-featured CRM. It would definitely compliment any of the top dog CRM systems really well.
Have you tried out You Don't Need A CRM? Leave a comment below to let us know what you think!