HostGator is one of the largest web hosting providers in the world and offers some of the lowest monthly fees out there but does the adage "You get what you pay for" apply here? Read on to find out in this HostGator Review.
HostGator has been around for quite some time and is one of the largest shared hosting providers out there. They offer shared hosting, VPS Hosting, Dedicated Hosting and more. Today, we're going to take a look at some of the details behind their shared hosting offerings.
Pricing Structure
Shared hosting prices, at the time of this review, range from a meager $3.96 to $10.96 per month. Here is a quick breakdown of the differences between each of their Shared Hosting plans:
Hatchling
Single Domain
Unlimited Disk Space
Unlimited Bandwidth
Shared SSL Certificate
NO addon domains
NO anonymous FTP
Baby
Unlimited Domains
Unlimited Disk Space
Unlimited Bandwidth
Shared SSL Certificate
Unlimited addon domains
Business
Unlimited Domains
Unlimited Disk Space
Unlimited Bandwidth
Unlimited addon domains
Free Private SSL & IP
Free Toll Free Number
Unlimited addon domains
Anonymous FTP
Price wise, HostGator is definitely competitive. For shared hosting, there are thousands of hosts out there that are competing for your business and HostGator definitely has priced their packages well. Most people should have no problem affording any of these, but how do they fare from a usability standpoint?
Let's explore…
Usability
When it comes to usability, if you've never had a hosting package before, you're going to be in for an eye opening experience. I will say, however, that if you have someone with even the slightest bit of technical knowledge looking after your hosting (or you are willing to learn) then you'll be happy with the setup that HostGator provides.
There are numerous options for hosting control panels (the place you log into to set up things such as your email accounts, addon domains, statistics, etc) but few are as good as CPanel setups and HostGator uses them for all of it's shared hosting plans.
This is a good thing.
CPanel is easy to use, yet very powerful and once you get used to it, you'll find yourself falling in love with the fact that everything is just there and easily accessible without distracting graphics and colors. Functionality is broken up into logical categories and getting to the task at hand is quick and easy to do.
Curious as to what it looks like? Here's a screenshot: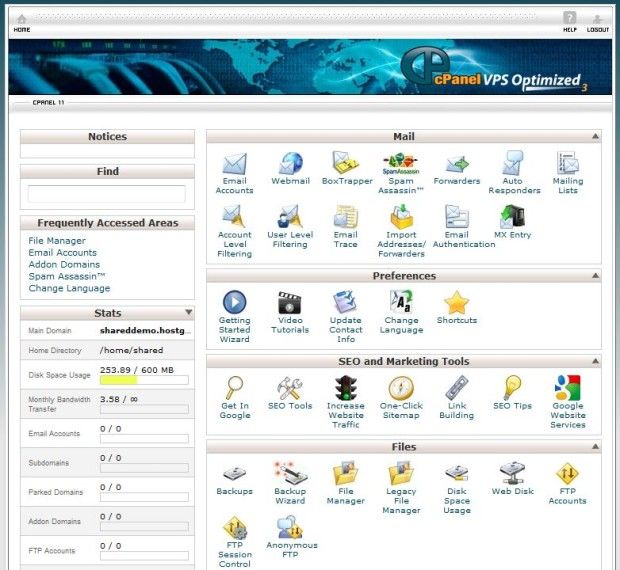 Are you the hands-on type and want to explore it further? Here's a fully functional CPanel demo that you can mess around with to see how it works.
Installing scripts is quick and easy as well. Should you need to set up a WordPress, Joomla or Drupal Site or even a forum software for your website, HostGator offers QuickInstall and Fantastico Deluxe which are basically interfaces that help you install various things such as calendar software, billing software, CMS software, eCommerce and much more.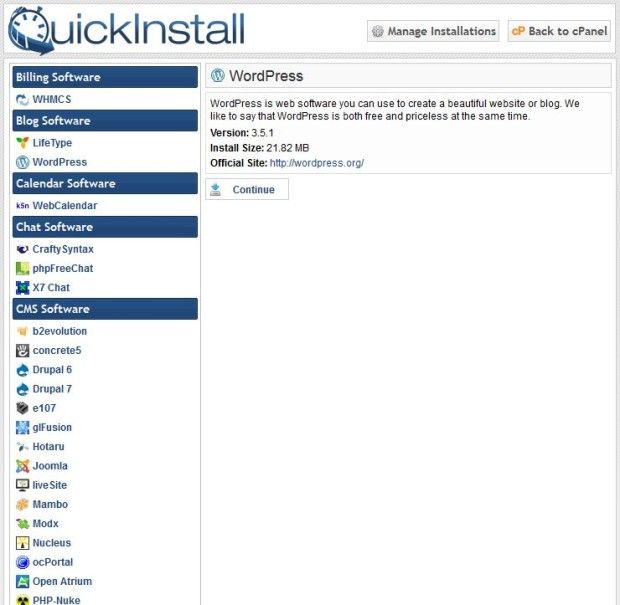 Installation scripts such as QuickInstall are great additions to the service and offer a quick and easy means to get up and running with as little technical knowledge as possible. Within about 10-15 seconds, you can have a fully functional WordPress, Drupal or Joomla install up and running and ready for you to use. Obviously, the system won't teach you how to use it but it definitely helps shield you from (what can be) a complicated installation process.
What else do you get with a HostGator install?
Bonus Features
HostGator is out to win you over as a customer and they throw tons of bonus features in with each purchase of a hosting plan. Here's a quick breakdown of what else you receive over and above the hosting package itself:
Free BaseKit SiteBuilder and Website Building Tools
4,500 Free Website Templates
Free Website Transfer, Domain Transfer, MySQL Transfer, Script Transfer
$100 Google Adwords Offer
Of particular value is the $100 Google Adwords credit which you can use to kick off a campaign through Google and help drive traffic to your newly created site.
Support
I've had plenty of experience with HostGator as CMS Critic was, at one time, hosted with their shared hosting service on the Business plan and we were with them for several years. During this time, I've had plenty of times when I've had to reach out to their support for either simple questions or advanced troubleshooting.
They are quick to answer the phone and the bulk of the support technicians are very good at their jobs. I've had very few poor experiences over the years and coming from many years experience dealing with web hosts, HostGator definitely is one of the best I've used.
The only reason we are no longer hosted with them is we needed to graduate to managed hosting and as a result, switched to WP Engine (you can read that review here: WP Engine Review).
Things you need to know
I'm now going to flag something that I experienced with HostGator that I didn't realize until it was too late.  This was not the fault of HostGator but rather my own for not paying attention and catching it. By filling you in now, it's my hope that you'll be sure to pay attention and won't cause yourself headaches down the road.
If you have a website hosted with them that contains an extremely large number of files (in excess of 100,000 or over 20 GB in size) they will not back your site or any of the files up if you exceed these limits. There is an option to enter an email so that you are notified if a backup fails or whenever one is run but not when you are closing in on these limits. As such, it is very important to pay attention to this box and if you start creeping up on the limits, you'll want to act quickly to ensure your site is backed up. Otherwise, you could be exposing yourself to the risk of no backups. It is YOUR responsibility to pay mind to the backup summary box within the hosting control panel.
Here is how it looks when you've exceeded the limits: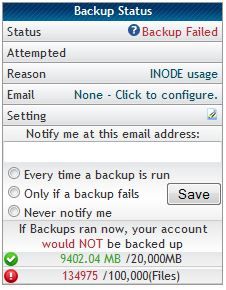 I would suggest that if you choose to use HostGator, you enter your email here first thing when you log into your account. That way, if you don't get a backup email, you'll notice it and hopefully react accordingly. I wouldn't exclusively rely on the emails, however.  I would also suggest you check watch for the red exclamation mark if you want your site backed up. I didn't do this initially and it caused me tons of headaches down the road.
Of course, there are plenty of alternative backup services such as VaultPress and others but if you want to rely on HostGator to do it, be sure to pay attention to this box. That's my only major piece of advice. Otherwise, I think HostGator is a great option. Most people never exceed these levels, it just so happens that I had 6 sites running with thousands of photos on them and didn't notice this until it was too late. The average single site will not exceed these limits for several years and when you do, you should be thinking about upgrading your plan anyway.
Conclusion
HostGator offers great value for a great price. If you are in the market for shared hosting, you'll be pleased with the results. They offer excellent support and tons of value for your dollar.
Interested in learning more? Visit their website for more details: HostGator