Continuing with our featured coverage of DNN Software, it's time to take a look at how DNN Evoq 8 helps brands to engage with existing users and customers.
DNN Evoq Content is trusted by over 2,000 brands worldwide, including a range of Fortune 500 companies. DNN was also the 2014 Critics' Choice Award Winner for Best Small to Midsize Business .NET CMS.
DNN Evoq 8 combines advocate marketing and gamification features to give brands the tools they need to first engage with their users and customers, before using them as standalone marketers.
What is Advocate Marketing & Gamification?
Not sure what on earth do these two terms mean? Don't worry, because as per usual, they sound more complicated than they are.
Advocate Marketing
Advocate marketing is the process of turning your customers and users into marketers.
Ideally, advocate marketing is carried out by a brands most regular and most passionate customers, who are therefore happy to preach positive news and views about the brand in question.
Gamification
Gamification simply means using game mechanics to engage users in solving problems. This could include a leveling system, where users or community members get rewarded with different levels of titles once they complete certain tasks.
For exmaple, giving a forum member a special title once they reach 100 forum posts, is a type of gamification.
The purpose of gamification is to improve user engagement, return on investment, data quality, timeliness, and learning."
How DNN Expertly Blends The Two
The release of DNN Evoq Content 8 has brought advocate marketing and gamification together.
Their gamification engine was already in place beforehand, giving brands the opportunity to reward their audience for participating in the community, be in via discussion, task completion or otherwise.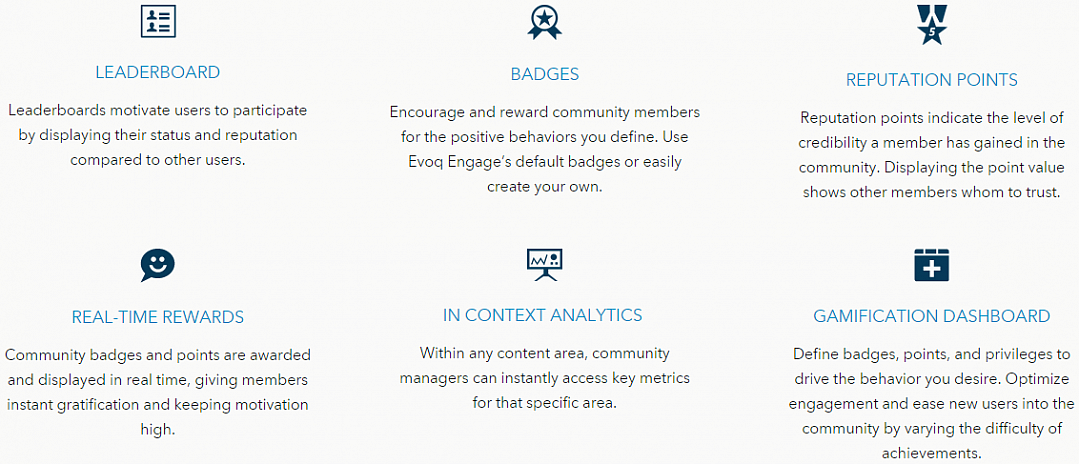 DNN's gamification features come in the form of badges, reputation points, leaderboards and more.
Now though, with a newly introduced advocate marketing feature, DNN Evoq's gamification engine has a counterpart to work in tandem with.
Evoq 8 enables Marketers to activate the brand advocates already on their website by rewarding them for sharing content on their personal social networks.
The advocacy marketing capability is integrated with Evoq's native gamification engine, and engages customers by issuing challenges, tracking challenge completions, and awarding points, badges, or other designated incentives.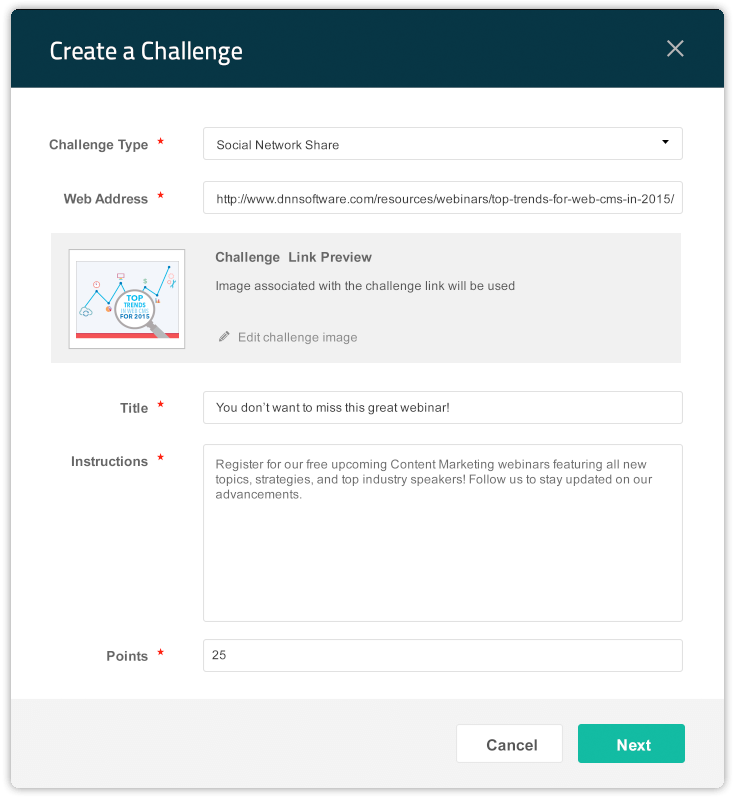 By creating challenges for users to meet, brands can incentivize sharing content on social media. For instance, the example above shows a social sharing challenge, which rewards the user with 25 points for sharing news of an upcoming webinar.
As you can see, the challenge setup process is supremely straightforward, with URLs, titles, instructions, and points all easy to configure.
Each challenge can be set to be either locked or open for public editing. Challenges can also have expiration dates and times for completion.
A simple, yet effective idea which slots in very well alongside (and complements) DNN's existing gamification options.
To find out more about DNN Evoq Content 8, visit their website. Also, be sure to explore more of DNN Evoq Content through our CMS Directory.