When it comes to selecting a Web CMS. (Web Content Management System) for your organization, there is no one right choice – but there is a lot that you need to consider.
As a leader responsible for driving technical decisions, my advice is to focus on engaging your line-of-business managers and help clarify their business objectives, requirements, processes, and activities. Then, you can start thinking about your CMS.
Recognize that how you manage content through all your channels is essential to determining how your organization functions. Continuously iterate between investments in content technologies on the one hand and efforts to improve operational activities that create competitive advantage on the other.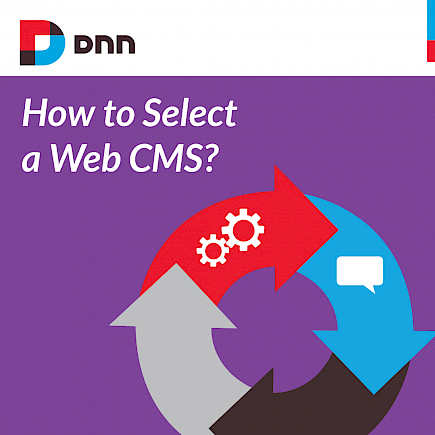 A Web CMS should make it easy for non-technical staffers to manage content on their own, without requiring IT support for day-to-day activities. But the underlying business problems and the nature of day-to-day activities are steadily changing. Here below are few tips to guide you in the selection of the right Web CMS solution that will suit to your needs.
For more information about this topic you can also download the following eBook: A Buyer's Guide To Web CMS.
A Good CMS is Good For Business
A Web CMS makes it easier for you to create, manage and maintain your website content. Let's consider important reasons to manage your website using a Web CMS:
Enable business users to manage and update site content.: A Web CMS helps you build and manage your website efficiently. With a user interface that's simple for non-technical users, website updates are a cinch.
Protect your site against unauthorized or unintentional changes: A Web CMS includes security features that make your website less vulnerable to password compromises and security attacks. In addition, you can assign roles across the organization to segment who can update particular sections of your site. This prevents unauthorized or unintentional content updates.
Make your site run faster: A Web CMS can improve the performance of your website by optimizing
the way pages load and by using web farms to distribute requests to a pool of web servers.
Drive more organic traffic to your site: By providing tools for automated re-directs and advanced URL management, a Web CMS can drive more traffic to your website from search engines. Now that we've covered some of the benefits of a CMS, let's consider how you can choose one that's best suited to your organization's needs.
How to Choose a CMS
Choosing a Web CMS is a big decision. It's critical to look for and understand the essential features that will address your business needs now and in the future.
These essential features just below provide you with details of what to expect from a (good) content management system, beginning with baseline features and progressing to advanced features. But, if you need a closer look at each feature, download this guide.
The Essential Features of a CMS (From Basic to Advanced)
Whether you need a brand new content management system, a more scalable system for your growing business, or are replacing a solution that no longer meets your needs, be on the lookout for these essential features:
Ease of use: A Web CMS should offer design flexibility and allow content contributors to manage and customize the look and feel of pages, without specialized programming or design expertise.
Mobile readiness: It's a fact of life, visitors are viewing your website from a mobile device. Select a Web CMS that provides tools and capabilities to create valuable experiences for mobile users.
Granular permissions and workflow: Creating, managing, editing, and auditing content is a continual process, so any Web CMS should provide several, easy-to-use content management capabilities, such as creating work ows for content staging and approvals.
Easy-to-use templates: A CMS should offer "templating" capabilities so you can create and easily duplicate content, as well as structural details such as page layouts.
Scalability and performance: Your Web CMS needs to load pages quickly and maintain high performance as the site grows.
Strong SEO and on-site search: Look for Search Engine Optimization (SEO) tools, so that your pages rank well in search engines, and a good site search feature to help visitors nd what they're looking for.
Flexible delivery options: Select a Web CMS that can be deployed on on-premises or in the cloud.
Extensive service and support: Carefully evaluate the vendor's service and support options to ensure that they meet your needs.
Make An Informed Choice
When selecting the right Web CMS for your organization, there is no getting away from your history. Rarely are you going to be starting with a blank slate.
You need to determine what's working, what's not working, and what needs to be fixed. Take stock of your existing IT investments and leverage what you already have in place.
Remember you are on a journey. As a leader, be strategic in your recommendations and decision-making by optimizing for the best long-term fit. And, here is another eBook, Web CMS Selection: How To Go From Short List To Final Selection,that breaks down the selection process for both IT and business users and show you how to make the decision as a team.
At DNN we provide a suite of solutions for creating rich, rewarding online experiences for customers, partners, and employees. DNN products and technology are the foundation for 750,000+ websites worldwide. In addition to our commercial CMS and social community solutions, DNN is the steward of the DNN Platform Open Source Project.
To learn more about EVOQ Web CMS solution contact us and we will help you achieve your business goal.