More and more ecommerce stores are springing up online. One of the main reasons for this is that more people are buying products online. 67% of millennials and 56% of generation x prefer to shop online.
Another important reason for the rise in online stores is that it is so easy to launch one. There are tools like Shopify with which you can launch a new store in a day.
On top of that, there are solutions like drop shipping which make running a store much easier.
Dropshipping is when you don't handle most of the time-consuming aspects of running an ecommerce store. These include making the products, storing them in a warehouse, packing and shipping them. These are handled by a separate manufacturer. All you do here is add the products to the store and promote them.
It's a low-risk, and lucrative method, and lots of people are having success with it. For example, Ray Bridges dropshipped phone cases and made $4,558.03 in 9 weeks.
And the best part is that you can add the products to your store in minutes as there are several apps in the Shopify app store that can help you do this.
Filtering out which of these is the best can take you a while. Therefore, I have gone through the trouble and reviewed two popular Shopify dropshipping apps, Oberlo and Dropified side by side here. Read my review and pick the one that suits you best…
2022 Update: Oberlo app was shut down on June 30, 2022. The Oberlo app is completely removed from the Shopify store. Dropified is still around though.
If you're interested in learning about print-on-demand dropshipping, check out this comprehensive article on dropshipping and selling without inventory.
Using Oberlo for Dropshipping
Oberlo was launched in 2015. Since then it has become one of the most popular dropshipping apps on Shopify. It currently sits at the number one spot in the Dropshipping and Finding and Adding Products app categories on Shopify.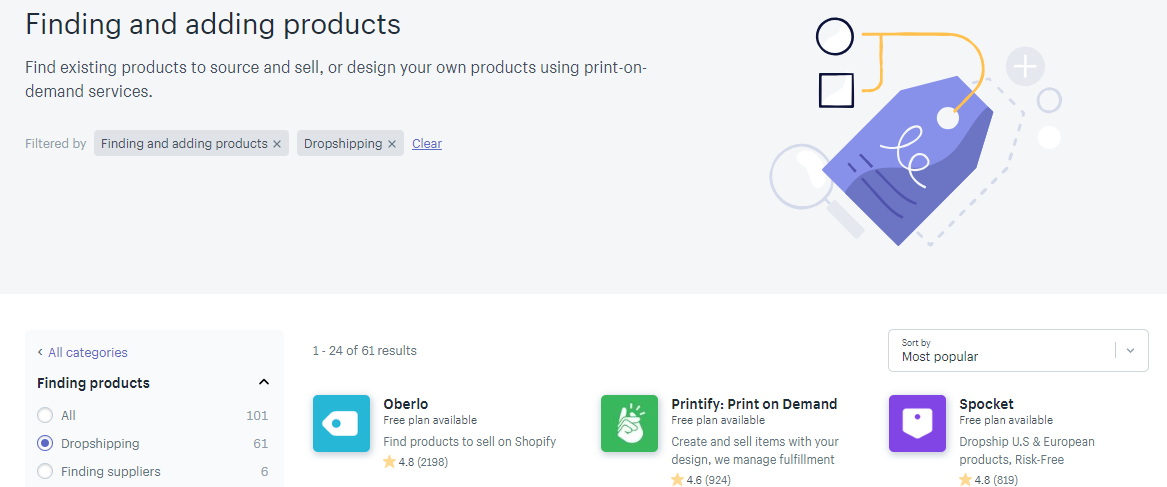 Oberlo has got a stellar rating of 4.8 out of 5 from 2,198 reviews. They are definitely doing something right.
It is a very easy to use app. To install it all you have to do is go to the Oberlo app page on Shopify and click on the 'Add app' button and then add it to the ecommerce store you would like to sell dropshipped products on.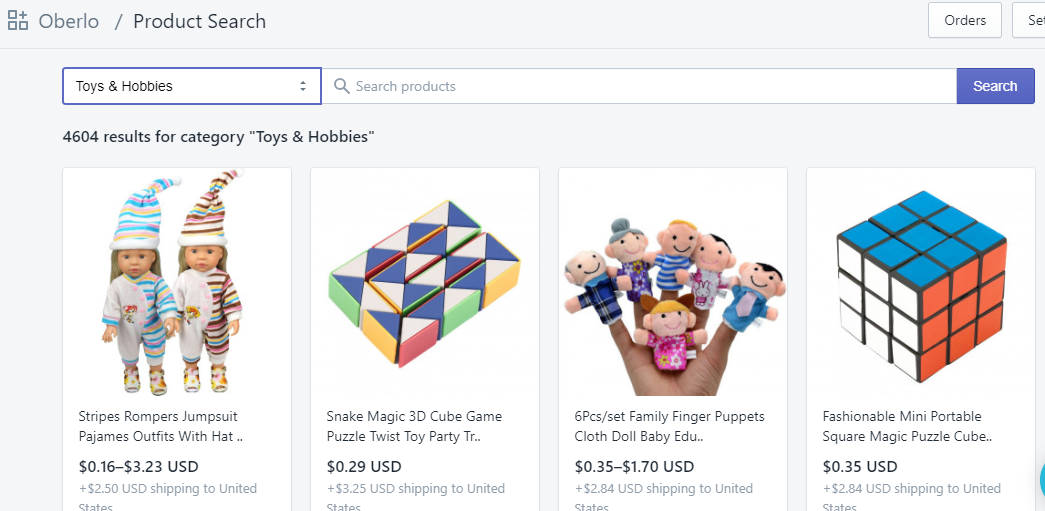 As soon as you do this the app will be installed, and a catalogue of products will appear right in your Shopify dashboard. There will be hundreds of them.
You can browse through these, add your selling price and easily display them on your ecommerce store with a few clicks. Oberlo will calculate how much profit you will make with each sale and even automatically add the description, title, and images.
You don't have to conduct any due diligence for these products and their suppliers as Oberlo have already done that for you. The suppliers' warehouses, working conditions, documentations and many more details have been verified by Oberlo.
If you want to go beyond this catalogue and add products from other sites, you can take advantage of Oberlo's chrome extension for AliExpress. After you install the extension, an Oberlo icon will appear on the product pages on the AliExpress website. You can click on this and quickly import products into your store.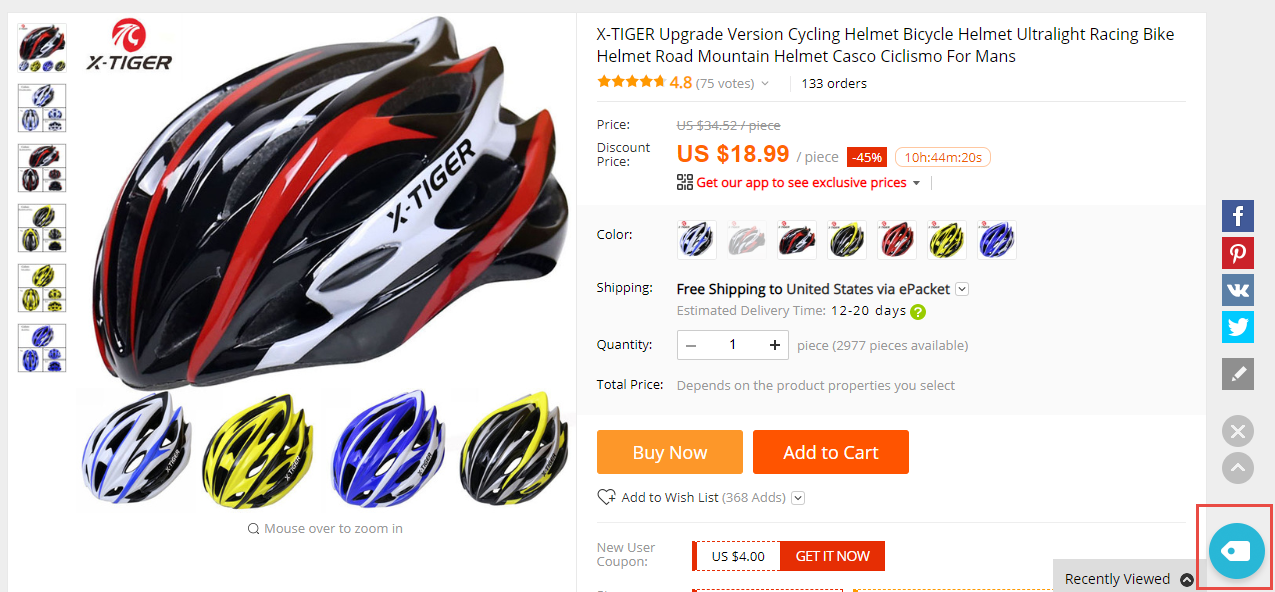 These products haven't yet been verified by Oberlo. So, you will need to conduct your own research to make sure they are up to the mark. You can do this by reading product and supplier reviews.
The best part about using Oberlo is that they run a freemium model. You can install them on your Shopify store for free. With the free plan you can add up to 500 product to your store and fulfil up to 50 orders.
If you want to fulfill more than 50 you can upgrade to the basic plan which costs $29.90/month. This increases the limit to 500 orders. They also have a Pro plan at $79.90/month that has no order limit (unlimited).
Using Dropified for Dropshipping
Dropified is another dropshipping app. It is slightly younger than Oberlo. It isn't as popular as Oberlo as it sits at the number six position in the dropshipping apps chart on Shopify. It has a decent rating of 4.2 from 9 reviews.
Just like Oberlo, it is easy to install. You go to the Dropified app page and click on the 'Add app' button. Then you select the store you would like to add it to and follow through the steps it guides you through.

But adding products isn't straightforward. They do not instantly appear in your dashboard like with the Oberlo app. To add products you must first install the dropified extension on your browser. Then visit sites like AliExpress and use the extension to edit the title and price and add the products.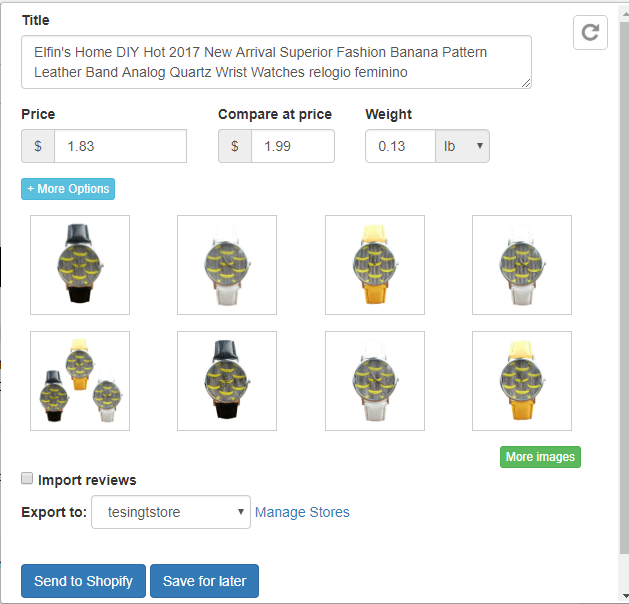 This way you can add products from other sites like Amazon, Costco, Walmart, and more. But you need to conduct your own due diligence on each of these products and their suppliers as Dropified hasn't done it for you.
Dropified has no free plan, but they do offer a 14-day trial. You can only access this trial if you sign up for one of their paid plans though. The smaller plan costs $47/month and lets you add 15,000 products and fulfill 1,000 orders a month. While the bigger plan costs $97/month and lets you fulfill 20,000 orders a month.
Which should you use: Oberlo or Dropified?
As you can see from the detailed review above, both of them are great apps that can be installed with a few clicks. Both also make it easy to add products to your Shopify stores.
But if you are looking for the most convenient option, Oberlo beats Dropified easily as you don't have to go through the process of browsing a third-party site (although Oberlo also has this feature) and spending a lot of time finding reputable suppliers and products. Oberlo instantly provides access to hundreds of products from verified suppliers right in their dashboard. And you can add them with a few clicks right away.
Oberlo also works out cheaper as they have a free plan. Also, their paid plans cost a lot less than Dropified's paid plans. Dropified's paid plans cost $47/month and $97/month and Oberlo's cost $29.90/month and $79.90/month only.
The only place where Dropified beats Oberlo is that it lets you import products from sites other than AliExpress like Amazon and Walmart. But for most people Oberlo's catalogue and the millions of products listed in AliExpress should be sufficient.
You only need Dropified if you have a favourite product listed exclusively on another ecommerce site that you badly want to dropship.
Do you run an ecommerce store? Which app do you use for dropshipping? Please leave your comments below.