So you are looking to create a social network. Whether it be for a local organization or a specific interest group, there are many ways to go about getting started.
As with any successful website, it requires the right combination of software, planning and implementation.
Today, I'm going to guide you through the process and help get you started by explaining how to create a social network.
Clarify your idea and concept
The most important step before you get started is to make sure your idea is sound and will actually be successful.
Some questions you should be asking yourself to help you clarify your idea should include:
What niche am I looking to fill?
This is the single most important question you need to ask yourself when thinking about how to create a social network. Attempting to take on something like Facebook simply isn't realistic but there may very well be a specific niche that you have a passion for and that could benefit from some kind of community / network.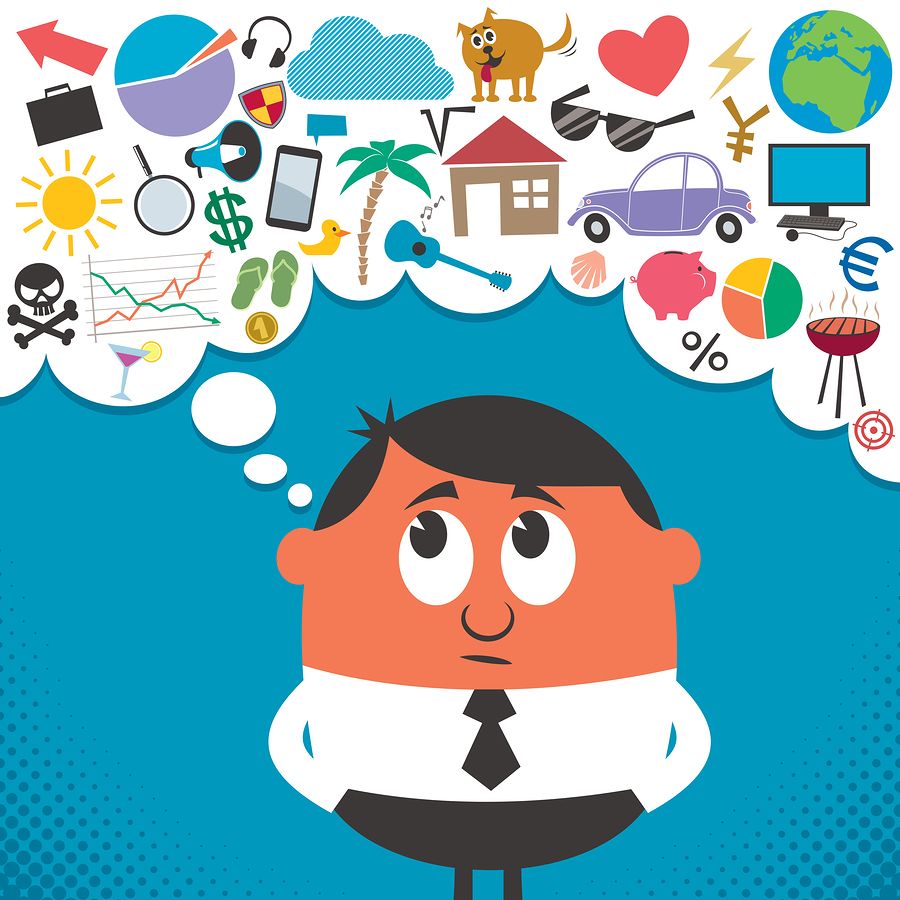 Since you've already found this article I would assume you already have an idea in mind but it's important to make sure you are realistic with your expectations. Don't expect to be the next Facebook or Myspace easily. It doesn't mean it can't be done but it's not an overnight achievement.
Make sure you have a clear understanding of the niche (or specific topic) your social network will be about. Perhaps it's for musicians or animal lovers or something similar.
Are there any existing social networks out there that fill the niche I'm considering?
As with any good business, it's important to do your research and investigate whom you will be competing against. Are there already social networks out there that fill the niche you are looking to enter? If so, what are they doing correctly? Is there anything you would change to make it better? Make notes about what you like and don't like so you know what you need to do to gain an advantage.
I'd also recommend trying something like SEM Rush to perform research into the markets, analyze your competition, and more.
What services or functionality do I want to be able to offer my audience?
This is partly covered in the question above but I want to make sure you truly think hard about this. What are you going to offer your audience that will make them want to be part of your community?
Perhaps if you are thinking of starting an animal lovers social network you can consider looking into a partnership with a manufacturer to offer some kind of discounts to your audience or perhaps you will offer specialized services like training for pets or videos.
Think things through carefully and make sure that whatever you choose to offer, it's unique and something that would convince YOU to sign up if you came across a site like it.
—– Cost Considerations
How much do I want to spend at the most?
(be reasonable here, don't expect to put one together for $100, these things cost money in order to be successful).
Obviously spending the least amount of money for the highest return is everyone's goal but it's not always a realistic one. Social networks (like any website) involve a financial investment of some kind. This can range from a few hundred dollars to several thousand. Think about what you are willing to invest to get things going.
For those of you who are not sure where to start, here are some typical costs websites such as this typically incur (note these are all conservative estimates, don't hold me to them):
Logo creation or development
If you don't know where to start, check out the amazing Jessica Watts (she did all of our logos throughout our network and is reasonable priced and incredibly talented). Cost – $300-500
Website hosting
This only applies if you decide to use purchased software that requires you to set it up on your own web host. If you want an inexpensive and reasonable hosting company with a good reputation, check out Bluehost , they are highly recommended and they will give you a 38% discount on hosting if you visit from our link . You will typically want to start with VPS hosting for a new site so you can have extra control. There are lower cost options but upgrading packages down the road can cause outages. I'd recommend starting with a VPS solution but you can of course choose whichever package suits you best.  Bluehost is hard to beat price wise. Cost – $30 – 100
Social Network Software
There are numerous options available for purchase whether it be prepackaged software that includes almost everything you could need or an online solution that offers numerous options. Typically, these are the best bet as they eliminate the huge costs involved in creating something from scratch. Cost – $99 +
Custom Development
Perhaps after investigating, you discover that existing software solutions don't fit with your requirements and choose to go the custom development route. Don't expect to get anything up and running reasonably with anything less than a few thousand. To put things in context, a typical blog design and development runs around $3-6k for a good one so a social network which is far more involved is going to cost well in excess of that. Cost – $10k+
Promotion
You will need to get your name out there and you'll need someone who can help do this for you. I'd recommend checking out sites like Elance.com and others such as Fiverr.com for inexpensive options that you can buy to help spread the word. Cost – $100+
SEO (Search Engine Optimization
As much as I'm sure you don't want to hear the dreaded SEO term, search engine optimization is critical to getting traffic to your site. Consider joining a network like SEO Book where you can learn how to do this yourself rather than end up spending hundreds on fake or illegitimate SEO companies. There are too many scams out there and you can waste thousands trying to find someone with the right skills when it's far easier and more advantageous to invest in your own knowledge.  Cost – $300 / month through SEO Book or thousands more through other SEO companies
 
Do I want to do the work myself or have someone do it for me? Who is going to run it once it's live?
What is my expected volume? How many people could potentially visit and use my social network? (This is important as you need to have a good estimate of sizing in order to be able to help select the right software).
There are more questions of course and the list goes on and on but this is a good starting point. I'd recommend grabbing a pen and paper and jotting down your responses to these so you have them readily accessible.
—–Use Existing Software or Build your own?
Use Existing Software or Build your own?
The next step is to investigate what options are on the market with regards to pre-packaged social networking solutions. There are numerous options form self hosted (which means you will have to be responsible for putting up the website and keeping it up) or hosted solutions (you pay a fee to a provider each month and they look after this for you).
It's important to see what's out there in order to determine if the solutions available can fit your needs or if you need to consider developing the site from scratch. Keep in mind that custom development is very expensive so make sure you absolutely discount all available options before going that route.
Let's look at some of the solutions that are available.
PHPFox
PHPFox has been around for many years and is one of the least expensive options on the market. While there are always people who complain about every product that is out there, the fact remains that there are tons of great social networks running on PHPFox and doing quite well for themselves. Cost-wise, the investment has gone down quite a bit since the main company rebranded to Moxi9 and now, you can purchase PHPfox for just $99.

I'd consider that a reasonable investment for the amount of work it eliminates you having to do yourself. For less than a hundred bucks, you've got a framework to begin with and should your site take off down the road, you can consider other options such as custom development once you've established a strong foothold and started to generate revenue from your social network.
Don't discount options like these as they are fast ways to get things going with minimal investment and see if they take off. You wouldn't want to spend thousands only to find out your idea flopped so start by minimizing your costs first and keeping your overhead low. PHPFox won Best Social Networking Solution in our 2012  Critics' Choice CMS Awards as well.
Social Engine
Social Engine is generally considered to be one of the top social networking products on the market along with PHPFox. Their offerings are more expansive and include both a cloud version (so you can use their product on their servers without having to install it yourself) which is currently priced at $29 / month or a downloadable version, which you would own wholly and would run you $299.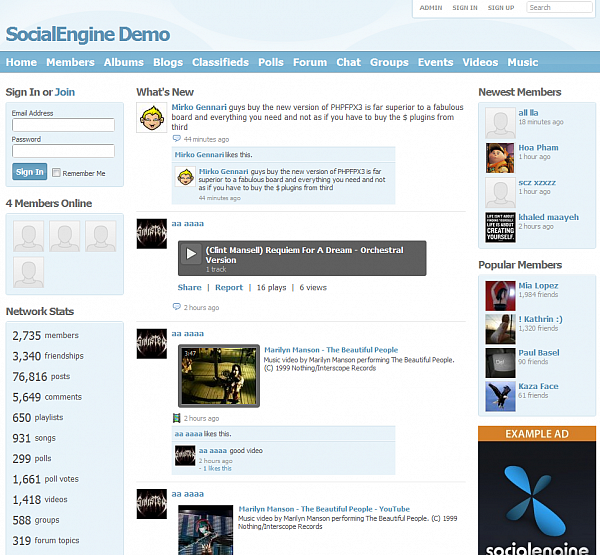 Both options are excellent ones to consider. Personally, I think the cloud solution might be a bit better due to the fact that you wouldn't be required to fight with configuring your hosting. The downside of course is that you lose a bit of customization capability and do not fully own the product. Either way, SE is a great option to consider when exploring your options.
Dolphin Smart Community Builder
Dolphin is another good option to consider. They offer plenty of great modules and loads of functionality at a reasonable price. While they are certainly more expensive than PHPFox, you may find they fit your needs a bit better (everyone has different tastes).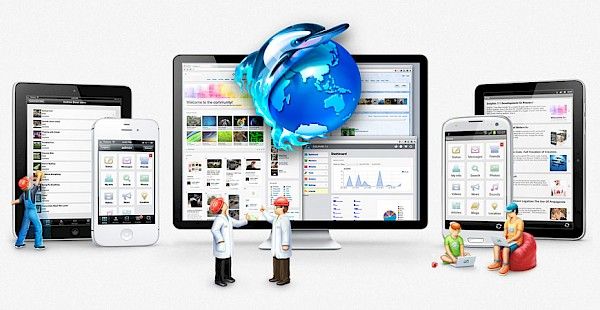 Prices for Dolphin range from $399 to 799 so needless to say, it's definitely more expensive than most but if you feel the options they offer suit your needs and PHPFox is out of the question, it's a good second option to consider. Certainly, it's far cheaper than developing from scratch so don't discount the price, which in the grand scheme of things is still quite reasonable.
Evoq Social
If the network you are trying to create is more of a business style network, then you should definitely look into Evoq Social. This offering is from the fine folks at DNN Software and can help you produce a truly amazing social network for your site. They also won last years  Best Social Network Solution award during our Critics' Choice CMS Awards.
If this looks like a good fit for you, you can learn more about Evoq Social.
Oxwall
Oxwall is a great open source solution that you can get your hands on for free. There is a strong community and plenty of options. You can test out a free demo on the Oxwall website to see if it suits your needs as well.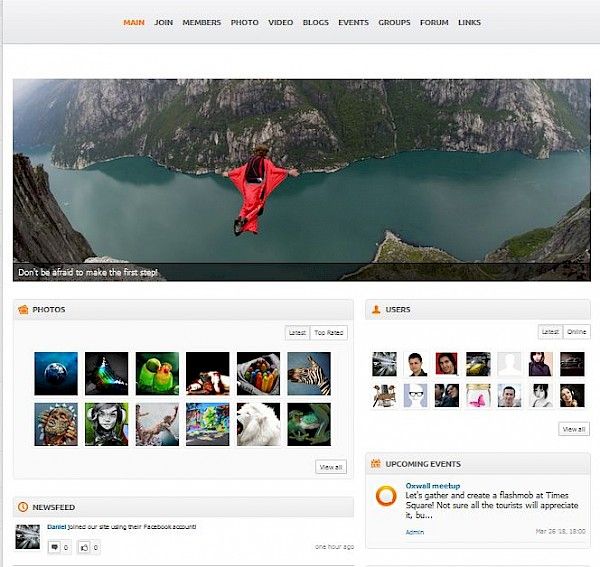 Oxwall is open source which means the code is freely available. It's also free.
—– What's Next?
What's Next?
So you've decided whether you want to use some of the social network software we've recommended, you've made a list of your answers to the questions we identified at the beginning or our article and you are ready to get going.
There's only one question now, what's next?
At this stage, you've got your concept and the software. Make sure you take advantage of the many communities available to get help with your questions. Places like Stack Overflow ,  Quora and others can be invaluable resources when you get stuck or need help.
If you find yourself in need of a developer, use sites like Elance ,  Freelancer or  Guru to find someone who can give you a hand at a price point you can live with.
Don't forget to use the support services of whichever platform you end up using. For PHPFox and others, use their community and look for fellow users on Google as well. Be sure to work with your hosting provider to help get things up and moving if you choose to do the hosting on your own.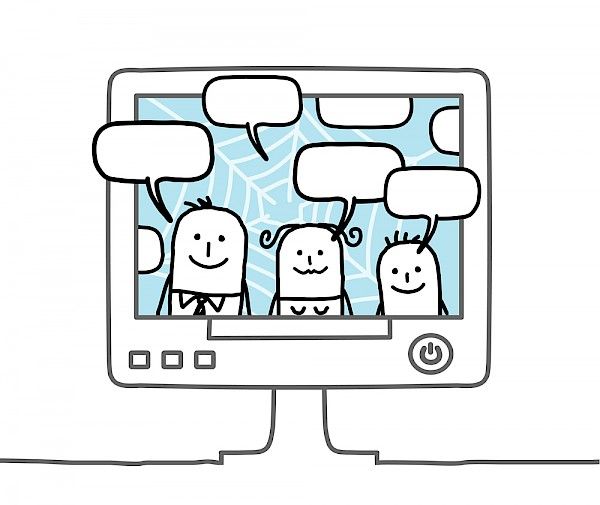 If you need assistance setting up your social network, drop us a line or leave a comment below. We offer consulting services that can help you get things rolling. Good luck and may your social network be successful!