WordPress has been evolving at an incredible rate these last few years, changing from a straight forward blogging platform into a powerful content management system. As a business owner, there may come a time when you will want to be able to handle your billing and invoicing from within WordPress, well, it's a lot easier than you might think.
Enter WP-Invoice. WP-Invoice has been around for a number of years in numerous iterations but has consistently become better and better and today, we're going to share with you some of the excellent functionality you can get when you implement this handy plugin.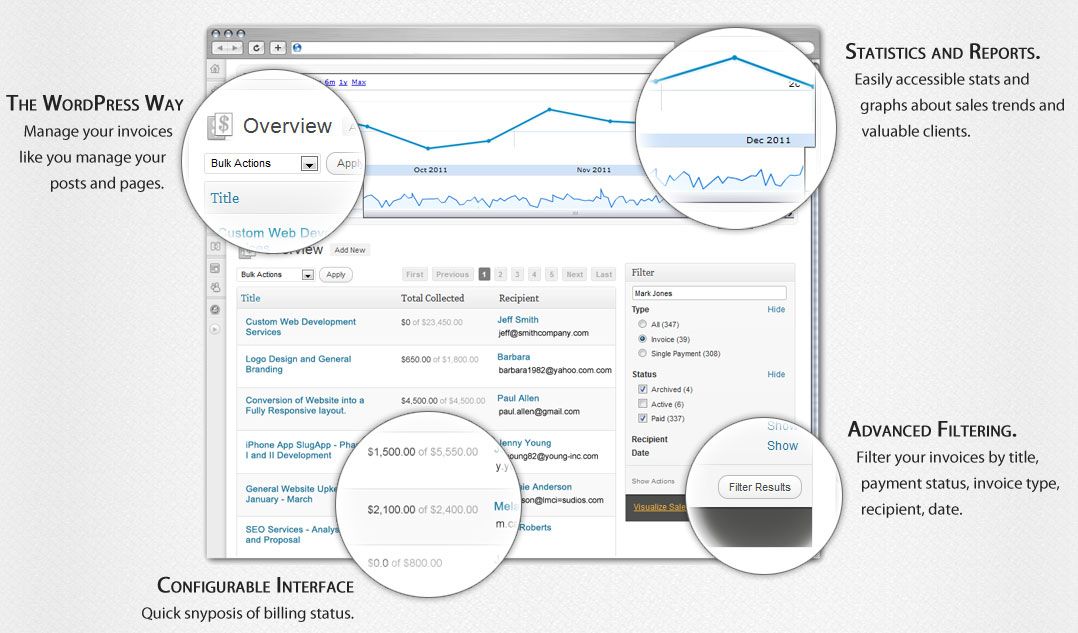 How does it work?
You create an invoice from you WordPress installation's admin section, an email with a brief invoice description and a unique link is sent to your client. Your client follows the special link to your blog's where their invoice is automatically displayed for them. After reviewing the invoice, your client pays their bill using a credit card or PayPal account, and you are immediately notified.
Credit card payments can be accepted via Authorize.net, MerchantPlus' NaviGate, PayPal or Google Checkout account. For recurring billing, there is Authorize.net's ARB API that will allow you to setup payment schedules along with invoices. Subscriptions can also be implemented using PayPal Subscriptions and Google Checkout Subscriptions.
What can it do?
Here is a list of some of the features offered by WP-Invoice:
Automatically import invoices from Web Invoice plugin.
WP-CRM Integration
Brand new user interface for much improved invoicing filtering and searching
Minimum and Split / Partial Payments
Invoices can be reassigned to a different recipient
Receipt Page with Invoice Log
Per-defined Line Items
Discount Line Items
Custom Payment Entry, and administrative adjustments
Customizable Invoice and Receipt Templates
Create invoices from the WordPress control panel
Prefill customer information using the WordPress user list
Send invoice notifications to customers with a secured link back to the web-invoice
Accept credit card payment via Authorize.net or MerchantPlus NaviGate
PayPal available if you don't have a credit card processing account
Setup recurring billing using Authorize.net's ARB (Automatic Recurring Billing) feature
Force web-invoice pages to be viewed in SSL mode
Archive old invoices
Easily use old invoices as templates for new ones
Dynamic and intuitive user interface
Custom tax label, states input, and PayPal button URL
Insert an "Invoice Lookup" form using PHP or WordPress Shortcode anywhere
Create users directly from WP-Invoice
Customize billing settings per invoice
Customize invoice notification email per invoice
Invoice notification, reminder and receipt templates
Export/Import Invoices [Power Tools]
Sales Visualization [Power Tools]
Pretty impressive isn't it? This is not just your mom and pop invoicing plugin, this literally turns WordPress into an excellent invoicing and billing system and is something every business owner should take a look into. Even if you decide to go with the premium features, the whole package costs less than $250, which is quite reasonable considering what you get for your dollar.
The good news is that you can use a large amount of the features this plugin offers for free. There is a bundle that offers upgrades such as single page checkout, premium themes and additional plugins but for the most part, the majority of the features within the plugin won't cost you a dime.
Peaked your interest? Check out WP-Invoice today in the WordPress Plugin Directory: WP-Invoice