IM Creator is one of the most simple and beautiful CMSs I have ever used. Despite its lack of robust web tools and e-commerce solutions, it is an editor that gives users with no web experience the ability to create a stunning website. Here's our IM Creator review.

Have you ever had the head-banging experience of trying to figure out a CMS that was so complicated it made you want to stuff your computer through an industrial paper shredder?
I have
Some CMSs attempt to do everything, and then even more than everything. Other CMSs, however, are an experience in Zen simplicity — as beautiful as a lily pad in a Japanese meditation pond. What I encountered in IM Creator was just that — simple, beautiful, and enjoyable. I wish I had a meditation pond where I could go to use it.
Overview of IM Creator
IM Creator is a web-based CMS. It's proprietary interface is a one-stop shop for creating and hosting a simple site. Launching a site can take as little as one hour, and requires zero knowledge of code or web development. Customizing a site's appearance is easy, but fiddling with behind-the-scenes code and settings (not to mention hosting) is not possible.
According to its developers, IM Creator was made for family and friends. Frustrated with the complexity of creating websites they developed a CMS that made the entire process easy, while still providing maximum flexibility for design. This is where the CMS shines — simple, easy, quick, fun.
IM Creator, of course, isn't mean to fly you to the moon and back. If you're look for a high-octane CMS with lots of bells, whistles, widgets, and e-commerce to boot, it's not the CMS you'll be looking for.
The result is a WISIWYG editor that works without a hitch, a process that funnels you into designing a website without thinking about it, and a result that you will undoubtedly be pleased with.
Review of IM Creator
Let's take an in-depth look at IM Creator.
Here's the sweet, clean, chic, simple opener.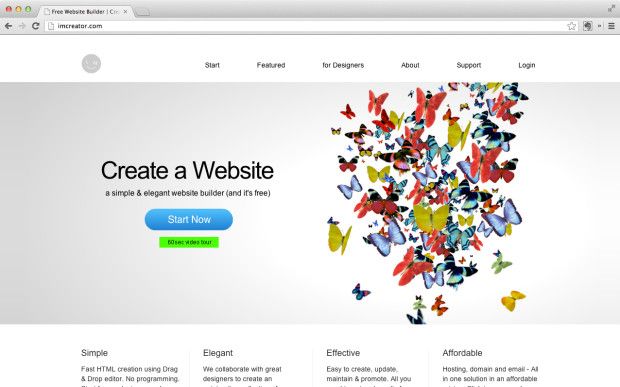 The first thing you do is design your site. Yeah. No login. No account creation. Just put on your design mojo and get to work. After clicking the shiny green button, you get to this screen.
To follow the flow of the conversion channel in the CMS, we're going to do what it lets us do — create a site, and then register. This review may seem a bit backwards (reviewing the editor, then registering the site) but this is intentional.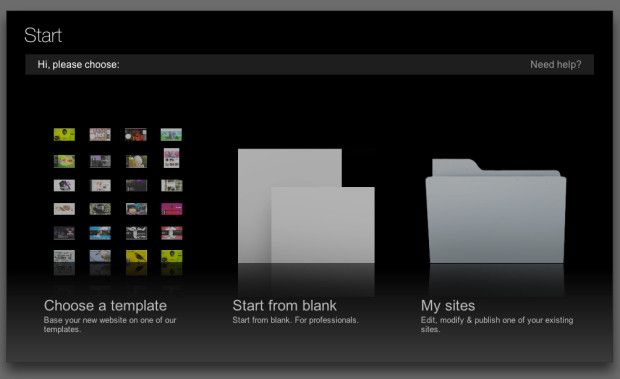 The three-panel interface here gives you three options:  1) Make a site using a template, 2) Make a site from scratch. We're warned that this is for the pros. 3) Work on an existing site.
Let's get to work on creating a site from a template.
Creating a Site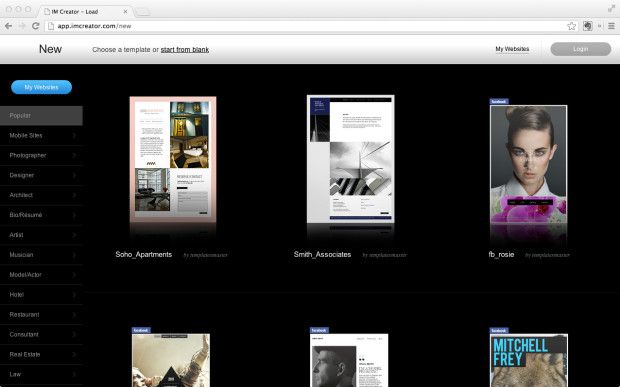 These are nice templates — not some slapped together deals. True to the overall look and feel of IM Creator, the sites are polished, simple, trendy, and on the bleeding edge of web design fashion. There are design categories for Popular, Mobile Sites, Photographer, Designer, Architect, Bio/Resume, Artist, Musician, Model/Actor, Hotel, Restaurant, Consultant, Real Estate, Law. We feel as if the site is appropriately biased toward the art community. It's a nice niche posture for a CMS.
Clicking on any of the templates bring you to a demo mode where you can examine the template's look, feel, and functionality.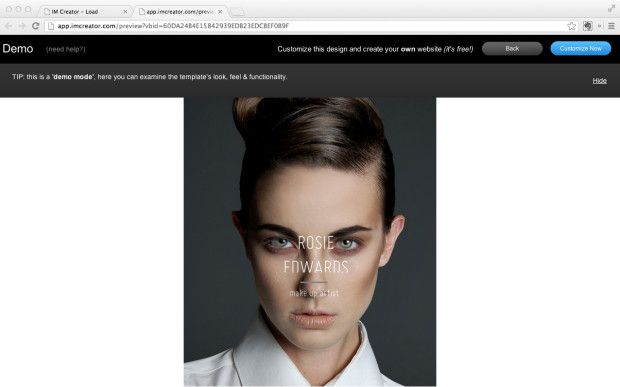 Included in the templates is a selection of mobile sites. We are truly impressed by the svelte "wow" of these designs.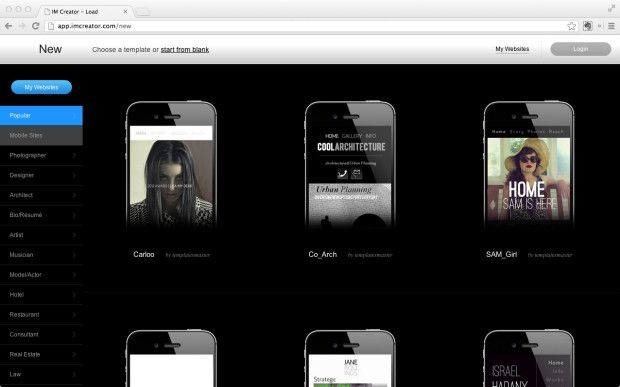 Overall, there aren't a ton of options, but there are enough. Unless you're looking for a tight-laced traditional, Web 1.0 feel, you'll probably find something you like.
Picking a Template and Making a Site
We wanted to make a "consultant" site, but there weren't any templates in that category. Instead, we decided to go all avante garde and pick a template from the Model/Actor category. Maybe because we're anything but models or actors.
Here's the template we picked.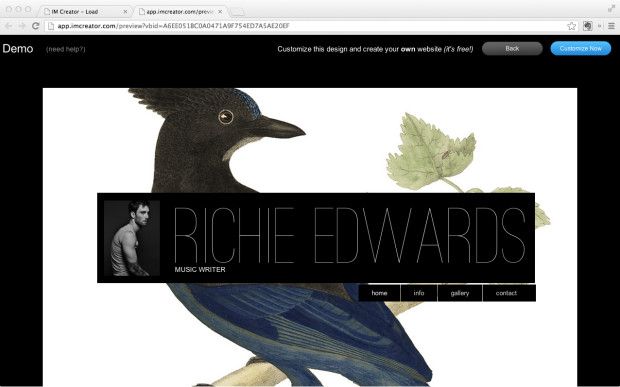 Since we are neither a music writer nor Richie Edwards, we knew we needed to customize the site. Hence, we click on the "customize now" button in the upper right corner.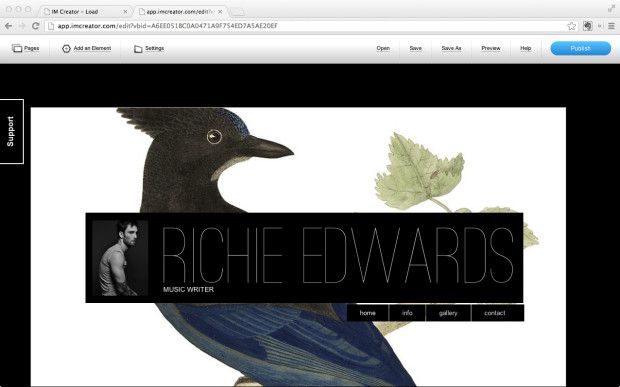 Is this really our design interface? It looks just like the actual site, with the exception of a few buttons in the top bar. This is WYSIWYG editor minimalism at its best. There are three control buttons:  Pages, Add and Element, and Settings. There are text links for Open, Save, Save As, Preview, and Help. Plus, the big blue publish button.
Remember, we haven't even created an account or signed up. We're just in here designing a site. Let's see how the design process works.
After fiddling with the editor for about five minutes, we came up with this: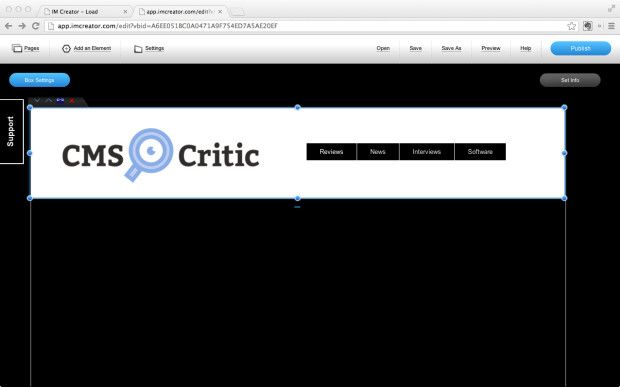 How did we work such magic in the space of a few mere minutes? Let's dive into the editor and find out.
Add Elements
Getting cool stuff onto your page is where it begins. Here are the options of what you can add to the page.

Obviously, it's not a blow-your-mind expansive list, but it provides the necessary basics.
Adding a Picture
When you add a pic, here's what you get.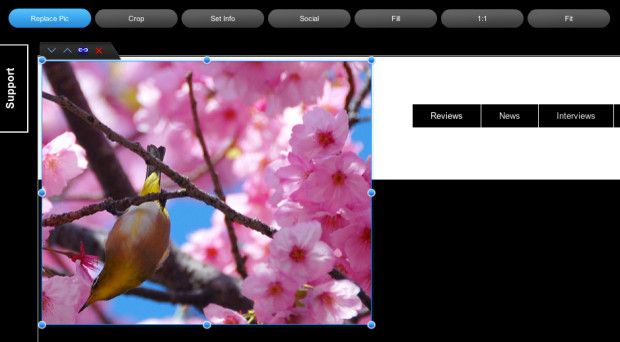 The picture itself has buttons for setting the order (blue arrows), adding a link, and deleting. The options above allow you to replace the picture, crop it, set info, add social, create a fill, and change the sizing or ratio. The social allows nothing more than a Facebook like button.

"Set info" gives you a chance at some SEO love.
Apart from cropping the photo, there are no photo enhancement options.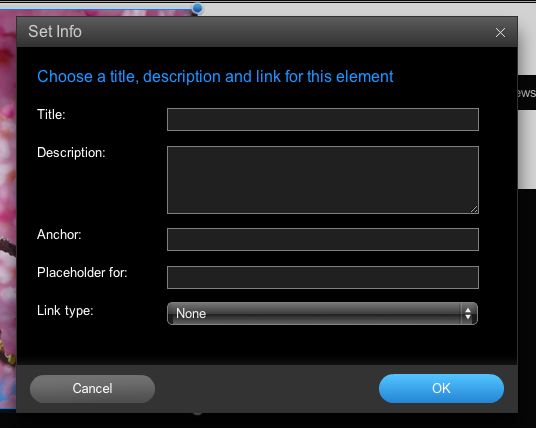 Adding a Headline
A headline is basically a big text block. The customary text edit features appear:

Beyond the customary, however, the editor does allow semi-advanced text settings to arrange paragraph padding, letter spacing, and line height.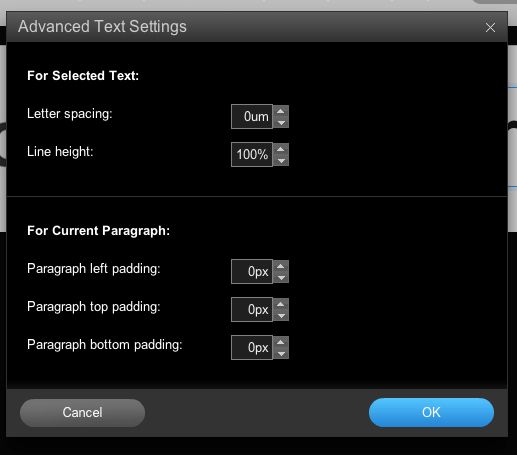 Setting info provides more options for title, description, anchor, placeholder, and link type.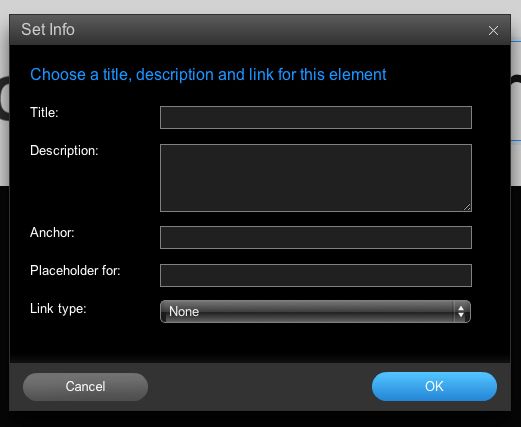 Text boxes like headlines are also text boxes. Hence, you can customize the background, border, and padding of the box in "box settings."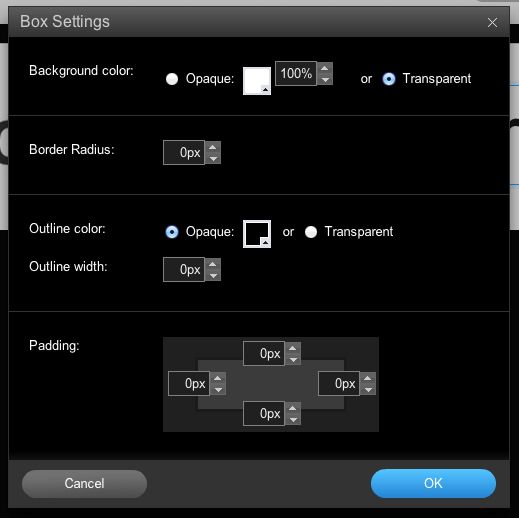 Add Paragraph
Adding a paragraph provides the same array of text edit options as the headline. The only difference is that a block text of placeholder text appears instead of a large headline.
Adding a Video
There isn't a ton of option room when you add a video. YouTube videos only are allowed. Sorry, Vimeo fans.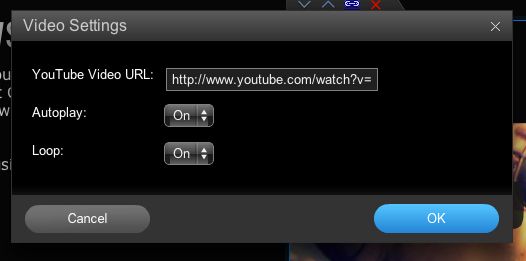 Add Gallery
The add gallery option is nifty. It can be resized according to your preference. It's got bare-bones customization options, but those options are not bad.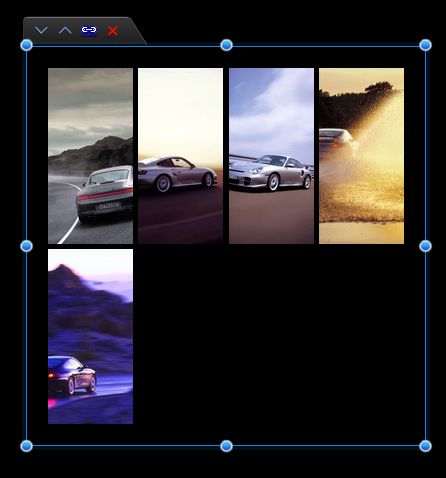 You can reorder.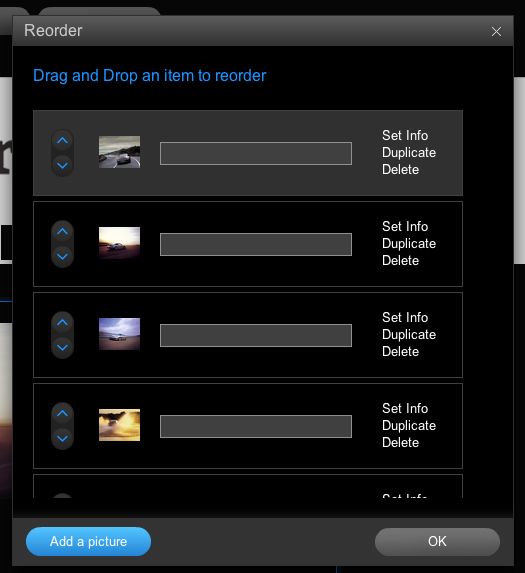 And you can change the settings.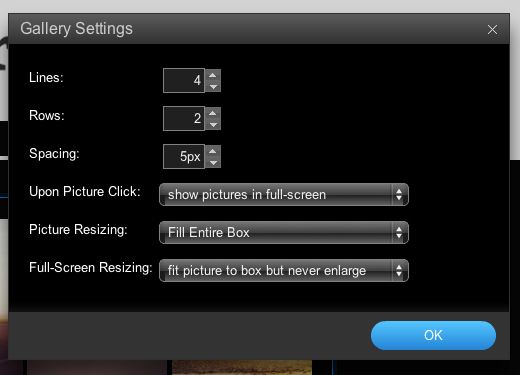 Plus, you can add a "like" button.
Adding a Slideshow
The slideshow is a slick interface with similar customization.
Adding a Contact Form
It's really easy to add a contact form. Each contact form comes with pre-determined fields:  1) Name (Optional), 2) Email, 3) Phone Number (Optional), and 4) Message.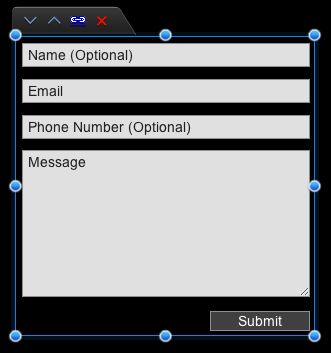 The contact form can be configured as follows.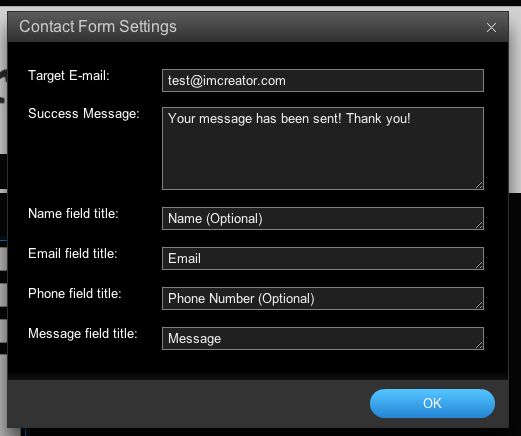 Limited customization is allowed on the color of the field text, field background, field outline, button text, and button background.
Adding HTML
To add other widgets or HTML snippets, the HTMLS editor provides this functionality. It is nothing more than a field for adding code.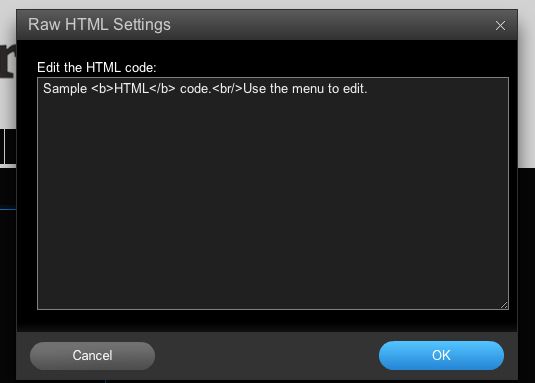 Adding a Horizontal Line
The line adding element is a simple horizontal line. Color and width can be changed.
Adding an Area
Though it sounds rather ambiguous, the "area" add feature is helpful. This allows you to create a box with a custom color and border.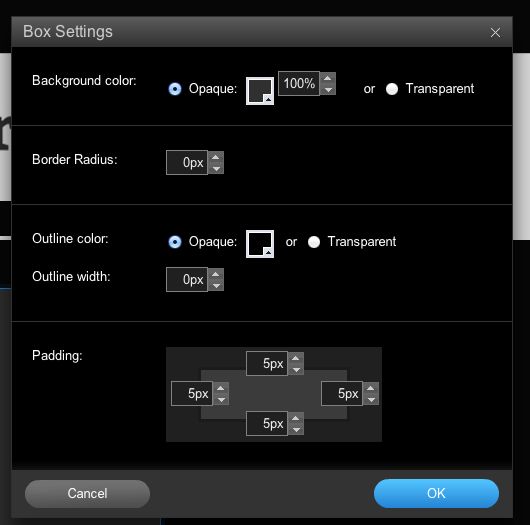 You can also make the box sticky to allow easier page editing with the box in place.
Adding a Menu
Making a menu is as simple as clicking the "menu" button.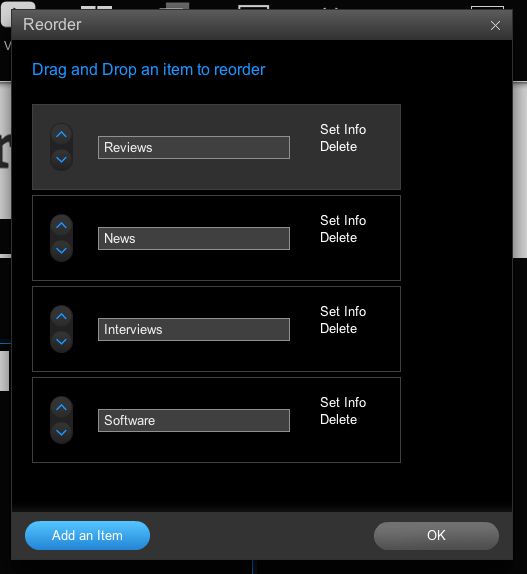 From this box, it's easy to set the title, description, anchor, placeholder, link type, and target destination. Changing ranking order is simply a matter of toggling the arrows on each item. To customize the look and feel of the menu, you can also alter the menu settings.
Often, a CMS uses a complicated menu interface to configure pages and order. IM Creator, however, takes a stunningly simple approach, which is very refreshing.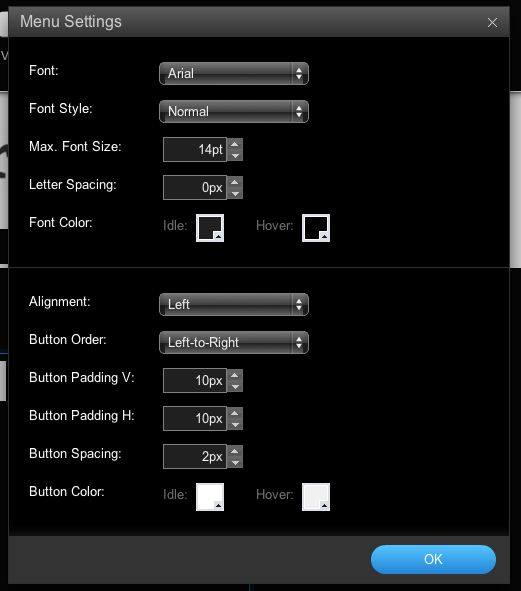 Adding submenus provides the same customization interface and options.
Adding Widgets
At the time of this review, IM Creator provided X widgets. Here they are:


Changing Settings

For all those things that you wanted to do (but couldn't) with adding elements is available for you in the "Settings" menu. Here's what we've got for settings. Maybe it's not the world's most populated option list, but it gets the basics. Plus, it makes it easy for web newbies to figure out how to make a sweet-looking spot on the internets. Let's check out what's going on
Page Size and Color
Easily switch up your canvas color and the width and height of pages sitewide. Maybe it's not exactly responsive, but at least you've got some mobile optimization love.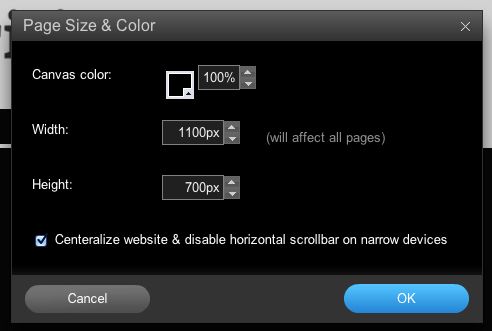 Background
If you're wanting some pizzazz in your site background, you can add a picture and adjust alignment for repeating images.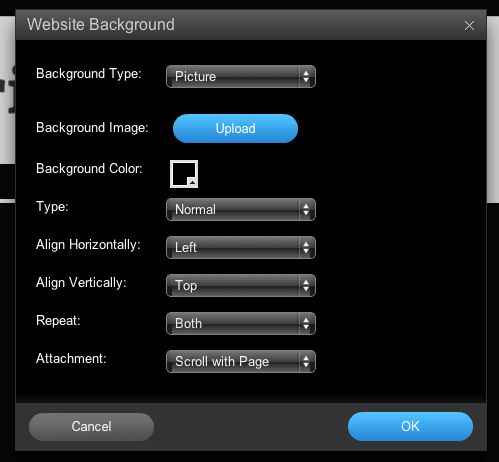 Favicon
Clicking the Favicon button simply allows you to upload your favicon image.
SEO
Each page has SEO customization so you can add a title, description, and keywords.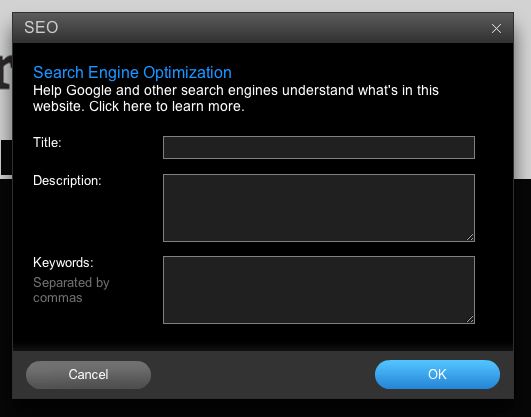 Domain
Domain allows you to save your website before continuing to the domain menu. After this, you are prompted to register, using an email, username, and password.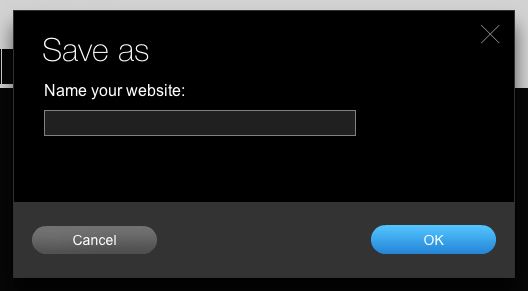 Analytics
Rather than using a custom analytics platform, IM Creator allows you to connect your site to Google Analytics.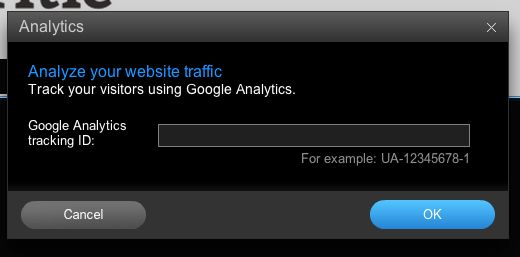 Presets
The "presets" described here are background scenery. You can choose from bland gray to fiery yellow orange, or even some vintage camo patterns.

There were 16 presets at the time of this review.
Pro
The title of this button may be a tad pretentious, but at least you can create additional admins and add a meta header.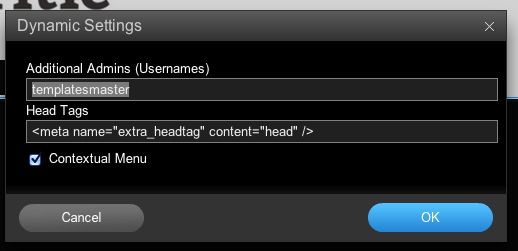 That is the scope of the editor. You can't claim that its complicated. It's not complicated in the least. IM Creator allows you to create a great-looking site with basic functionality. It's hard to go in and mess things up too badly.
Publishing and Setup
Now let's see what happens when we try to publish a site.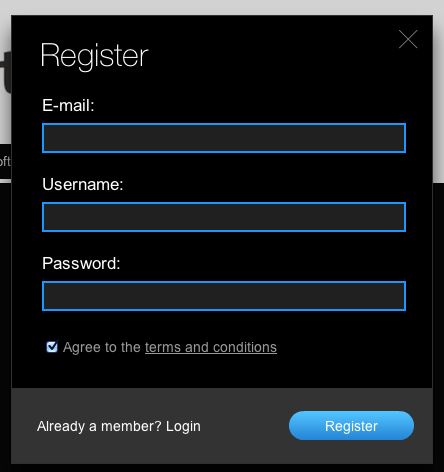 Here's where you get to purchase your domain and launch your site.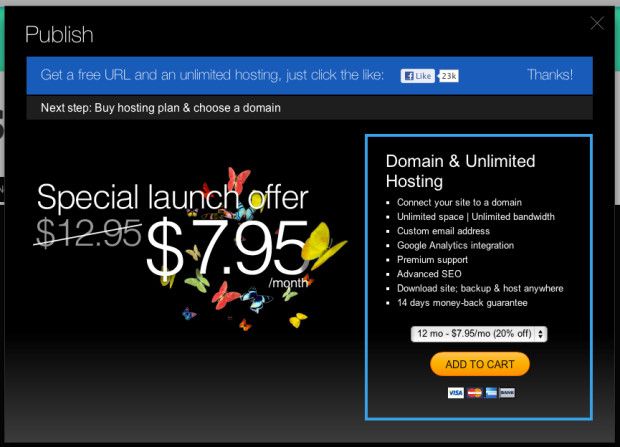 The pricing menu is affordable.
6 mo – $9.95/mo
12 mo – $7.95/mo
24 mo – $6.95/mo
36 mo – $5.95/mo
Obviously, you cannot publish your site without purchasing one of these options. It is, however, possible to save your site and all that hard work without having to pay.
My Websites
Once you have created your site and an account, you will have a main interface ("My Websites") that looks something like this.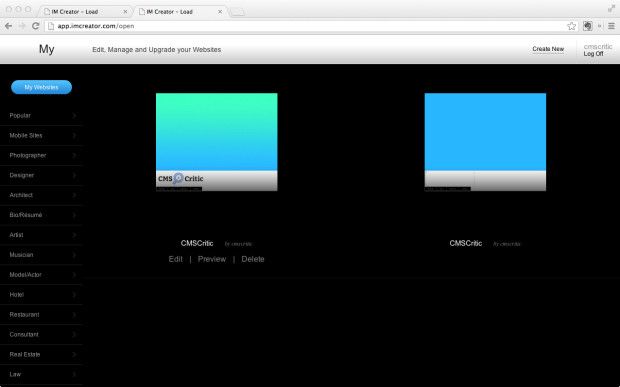 You can create new sites and pages as needed.
Additional Design Options
One of the great things about IM Creator is that it has design perks that are easy and fun to use. We'll explore these.
Creating a Site from Blank Template
If you've got the chutzpah to ditch the template and start with a blank slate, IM Creator has an option for that. The page is, of course, quite barren.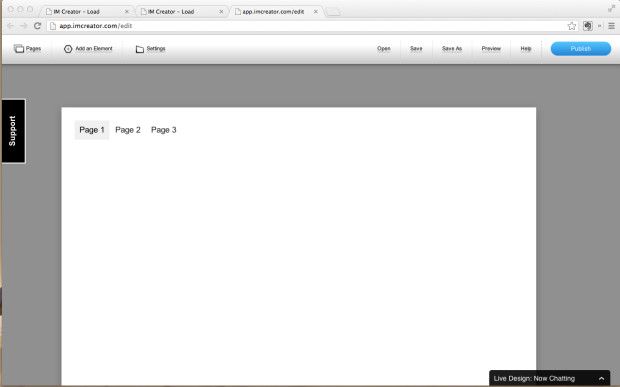 The "Add an Element" button is simply begging for you to begin your career as a website designer.
Choosing to create a website from scratch gives you a wide range of customization, as far as site design is concerned. At the same time, it will take considerably longer to create a satisfactory site. The templates, by contrast, are primed and ready to go. Plus, they are equally easy to customize.
Creating a Mobile Site
IM Creator has an impressive lineup of possible mobile templates.
Unfortunately, when I selected a mobile templates, the template did not appear in the editor. The customary editor interface was there, but no items. I submitted a request ticket for help on this issue.
Response time was a wee bit slow compared to some companies. Someone responded three days after my request:
The templates are temporarily down for updates and re-design. Once our designers have completed the modifications it will be available again to use.
Getting Help
Obviously, no CMS is complete without a thorough help interface. Here's a glance at the help options for IM Creator.
Support
On every page of IM Creator is a "Support" tab situated in the upper right corner.
Clicking "Support" brings up a single-field menu box:

There are no complicated menus to navigate. Just ask your question. I decided to find out if I could add a Google maps, by typing in, "Can I add Google maps?" The response was instantaneous.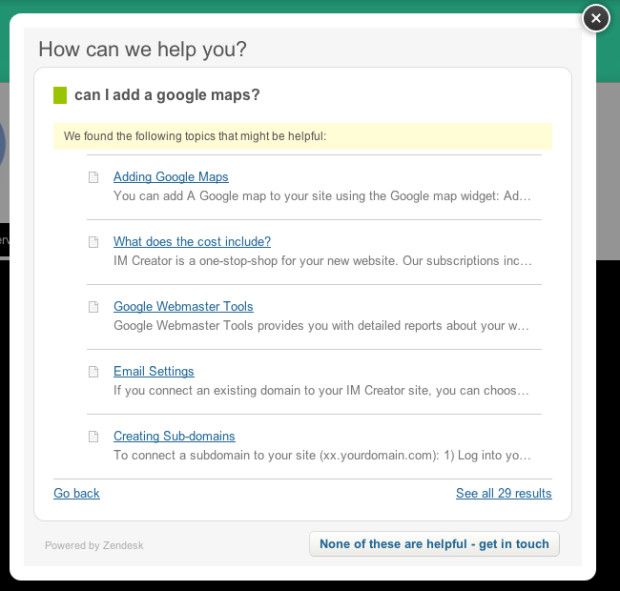 Clicking on the help topic brought me to a new page that provided a simple explanation for adding a Google map to the site.
IM Creator Support Center
The hub of the help for IM Creator is found at the IM Creator Support Center. This site provides a searchable forum, request submission form, and a way to check existing request tickets.
IM Creator Manual
A complete manual is available to answer pretty much every conceivable answer you might have about IM Creator. The manual is available in PDF.
Chat
Additionally, IM Creator has a live chat box that appears when you are in the editor. I chatted with "Matthew." Response time was prompt, and the directions were helpful.
12 mo – $2.97/mo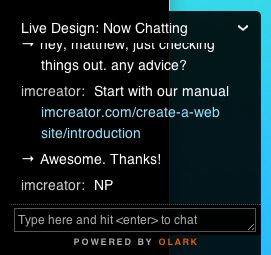 Pros and Cons of IM Creator
Pros
Sleek interface and editor. It plain looks nice. The clean, simple design is easy on the eyes.
Very little learning curve. Anyone who can use a computer can also use IM Creator. It's that simple.
Simple. If I had to sum up IM Creator in one word it would be "simple." The design is simple, the editor is simple, the payment is simple. It's just simple. I use the word in the very best way. It is refreshing to find a CMS that displays beauty and brilliance, but is wonderfully simple at the same time. Seriously, how many CMSs have you used that have three options at the top of the editor?!
Cons
Slow. The editor takes a while to get things done.
Limited customization. IM Creator doesn't give you a lot of wiggle room for options and customizations. You can make a nice-looking website, but you can't do much more. IM is not for professionals who want a lot of power and customization. It is for small organizations that simply want a good-looking web presence. The upside of this, obviously, is its simplicity.
Mobile site editor down for repairs. I wasn't able to create a mobile site, something that I was pretty excited about initially.
Agency Customization
IM Creator also pitches its service toward web designers who can create quick, easy, and impressive solutions for their clients. Again, such clients would preclude those who need an e-commerce presence.
Check out this sixty-seven second overview of IM Creator.