Translation is becoming more and more relevant by the day, with content management systems and the brands they serve having to think about catering to different tongues. After all, the larger your business, the further your reach.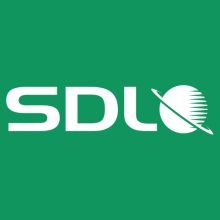 SDL's Machine Translation (MT) Engine now translates over 20 billion words every month. They have been developing MT technology for over 20 years, with the latest technology, XMT, released in 2015.
Breaking Down Barriers
Brands across the globe are now using SDL's MT for instant communication, translating and sharing user-generated content and analyzing Big Data sets. This powerful engine helps organizations break down the barriers of multilingual communication by providing a scalable infrastructure for the development and rapid deployment of real-time translation capabilities.
To illustrate the growing need for language translation in today's content-centric world, SDL has produced this cool infographic:

SDL offers MT engines that are scaled, trained and deployed to meet the unique needs of each individual organization. Key capabilities include:
Engine Training – Industry-trained and custom-trained engines produce higher quality MT output to match the terminology and style of the individual organization.
Secure Deployment Options – SDL's secure cloud offering can be hosted either in a class III data center, where all customer content is destroyed at the completion of the translation, or onsite behind a customer's firewall.
Post-Editing MT – An increasingly popular translation option is to have human translators Post-Editing Machine Translation (PEMT), doubling their daily production. SDL offers PEMT optimized engines, training and best practices to increase translator output.
Integrations – As organizations look to incorporate their translation activities into their overarching global content strategy, SDL's MT capabilities integrate directly with other business applications.
Social Media – SDL's MT engines are particularly adept at translating unstructured, social media content as its algorithms manage metadata, morphology and abbreviations common to social communications.
Upon reaching this massive milestone,  SDL's President of Global Language Solutions, Dominic Kinnon, made these comments:
"Machine Translation has become critical to improving language translation workflows as well as enabling global business management.

Our MT technology is used by companies from a wide variety of sectors including finance, life sciences, travel, and government to equip them to solve their language challenges."
To find out more about SDL's MT Engine, visit their website.
And as always, you can explore more through the SDL Hub on our CMS Directory.