Content management vendor, Ingeniux, has announced a significant new upgrade of their social collaboration platform, Cartella with their 4.0 release. Cartella comes in two editions, Intranet and Extranet.
Some of the key benefits that Cartella offers include:
Social Software Suite One application for blogs, documents, wikis, video, image sharing, and other social software tools. With Cartella you can make social content easy to manage and share without building new silos of information.
Business Ready Solutions Turnkey solutions for online communities, secure extranets, and read/write employee intranets. Use Cartella across your business to accelerate productivity and extend the reach of your brand.
Fast Time-to-Value Launch online communities and collaboration spaces in days to deliver immediate business value. Add Cartella to your existing websites or build new communities with custom themes, applications, and business processes.
Built for the Enterprise Authenticate users with single sign-on, permission people and workspaces, approve content with integrated workflow, connect Microsoft Sharepoint, file systems, and other repositories, and meet key compliance requirements. Cartella is the first solution to provide the ease of social software with the control of a true enterprise application.
Real-Time Analytics and Social Intelligence Use Cartella's built-in analytics to gain 24X7 insight into the performance, usage, behavior, engagement, and ROI of your online communities and business collaboration.
Groundbreaking "Microsoft .NET MVC" Architecture Cartella is built from the ground up with Microsoft .NET's new MVC technology. MVC redefines how .NET software may be developed and extended, making it web-friendly, easy to customize and integrate, and highly secure.
Ingeniux Intranet Edition
Ingeniux Intranet Edition offers some welcome features to those looking to launch employee directories, manage documents, create secure workgroups and collaboration, and turn content into conversations with forums, blogs, and comment moderation.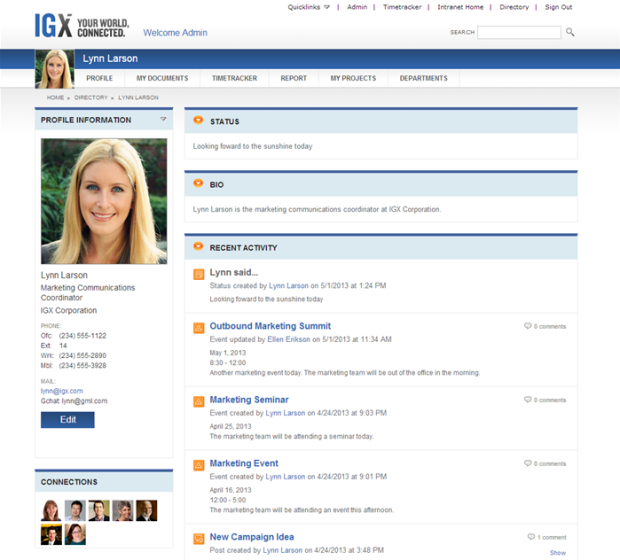 Some of the features available in this edition include:
Departmental and group workspaces
Blogs
Document collaboration
Mobile access
Employee or member directory
Member profiles
Taxonomy and tagging
Enterprise search
Social networking
Status updates
User syncing with Active Directory, Salesforce.com, and Dynamics
Calendar
Photo gallery
Forum
Video
Surveys and polls
Time tracking
Find out more about Ingeniux Intranet Edition.
Ingeniux Extranet Edition
Ingeniux Extranet Edition offers a wide variety of modules that can be used to create amazing out of the box experiences. It also incorporates integrations with Salesforce.com, Microsoft Dynamics and Active Directory.
Some of the features available include:
Blogs
Document management
Digital asset management
Profiles and directories
Galleries
Video
Forums
Polls and surveys
Project time tracking
Calendars
Other tools and solutions
Find out more about Ingeniux Extranet Edition.