Wix is a popular, cloud-based website builder which powers millions of websites worldwide.
With Wix, individual users and business owners can create a beautiful, professional web presence – with no coding skills required. 
Founded in 2006, Wix has over 550 employees, boasting five offices across the globe. Recently, I got the chance to chat with the Director of Communications at Wix, Eric Mason. We spoke about what Wix offers, how it stands out in a competitive market, and even managed to find out some of Eric's favourite Wix-powered websites.
The Interview
1. Please tell us a bit about yourself and your background as well as how you came to be at Wix.
I came to Wix from my own small business, Wigdawg Marketing and Communications, where I helped organizations, small businesses and non-profits shape their message and brand, and then get online to launch their companies, drive sales, build community, motivate and educate.
During that time I was lucky enough to build and design sites on nearly every major platform as well as coding sites from scratch too.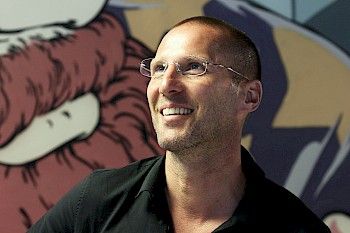 In March of 2012 Wix launched the industry's first HTML5 editor, a true WYSIWYG drag-and-drop web canvas that allowed for maximum flexibility without the need for coding. I knew immediately it was going to be a game changer. I'd spent years watching first-hand as frustrated entrepreneurs and small businesses had to be satisfied with either limited blocky template style builders, or forced to spend significant resources in money, time or technical education (and often all three) to truly launch their vision on the web.    
I had a real desire to continue to work with, and provide meaningful solutions for entrepreneurs, non-profits, small businesses, students, etc… who aspire to share their vision and dreams. Wix provides me that opportunity each and every day. 
2.What is Wix?
Wix.com is a leading cloud-based web development platform with over 50 million registered users worldwide. Built around our industry leading HTML5 drag-and-drop editor, Wix offers a true What-You-See-Is-What-You-Get (WYSIWYG) creative environment where users can create their unique web presence all without need for coding or technical expertise.
Because Wix is built in layers it's something more powerful than a "template" site builder (though we've 100's of beautifully designed templates) and is increasingly becoming a one-stop shop small businesses with integrated ecommerce, business management tools, marketing and contact management capabilities, and a vibrant app market eco-system. 
Wix was founded on the belief that the Internet should be accessible to everyone to develop, create and contribute. Through free and premium subscriptions, Wix empowers millions of businesses, organizations, professionals and individuals to take their businesses, brands and workflow online. The Wix Editor and highly curated App Market enable users to build and manage a fully integrated and dynamic online presence. Wix's headquarters are in Tel Aviv with offices in San Francisco, New York, Vilnius and Dnepropetrovsk.
3.What is your personal favorite feature of Wix?
I get really excited about new features. Like, little kid excited. Part of this is because I know how difficult they are to build and execute. This experience is magnified when, for example in the case of our recently announced animations or anchors feature, I see how fun and easy our developers and engineers have made the process for users. Drag, drop, click, customize, go! The delight factor for me is really high because I know it's going to be off the charts for our users. 
My favorite feature recently was the launch of our new "beyond responsive" mobile solution. Everyone is considering mobile these days as more and more of our screen time is spent on our phones and on the go devices. Our team developed an algorithm that converts the full sized version of your HTML5 website into a mobile optimized version in a single click. We then allow you to enter a mobile editor and hide and manipulate elements of the mobile version customizing it even further for your mobile visitors. Your full size site remains unchanged in this process.
We do all this while maintaining a single source code making it great for SEO too.  It's a unique and nuanced solution. While lots of platforms give you responsive sites by simply re-stacking blocks of content, the Wix mobile solution allows true flexibility and freedom to shape the mobile experience for your users. That's powerful and is directly in line with our overarching goals for any product or feature we release. 
4.What differentiates Wix from the other website builders on the market?
Wix is a significantly different product and company than anything else on the market for several reasons. We're a product and technology driven company, and were also user and customer focused in everything we do. As I mentioned earlier Wix is the only real fully flexible drag-and-drop editor on the market. Wix has hundreds of beautifully designed templates but we're unlike any template site builder.
While all the others are built in blocks limiting creative expression, or needing extensive code, time, resources to customize, Wix and the Wix Editor are built in layers, fully flexible, and fully customizable. It's more than just a technical difference but a philosophy of giving users the most robust tools without the need for coding. You see this cascade throughout the organization and right into the sites that are designed by our users too. People build amazingly unique, beautiful and functional websites when given the tools to do so. 
As a technology company Wix has a rapid and ambitious continuous development methodology and roadmap. This is supported by an R&D methodology where developers, who represent 50% of the total employee base, have complete ownership and ongoing responsibility for monitoring and improving the new features they create. This enables Wix to stay on top of a constantly changing technological landscape and quickly commoditize the continuous innovation in web design and interaction into new features offered to users. 
As a customer focused company, this continuous development cycle is tied closely to our users feedback, support infrastructure and community. Our constant advancement and improvements to the platform are a direct reflection of listening and interacting closely and continually with our users. 
5.What kind of customers choose Wix as their website builder of choice?
We see all types of small businesses, artists, photographer, students, solo-preneurs, etc… gravitate towards Wix. Of course we fit a real need for those looking to do-it-themselves, but need to have a fully functional, scalable, beautiful and professional web presence.
Ecommerce is critical for many of these businesses and in addition to our easy to use native Ecommerce engine; Wix has several other options through the app market. What this means is any business can design their site and then pick a suite of apps, Ecommerce to social and more that fit their specific needs. 
We're also seeing an increasing number of more experienced and tech-savvy web folks migrating to Wix as they come to discover the power of our drag-and-drop editor to build quickly and easily. That's exciting to see. Website designers and developers are showing up too. If I'd had Wix's HTML5 editor back when I was running my own businesses building sites for clients I could have easily tripled or quadrupled my business overnight. Others are figuring this out as well and we're seeing more and more web professionals leveraging our tools for their clients.   
6. What are some examples of the best Wix built websites out there? Please share links.
As mentioned above, all sorts of people build websites and manage their businesses with Wix. We just crossed the 50 million-user milestone and highlighted 50 great websites to celebrate.  Check those out here. 
On our Explore Page you'll also find examples of great Wix built site.
Finally, we publish an ongoing series called "Own it! Our Template Your Website" where we show the amazing flexibility of the Wix editor by highlighting a variety of websites all created from a single template. As the evidence shows, Wix users were able to use any single template to design individual and powerful sites with a distinct vibe. 
7. What types of integrations does Wix provide with other platforms (ecommerce, analytics, etc.)?
Wix launched its App Market, just a few months after the HTML5 editor in 2012. The Wix third party SDK – see dev.wix.com – allows any developer to seamlessly integrate their HTML5 apps into Wix platform via the Wix App Market. Once integrated, our users can add these third party apps to their personal websites.
To date we have more than 200 curated native and third party apps that greatly expand the capacity of Wix built sites. Some of the more popular apps include, Google Apps, 123Contact, Search, Instagram, Google analytics, Shopify and Ecwid Ecommerce packages, chat and social apps, business management apps, and many more. 
With more than 50 new apps in the pipeline, expanded functionality is coming online all the time. And of course, we insist all apps in the market are easy to use and integrate seamlessly into Wix built sites. We recently announced the WixHive API which captures a variety of actions or "activities" taken by a user's website visitors such as contact information, messages, purchases, bookings and more.
The activity data for each site is stored and managed in a centralized database dedicated to that site, and can be accessed by installed apps and the site's owner through a dashboard.  Formerly stand-alone apps will now share the gathered data, giving site owners the ability to make business decisions, manage customer relationships and take other actions based on the strength of the integrated insights.
8. What type of support do you offer your customers? Phone, email, live chat, 24/7? Please share the details.
Wix support begins directly inside the editor. Throughout, we've got links to helpful videos and tutorials to assist at any stage of a users web creation process. Our continuous development cycles means that we are always monitoring where there might be issues and work diligently to address those quickly and efficiently. 
In addition Wix offers online support through our Answers area, forum support, video tutorials, phone support, and finally email support via support@wix.com.
Sign up to create your free Wix website today.