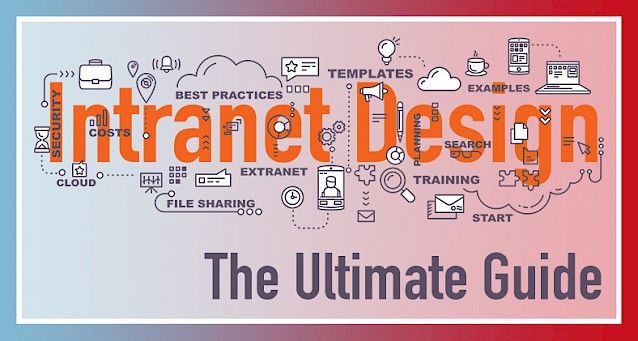 A CMS intranet can be a pain to set up. We're not all technology experts, and sometimes rolling out a new system is daunting, to the point where we avoid it all together.
MyHub have just released their free guide to designing an intranet, and we're here to give you the rundown on it. Overall we think it's bang on, and well worth a read if you're struggling with implementing a CMS intranet design, or even contemplating the task. Given that our aim is eliminating the feeling you can get when you don't know where to start, we see this as an awesome guide to help to get going as well as taking you right the way through to launch.
Why Bother With A Guide?
So you've decided you might want an intranet. Great! You see the value of a connected environment, but don't understand all the IT jargon. Time is of the essence and you don't have the hours to read through every piece of information out there. The idea of winning over your CEO and your ground staff, then deciding on what type of intranet, which provider, how to train staff, how to manage content… It's all a bit much.
That's why you need to read this intranet design guide. Setting up an intranet may seem like a very simple task from a high-level perspective, but when you sink your teeth into it, there are complexities to navigate. From SSL to HTML, trying to implement an intranet from scratch can be a daunting project! Instead of going it alone, use the guide as a light for the path.
How Can The Intranet Design Guide Help?
Simplicity is the main reason, written by experts, the design guide takes decades of experience and puts it all in one place, in words normal folk can understand. It's been written with non-technical staff in mind, as well as time poor executives, so while being comprehensive, it's all structured in a manner to save you lots of precious time. No weighty jargon, just a practical resource for staff at all levels.
Essentially, the guide ensures your intranet is fit for purpose, from a design, usability and functionality perspective. Instead of spending valuable time and resources on a trial-and-error set up to find out what works for your organization, MyHub's guide provides you with a tool to look at your organizational issues, and match this with the correct design from day one. The result? An intranet implementation that is smooth, and successful.
Whether you're introducing an intranet for the first time, or re-doing an existing solution, this guide is a useful resource. Its principles and quick tips mean that regardless of your unique situation, some value is added.
What Does It Cover?
Everything you need to know. If it's related to setting up an intranet, and you need to know it, it's all covered. From intranet types, through to design, templates and hosting options, you'll find practical tips and advice to ease the implementation process. Here's a quick look at a few of the areas touched on:
how to get started

planning your intranet

different issues an intranet can solve

hosting options

launch costs

different types of intranet

standard intranet features

intranet design best practice

making the most of intranet design templates

intranet security

best practice examples
It's true, much of this information is already out there on the web. What we like about this guide is that it's all in one place. Not 14,440,000 different search results.
Who's It For?
If you're implementing or designing an intranet, this is for you–especially if you're an executive or manager overseeing the implementation by staff. Saying that, it's also really useful for the team members who are dealing with all the details.
It's clear enough that it could be used by people who've never had an intranet before, but doesn't dumb things down, so if you've got some good background knowledge and are looking to revamp your intranet, this could still be useful. The MyHub team aim to show that an intranet doesn't have to be implemented by IT experts, so it's a lot more accessible than most intranet guides for non-technical personnel.
Where Can I Find It?
The guide is free to download from the MyHub Intranet website. We all know how useful a CMS intranet is, so this will help you begin the process of setting up your company intranet, and participate in the many benefits. Like many others before, you'll soon find the intranet becomes an indispensable organizational tool.
Included in the guide is a fantastic reference section, linking other useful information, as well as more detail around specific intranet topics such as creating engaging content, governance, performance management and security.
As well as this, there are a range of links to wider intranet issues. From how they can support employee engagement initiatives and improve internal communications, to enhancing opportunities for joint working and collaboration across organizations… The list goes on. This is a great area to spark ideas around maximizing the return on investment for your intranet.
The team at MyHub, are always happy to provide advice and assistance wherever possible. Get in touch with them today for an informal discussion about any aspect of the guide or indeed implementing an intranet generally. They'd love to hear from you.