Jahia, today announces the availability of Jahia xCM 6.6.2 in Community and Enterprise distributions, and of Jahia Wise 1.8, its social and collaborative document sharing solution (Enterprise distribution).
These new versions are Services Packs resulting from continued collaboration with the community, which makes it possible to constantly enhance the user experience, performances and stability.
For all Jahia customer projects combining critical portal and content management aspects, these new versions mean significant improvements in terms of scalability, speed and stability, including:
For Jahia xCM, a significant improvement of response times when viewing and contributing to a project, with display times almost 50 percent faster; optimization of the clustering, making it possible to linearly extend the scalability of the consultation front end for web and mobile projects.
For Jahia Wise, the ability to manage up to 1 million documents while maintaining an optimal user experience.
Socomec and La Poste in France, Desjardins in Canada, the Landtag of Baden-Württemberg in Germany, General Motors and Phoenix in the United States, to name but a few, recently selected Jahia over proprietary or Open Source competing solutions, for critical and complex projects. The choice made by these large organizations demonstrates that Jahia's vision is consistent with the needs of enterprises: application convergence (portal, web, research, document, social, collaboration and mobile).
These recent deals allowed Jahia to achieve the best half-year results of its history with a growth of over 70 percent compared to the first half of 2012.
"We have been working jointly with members of our community, our clients and partners for over 10 years. This allows us to address the strategic challenges of large companies. Whether for portal, extranet, intranet, web or mobile projects, Jahia's unparalleled portal/content unification naturally convinces them to choose our offering over all other solutions on the market. Developers, especially those working for our partners, appreciate the increased development speed provided by our exclusive tool – the Jahia Studio – and its suite of modules, when implementing digital portals. All this demonstrates that our platform is robust, feature-rich and relevant in the long term." Elie Auvray, CEO of Jahia Solution Group SA, comments.
Downloads and Migration Tools
Jahia xCM Community distribution (Windows and Linux) – here
Migration package from Jahia xCM 6610 to Jahia xCM 662 Community distribution – here
Jahia xCM Enterprise distribution (Windows and Linux) – here
Jahia Wise Enterprise distribution, migration packages for Jahia xCM and Wise Enterprise distribution – available on the client extranet.
Screenshots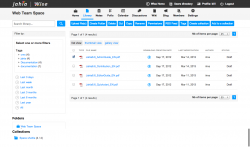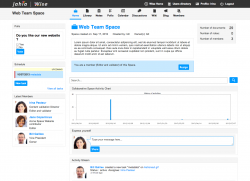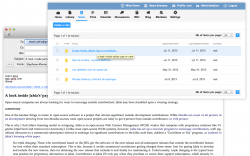 More details on Jahia xCM and Jahia Wise