Jahia, have given their eagerly anticipated enterprise portal solution – Portal Factory – a release date. June 30th 2014 to be precise. Jahia Portal Factory is built to bring enhanced integration capabilities with external content and business applications.
The initial announcement of Jahia Portal Factory was made back back in February 2014, when we had the pleasure of attending JahiaOne Conference.
Jahia recently launched the latest edition of their open source, enterprise content management system, Now, with the release of Portal Factory, enterprise customers of Jahia can expect a whole new branch of functionality.
Portals, Portals, Portals
Jahia Portal Factory brings together the capabilities of Digital Factory CMS along with additional portal capabilities into one single solution. Here's a quick overview of what it can offer:
Users themselves can create ad-hoc portals and personal dashboards based on predefined and approved portal templates and components managed from a central administration interface.
​Companies can seamlessly expose their existing/legacy business applications within modern multi-channel web portal interfaces, thus securing former investments and reducing the time-to-market.
Companies can also expose their data silos (using custom or standardized data providers such as CMIS) and enrich them with additional content into secured digital portals, without duplicating or re-writing data sources.
Marketing teams can produce and publish content as fast and as regularly as their market requires, embedding data and enterprise applications into compelling and differentiating user experiences for their customers without being constrained by IT applications lifecycle.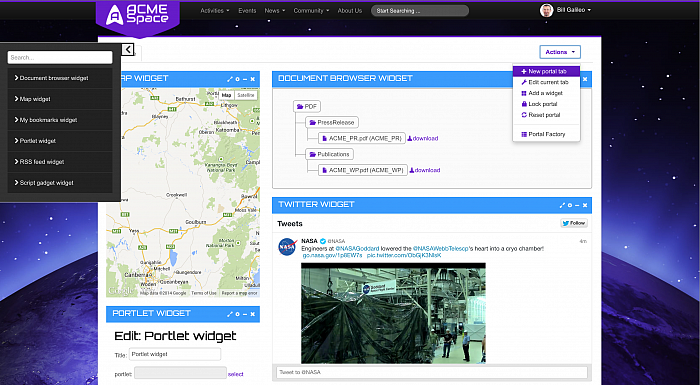 Key features of Jahia Portal Factory
Inheriting its extensibility and content management capabilities from Digital Factory, Jahia Portal Factory has everything it needs to tackle even the most demanding digital projects.
Here's a look at all the key features of Portal Factory:
A new non-intrusive integration for enterprise legacy applications: Portal Factory allows for the integration of legacy applications without having to modify them in any way. Regardless of the language the application had been developed with.Marketing teams can produce the content their market requires at the time it needs it, while IT teams can decide and plan to work on the application at their own pace, according to their resources, security and stability constraints.

This server side integration has been built with the new open source framework Esigate, initiated by Smile and Capgemini, two leading system integrators, and to which Jahia is now a committer.

The External Data Provider: A new core service developed by Jahia which enables developers to declare bridges between internal content and external repositories without neither copy nor duplication or synchronization.With the External Data Provider, external data can be accessed, manipulated and searched as if they were directly stored in Jahia repository. All external and internal data can benefit, among other core Jahia features, from the powerful layout building features of the Jahia Studio.
User centric personalized dashboards with SSO:  Portal Factory comes with sample widgets, preconfigured portals and configuration tools to help administrators create dashboards easily and pick default widgets and configurations that users will then be able to customize at will.
CMIS: New aggregation capabilities to mount CMIS compliant repositories such as Alfresco, Sharepoint etc. into Digital Factory as well as Portal Factory modules.
A Set of Enterprise Portal Features: These include Identity Management, Personalized content and Multi-Portal capabilities, which have been key capabilities of the Jahia platform since its early days.
Regarding the impending launch of Jahia Portal Factory, Elie Auvray, CEO of Jahia, had this to say:
"As announced during our first international user conference, JahiaOne, in early February this year, Portal Factory will be available late June thanks to the work done with our community of Customer and Partner.

In its former version, our CMS solution – Digital Factory –  offered portal features that needed refinement to meet the scope of a complete Portal offering. The conception and development of both the External Data Provider and the Esigate integration, associated with the extension of the personal dashboards exceed everyone's expectations."
To find out more about Jahia, check out their website. You can also request a trial of Jahia Portal Factory right here.
In addition, be sure to explore more of Jahia via our CMS Directory.