When it comes to website creation tools, there are a few criteria that all online businesses compete on; price, an intuitive layout, and ease of use.
In recent years, Jimdo has become one of the more popular website builders on the market for this very reason. This popularity has been based on its plethora of features, easy navigation, and powerful online store features.
According to the Jimdo site, almost 200,000 online stores have been created since Jimdo launched in 2010, with small business owners, creatives, and bloggers as its primary customers.
One thing that causes a lot of CMS to go downhill is the addition of new features. It can be easy to bloat a CMS with unnecessary tools or widgets but it looks like Jimdo has managed to avoid this pitfall.
Getting Set Up
Getting your Jimdo account up and running is a pretty simple process.
You just pick a basic template, insert your email, set a password, and you're on your way.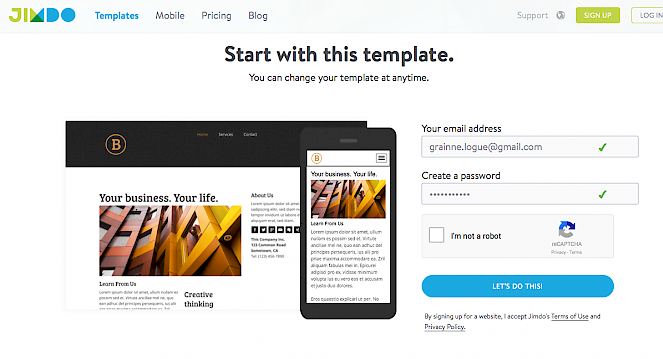 From there, you're taken to a menu where you can select your domain name. Jimdo has a few options here – a free subdomain, your own .com domain for €5 a month, or transferring your own domain over via their nameservers.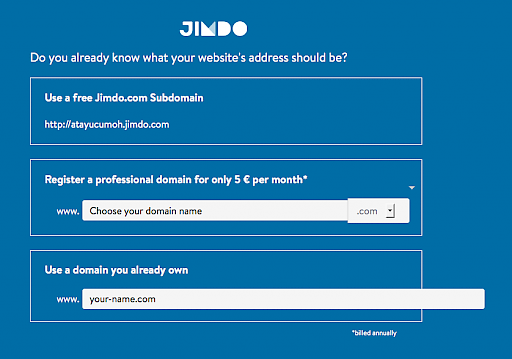 Features
As I mentioned earlier, Jimdo places a premium on ease of use. The opening page takes you straight down to business – which is refreshing. Navigation is quite simple and, if anything, maybe a little too simple in places. I would have liked a few more layers of complexity for certain aspects, but this doesn't hamper the overall experience.
It's also somewhat 'inflexible' when it comes to editing some things. You can't move some of the text windows, for example.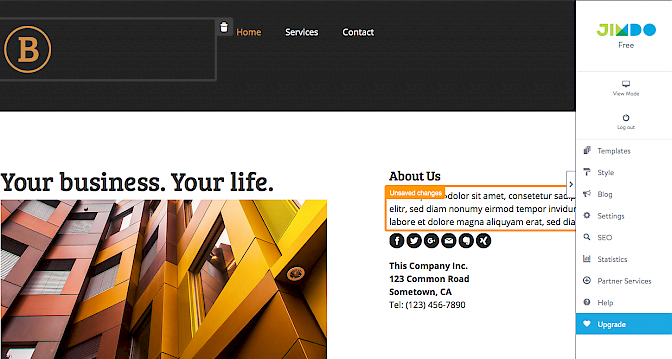 Jimdo has a well designed and intuitive layout. It also has the kind of drag-and-drop functionality that has become the standard in sites like these. This is an editor with no lag and it ran incredibly fast on all of the browsers I tested it on. You should be aware that all your changes are made live to the site as you save each element.
A 'preview' button combined with a feature that only publishes your changes on full completion, might be better suited to the rookie site builder. As it is, every change you make goes live straight away.
Intuition in Design
If you click on a picture, you can edit it. If you click on text, you can edit it with the rich text editor right there on the screen. Everything is very simple and works as you'd expect it to.
You can create your own template from scratch but the available templates are of a great standard and contemporarily designed.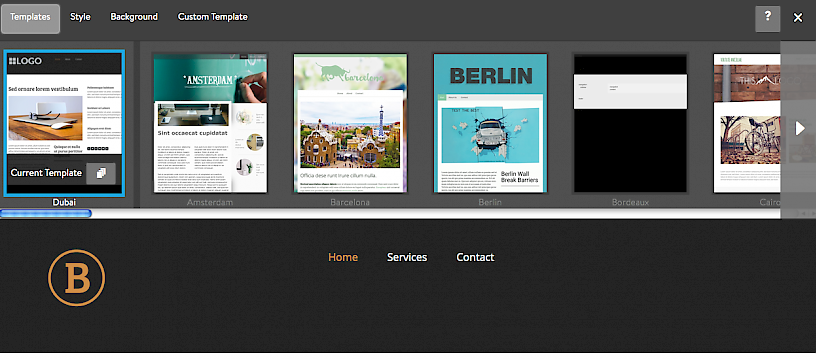 The design styles are clean and nicely put together but they might be a little basic for some people's tastes and seemed a little 'samey' to me.
I also found that some templates were a little rigid in their layout but they are well designed overall.
Options
Jimdo has quite a comprehensive settings page but all the premium features are listed on the free page's settings, which means that you only find out you don't have them after you click. A little frustrating.
All of Jimdo packages have a shop function with scaling features. The free package has 5 items, the professional package has 15, and the business package allows you unlimited items.
This online store function is one of Jimdo's main selling points and it is quite well put together. However, Paypal is the only payment processing option available. This can be a big problem if you don't want to use that site.
Domains and Email accounts: Jimdo offers an email service with its premium packages which is something none of its competitors offer. This makes the premium packages extremely good value as they don't charge extra for this service.
App: Jimdo's app is one of the best available when it comes to creating a website on a tablet or smart device. It's available on both Android and iOS.
Widgets: All of the plans offer a wide range of Widgets (e.g. YouTube embed, image galleries etc)
Price Points
Jimdo is quite reasonably priced. To be honest, the Free option isn't really worth the effort of setting it up. It's fine for testing something out, but no business or blogger will realistically use this subdomain as it hosts advertisements and offers only a basic package of features.
You can easily upgrade from your Free package to the Premium or Business package and the added features make it well worth it.
Premium packages start at €5 a month for the Professional package (charged yearly). This allows you to have one domain name of your choosing, numerous SEO options, and a lot of space.
The Business package is a really good option at €15 a month. It seems pricey but you get a ton of features including two domains, unlimited email addresses, unlimited shop items, unlimited storage, discount codes, full SEO customization, and more.
The extensive features available in the Business package make it an extremely good option for the medium sized eCommerce company. For more on pricing, click here.
Pros:
Very quick and easy setup.

Fair pricing scale and lot of good features on their mid-range price option.

Offers email hosting with their premium packages.

Well designed app.

Wide range of widgets and features
Cons:
The platform is only compatible with Paypal, which limits your options drastically.

Lack of a preview button on page means changes are published live to the site.

Slightly inflexible page editor.
To Sum It Up
Jimdo is a good website builder that's just a shade away from being a great website builder. It falls down slightly with its Free package and the depth of editing available on the various templates.
Jimdo's Business package really seems to be the best deal and it gives you everything that a potential online store could want – at quite a reasonable price for the various features on offer. So if you're thinking about signing up to Jimdo, I definitely recommend trying going for this option. If you do, you'll have an intuitive, powerful, easy to use website builder that is well worth the money you've paid for it. To sign up for Jimdo, just click here.
Have you tried Jimdo for your business? Why not share your thoughts with us in the comments section below.