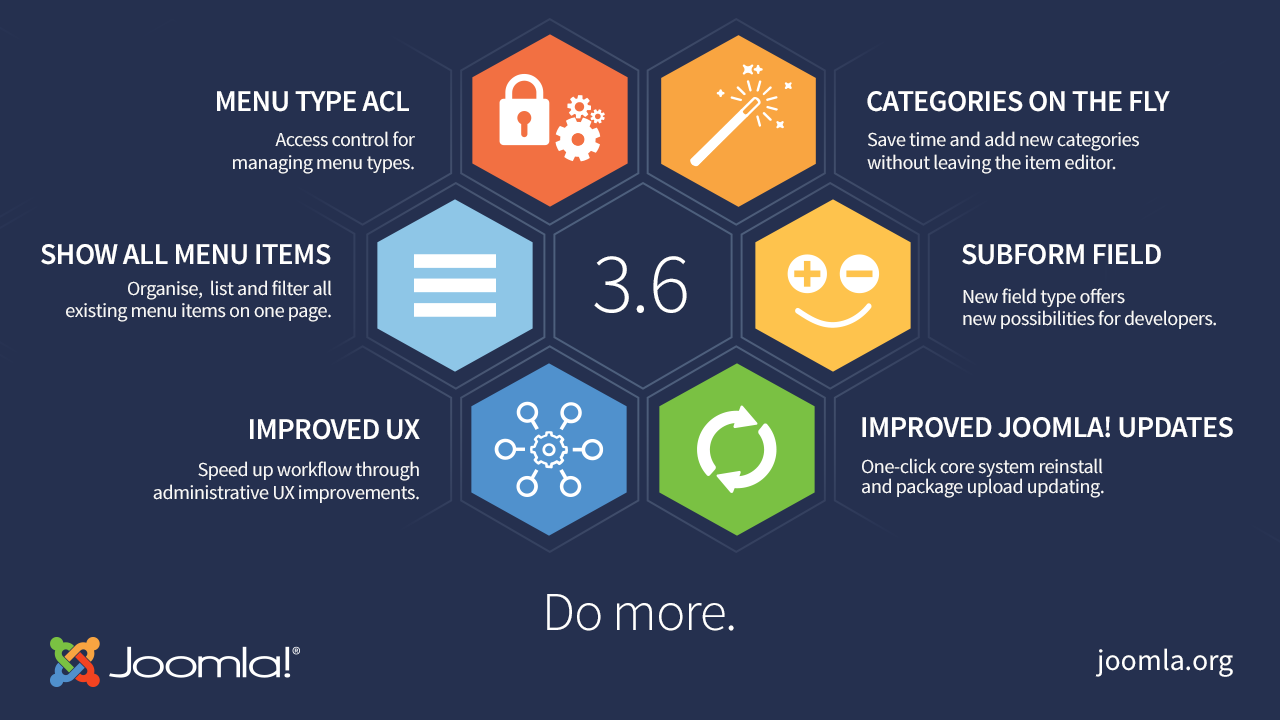 Joomla 3.6 has arrived, and it wants to make you a better web designer.
More than 400 commits of improvements and bug fixes were merged to produce this major release – including plenty of user experience (UX) and developer enhancements.
Here are the highlights.
Improved Joomla! Updates
This update adds an option for reinstalling Joomla's core files at the click of a button, overwriting any modified file(s) and reverting them back to the default. The option to update Joomla! by uploading the update file has been restored, as it was requested by feedback that the Joomla! Production Leadership Team (PLT) received from the Joomla! community.
The Revolution In Joomla! UX Improvements
Joomla! 3.6 contains a lot of UX improvements. Now you can find your modules faster, have tasks done by dropdown, improved user management and so much more.
Sub Form Field
With the new Sub Form Field function in Joomla! 3.6 we added some extra additional functionality next to Repeatable fields. Now you can nest XML forms inside each other or reuse your existing forms inside your current form.
Create Categories On The Fly
It can get frustrating when you create a new item, and you realise that you haven't created a category yet. Joomla! 3.6 now lets you create a category on the fly for articles, contacts, newsfeeds and banners.
All in all, administrators will benefit from a revamped UX, saving them time when it comes to managing modules, menus and categories.
For developers and designers, the ability to use and re-use of XML forms, complex database queries and improved storage of dynamic JavaScript variables will make life easier.
"We've Listened"
George Wilson, from Joomla's Production Leadership Team, stated that Joomla had listened closely to developers prior to this release:
"Joomla! 3.6 is a release focused on listening to our users. We've listened to our administrators who said that removing uploading Joomla! packages caused issues on intranet sites. We've listened to developers who were having practical issues with repeatable form fields.

We've listened to site administrators who wanted an even simpler article and category creation workflow. Finally we've fixed large numbers of bugs affecting our users and administrators."
Of course there are many more features and improvements and more details can be found at https://joomla.org/3
Joomla! 3.6 is available as a one-click upgrade to all Joomla! 3 site owners directly from their website's control panel.
Kudos Where Kudos Is Due
I must admit, this looks like a stellar update from the guys over at Joomla. UX improvements are always welcome (especially on Joomla) while the category creation feature is a big step in the right direction.
The ability to "reset" Joomla seems useful too, while the return of updating via update file upload will certainly be well received by the Joomla community.
In short; kudos, Joomla!
To find out more about this release, check out Joomla's website.