On July 2nd 2013, Koken released version 0.9 of their popular content management system, built from the ground up for Photographers, designers and other creative media publishers.
Koken 0.9 brings about an array of over 50 updates relating to image editing, media organization, essay presentation and social sharing. Let's now delve into the most exciting features of Koken's latest update.
Featured Images & Essays
One of the updates brought about by Koken 0.9 is featured images, which can be assigned to different essays and pages. Users can now quickly and easily insert images from their media library into various content, which prompts Koken to assign it as the featured image for that particular publication.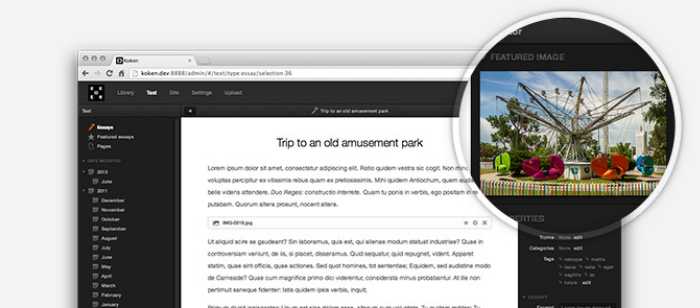 Additionally, Koken 0.9 brings about the ability to set featured essays, allowing users to display a certain essays in a way which is more distinct, and will thus draw the direct attention of their website visitors.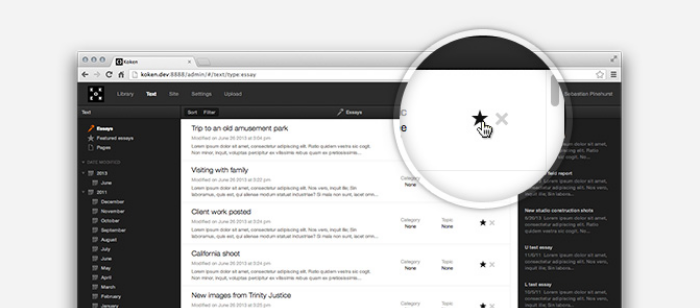 Users can now simply click the star next to any essay to give it its featured status. Koken has also updated the vast majority of its themes in compliance with this feature, to allow all-round featured essay support and display capability.
Image Focal Points
Like many themes across a variety of CMS, Koken's templates often crop images to fit certain thumbnail and page sizes. Previously, images may have been cropped in a way which removes the focus of the picture itself. For example, faces or wording which hold value may have been cropped out of the image altogether. 
As a solution, Koken 0.9 introduces an image "Focal Point" tool, which allows users to pinpoint an area within an image which must always kept within the frame, even after cropping. This ensures that all forms of cropping never negatively affects the impact of the image.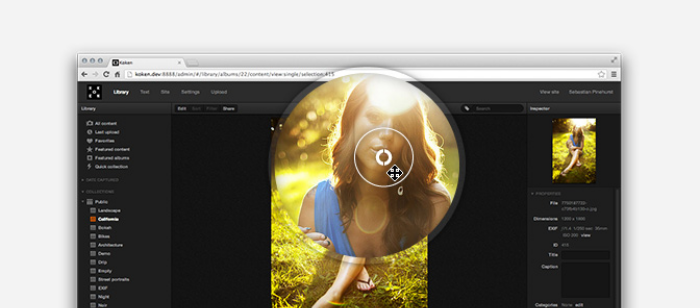 Better Media Organization
Photographers and others who wish to upload large amounts of images and other types of media will be happy to see Koken's improvements relating to media organization, searching and general management.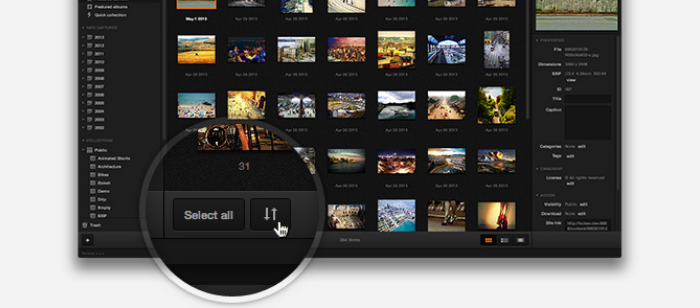 Users are now able to search and sort their content by filename, displaying media is ascending and descending order. Additionally, a "Reverse Order" button has been added, which flips the order or albums, making older uploads easier to locate.
Improved HTML Editing
Koken 0.9 also presents a completely revamped HTML editor. The new editor offers features such as syntax highlighting, code completion and the ability for users to view their changes in both edit modes. Essentially, the HTML editor provides an instant preview of the changes being made.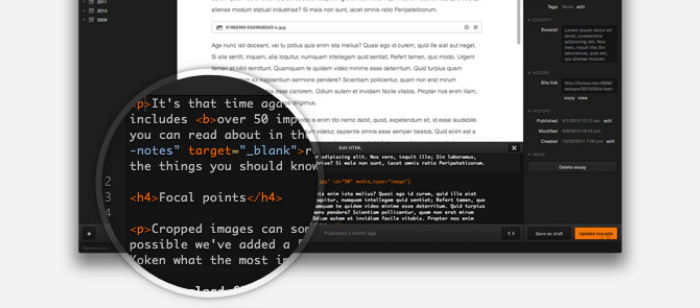 Tumblr Sharing
Also amongst Koken's new features, is the ability to share content directly to the extremely popular social network, Tumblr.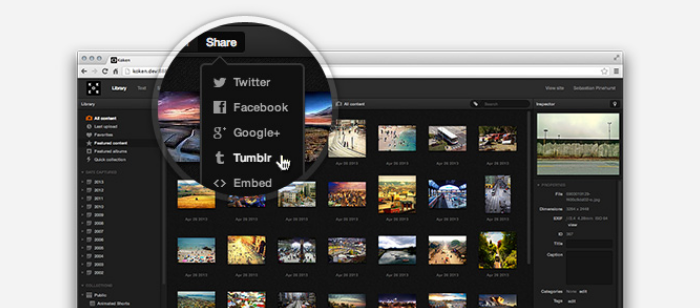 The Tumblr sharing option has been added to Koken's default themes, as well as the Library section located within Koken's administration console. This allows users to publish content to Tumblr without ever having to leave their admin panel.
Additional Features
In addition to the new features and capabilities mentioned above, Koken 0.9 also introduces changes such as, RSS feed improvements, navigational enhancements, slideshow titles & captions, and much more.
Also, just hours after the release of Koken 0.9, a much smaller update in the form of Koken 0.9.1 was announced, which fixed a number of minor issues relating to the previous burst of updates and enhancements.
For further information on the changes we have highlighted, and a full list of Koken 0.9's CMS features and updates, check out Koken's official release notes.