LightCMS have announced some useful social features along with some interface enhancements to be released tomorrow, May 7th 2014.
As a popular cloud-based website builder, LightCMS offers an array of tools which help users to build professional websites, online stores and blogs in just a few clicks.
LightCMS have claimed that these new changes come as "highly-requested additions". So, let's take a look at what's new.
Social Icons & The Social Token
LightCMS's new social token and social media settings enable you to display social icons simply, and allow your clients to manage their icons without tinkering with your website design on any major level.
Once the feature is launched, you'll see a new section on the advanced tab of your website settings. This section allows the user to choose any number of social icons to include and to provide the URL to use with each associated social icon.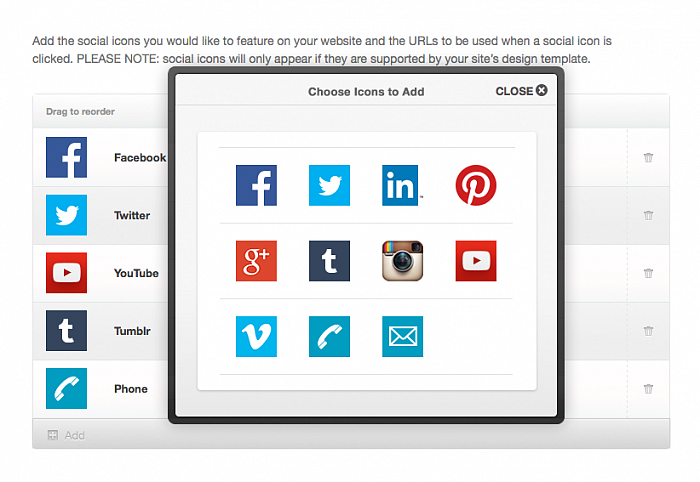 To add icons, you only need to click the "Add" button before selecting the icons you want to add. Once selected, your icons will show up in your list where you can re-order them by dragging and dropping.
Phone and Email icons are also available along with the social icons. So, when visitors touch the email icon from a smartphone, it automatically loads up a new email. When they touch the phone, it automatically starts calling.
However, in order for the icons to display on your website, your website's template must include the new social token. All of LightCMS's "featured" designs (plus a few others) will be updated to include the social token by the launch of the social feature.
The SEO Tab & Developer Role Assignment
A further enhancement to LightCMS comes via a new tab on the Website Settings screen – the SEO tab.
This tab is home to a range of SEO-related features for your website, including; 301 Redirect Management, Robots.txt, and the Google Analytics / Additional Header field. These features aren't new, but simply housed in a different tab. This tidies up the user interface by setting SEO-related features apart while keeping the Advanced tab shorter and cleaner.
LightCMS Partners are also in for a treat this week, thanks to a new client Sign-up Element. This allows you to enable the sign up element to assign the "Developer Role" to new users when they sign up. The Developer Role allows users to view and manage designs for their website via the Design Manager.

This new feature will be available on the Sign-up Element's settings screen.
These new LightCMS features are scheduled to go live on the morning of May 7th 2014. So LightCMS users better set their alarm clocks!
To find out more about LightCMS, check out their website. Full details of these scheduled updates can be found via the LightCMS Blog.
Also, be sure to explore more of LightCMS via our CMS Directory.