LightCMS have released a Partner Platform designed to empower web designers and resellers.
The popular website builder gives users everything they need to quickly build and manage a website, blog, or online store.
This Partner Platform unveiling comes after a string of LightCMS updates. In a little over a month, LightCMSm have introduced interface changes,  security improvements, and most recently, blogging enhancements.
Here's a very nicely done introductory video for the LightCMS Partner Platform:
Full CMS Capabilities & A Hefty Discount
LightCMS' Partner Platform can serve as a foundation for your business.
Using the platform gives you unlimited pages for each website, unlimited storage, every LightCMS feature (from eCommerce to blogging), FTP access, automatic updates and even hosting.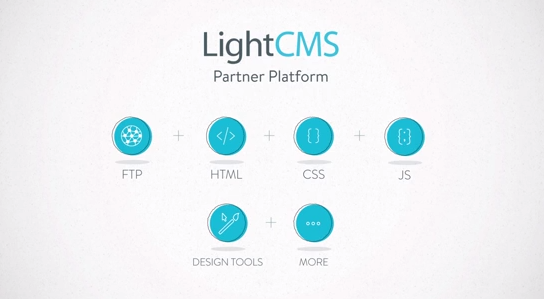 What's more is, the price of this unlimited package has been discounted by over 80%, at just $19 per month per website. Perhaps more importantly though, LightCMS enables you to manually set a markup on that $19, giving you all the room you need to make a profit.
Here's a quick overview of how LightCMS can benefit your business:
Multi-Website Management
No-Cost Sites While In Development
Automated Client Sign-Up & Billing
White Label / Private Label
Site Copy Functionality
A Free Website for Your Business
Dedicated Account Manager
Gold Level Support
Check out the LightCMS Partner Platform page for more information.
Additionally, don't forget to explore more of LightCMS via our CMS Directory.