Check out our more expansive List of Social Networking Software in our Product Directories/Software Lists.
So you want to start a Social Network do you? Fear not, there are tons of way to do so, from software you can download to online solutions that are both free / require a fee. There's definitely more than one way to make it happen. Check out our list of Social Network Software below for some great options.
What you'll find below is a mix of free and commercial solutions designed to make starting a social network as easy as can be. Some of these require customization and some offer great out of the box solutions that might fit your needs, either way, there's something for everyone.
Self Hosted Solutions
The solutions below are scripts or software packages that you can download to host on a web host such as Hostgator.
1. BuddyPress
BuddyPress was conceived in 2008 while working to add social networking features to a WordPress MU powered site. The first official stable release was in May 2009. The platform has grown and morphed considerably since then, into the dynamic, easily extensible package you see today.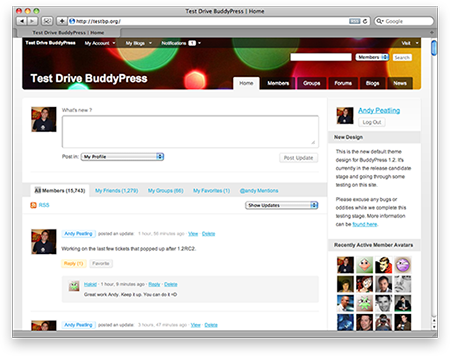 BuddyPress
Just like its parent project WordPress, BuddyPress is a completely open source endeavor. Everything from the core code, to the documentation, themes and plugin extensions are all built by the BuddyPress community. This means anyone can help the project by contributing their time and knowledge.
Cost: Free
More Info: See some sample sites that are running BuddyPress in their showcase or give it a whirl on the demo site.
2. Elgg
Elgg is an award-winning open source social networking engine that provides a robust framework on which to build all kinds of social environments, from a campus wide social network for your university, school or college or an internal collaborative platform for your organization through to a brand-building communications tool for your company and its clients.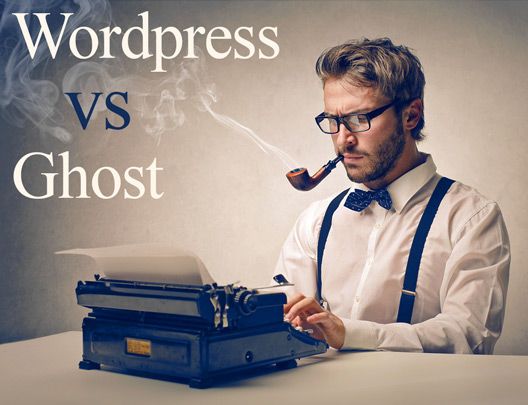 Elgg
Cost: Free
More Info: You can read our Elgg review to get a more detailed look at the system, test it out on their community site or download it from Elgg.org
3. Commons (formerly Drupal Commons)
Commons is a ready-to-use solution for building either internal or external communities. It provides a complete social business software solution for organizations.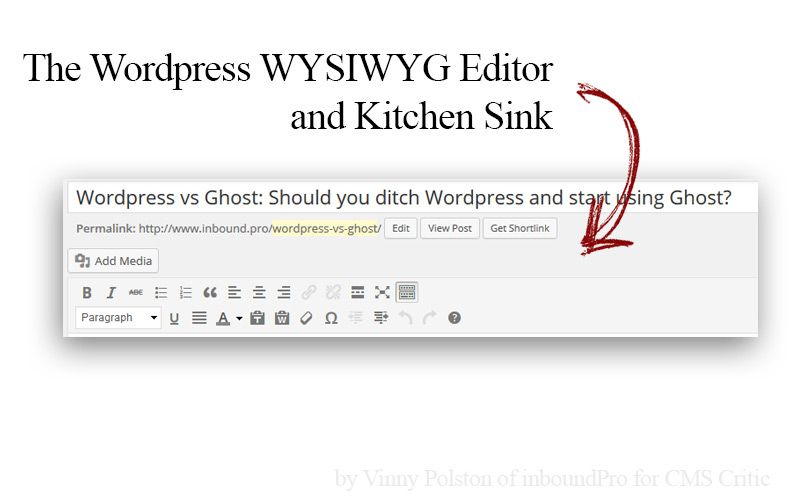 commons
Commons helps organize content into topic (organic) groups with blog, discussion, document, wiki, and event content types. It also allows users to create (user) relationships with each other in order to follow each other's activities on a site. Authenticated users can view a personalized dashboard containing content from all their subscribed groups. Site owners can quickly and easily change the theme (powered by Fusion from Top Notch Themes) to incorporate their own branding. Plus many other features for community-building.
Cost: Free
More Info: You can test it out on the Commons demo site, download it from the project page. There is also a commercially supported version of it available from Acquia.
4. SocialEngine
SocialEngine is a commercial product that has been designed for an advanced social network. Complete with a wealth of features and available plugins, it is a great option for those looking to start their own network without a high level of required customization.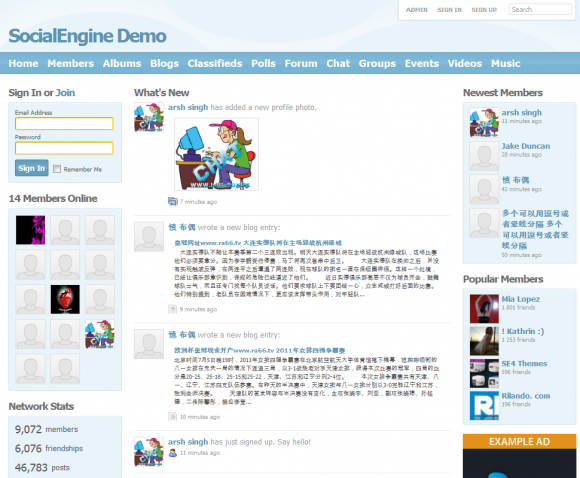 SocialEngine
SocialEngine gives you a good-looking social network out of the box with minimal setup required, you simply customize from there.
Cost: $299
More Info: SocialEngine.net or read our SocialEngine Review
5. JomSocial
JomSocial is an addon for Joomla that adds social network functionality.  You can easily enable social networking to collaborate with your community with features such as activity streams, flexible templating & design, photo gallery, video support, organic groups, event management, social graph management, customize profile, private messaging, external social network integration and many more.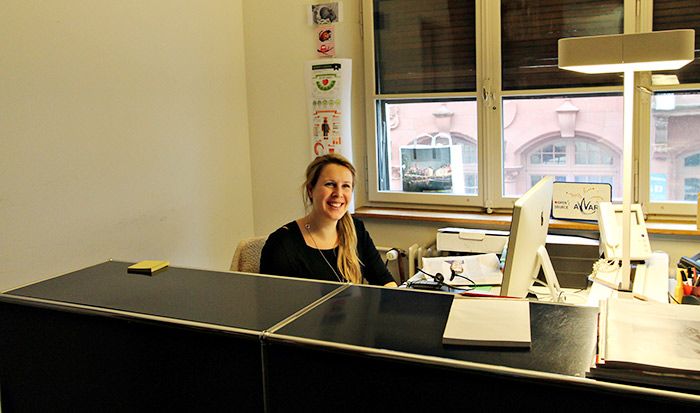 JomSocial
Cost: $99 – $499 (depending on license)

More Info: JomSocial
6. Ning
Ning competes with social sites like MySpace, Facebook and Bebo by appealing to people who want to create their own social networks around specific interests with their own visual design, choice of features and member data.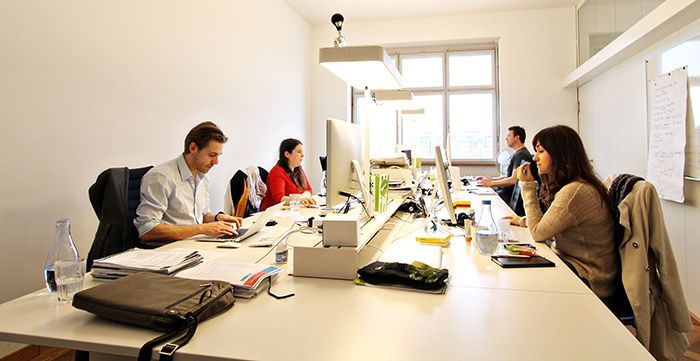 Sample of a site running on Ning
The central feature of Ning is that anyone can create their own social network for a particular topic or need, catering to specific membership bases.
Cost: $2.95 – $59.95 / month
More Info: Ning
7. SocialGO
SocialGO is similar to Ning in that it offers you an opportunity to start your own hosted social network. It allows you to build your own social network with drag and drop tools. Some of the features include: personalized profiles, easy messaging, sub groups, event promotion, text and video chat, forums, blogging, photo & video sharing, facebook integration and more.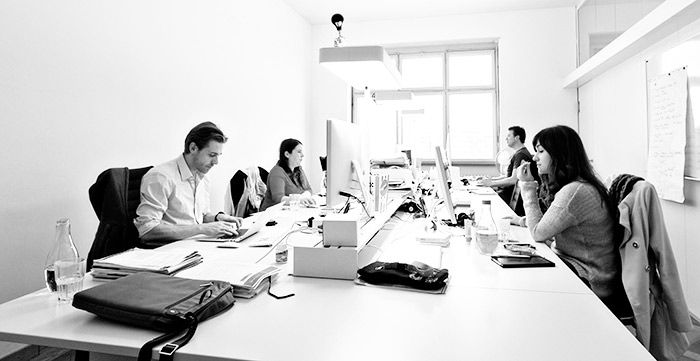 SocialGO
Cost: Free – $149 / month depending on plan
More Info: SocialGO
8. Spruz
Spruz allows you to create your own website with full member and social features. With Spruz you can create your own social network, blog, business website, or a site about almost anything.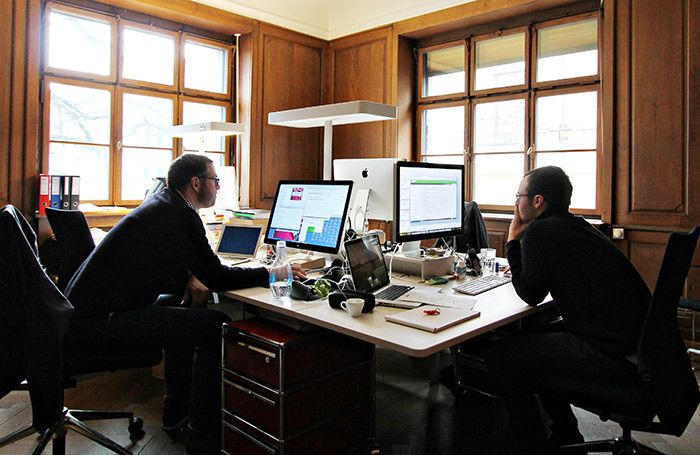 Sample site running on Spruz
We have many features built into our website platform that makes it easy for you to create a website that is very robust. Add blogging, forums, discussions, galleries, calendars, and much more! And the best part you can create and use your website completely free!
Cost: Free to $49.95
More Info: Spruz
9. PhpFox
PhpFox is a featured packed social networking solution. Our goal is to provide your community with features found on major social networking websites like Facebook and MySpace right out of the box. phpFox is built on a platform that gives you full control with your websites layout giving you the ability to easily create a unique look direct from the comfort of your Admin Control Panel.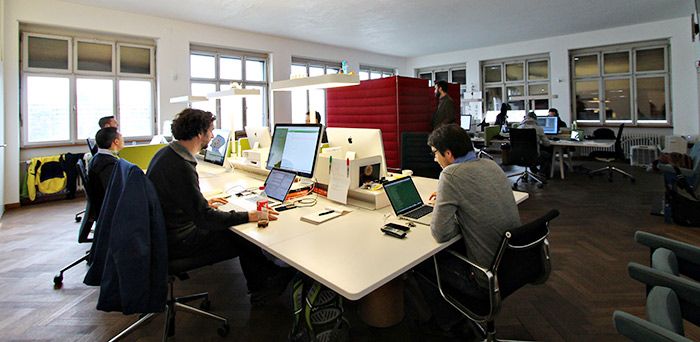 PhpFox
Cost: $99
More Info: PhpFox
10. Dolphin
Dolphin is an open-source, downloadable, scalable, customizable, full-featured, independent and free software package for building social networks, dating sites and niche communities. Dolphin is the only "all-in-one" bundle of PHP community scripts, Flash plugins, Adobe AIR and Mobile apps that provide full control, freedom and flexibility.
Cost: Free to $999 (depends on license)
More Info: Dolphin
And that, ladies and gentlemen, is a large number of options that should fit most needs. Do you know of one we haven't included in this list or have experiences with any of these (good or bad) that you'd like to share? Please do so in the comments below!