Magnolia 5.3 has offiically been released and with it, introduced a new blend of CXM and CMS for this rapidly growing company.
With year over year growth exceeding 35% and a churn rate lower than 5%, Magnolia has seen some incredibly promising up ticks in sales and presence over the past few years.
To keep the ball rolling, they've introduced a new release that offers even more amazing refinements to their mobile first open source CMS. Magnolia 5.3 focuses on better positioning the product in a market of customer experience management driven suites by focusing on expanding capabilities such as personalization in order to improve customer interaction.
"Creating better brand experiences is about taking the best tools and the data collected from them to quickly deliver new and personalized customer interactions" explains Boris Kraft, Magnolia Co-founder and Chief Visionary Officer. "The innovation in this release has been driven by our customers and their need to track, enhance and organize every online interaction through a simple-to-use content management system."
Let's take a look at some of the new capabilities and changes in this release.
Personalization
Magnolia's new personalization feature is based on page variants. Variants are alternative content that replace the original content in personalized delivery. You can target page variants to visitor according to traits such as country, date, or new vs. returning. Dedicated apps support creating segments and personas and impersonating visitors. Take the example below for instance, as you can see, you can personalize the experience based on the individual user or other traits as outlined above.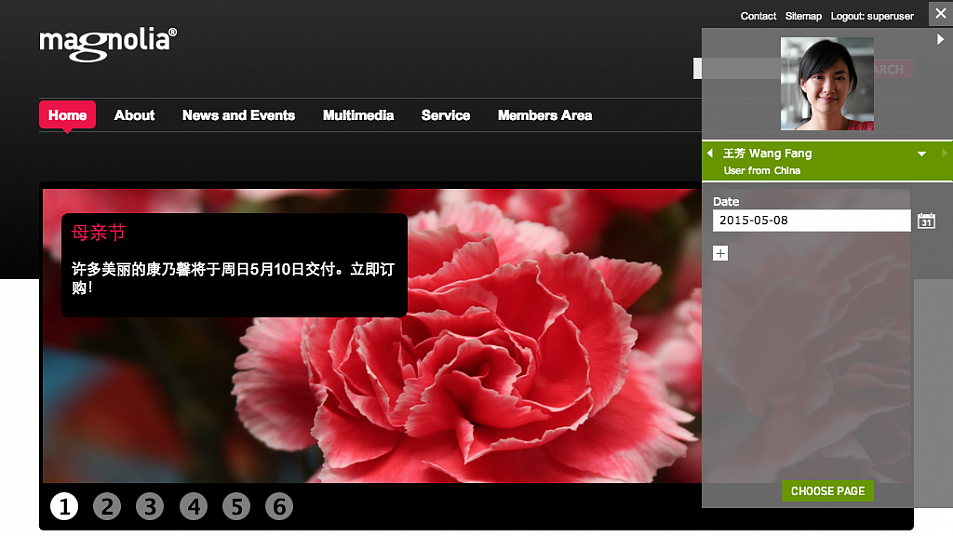 Tag Management
Another new feature in this release is the introduction of the Tags Manager app. This app lets you take those often used snippets of code for best-of-breed services such as Google Analytics , comScore , Turn , Omniture , Optimizely , Leadlander and many others and integrate them quickly and easily into your platform with no developer support required.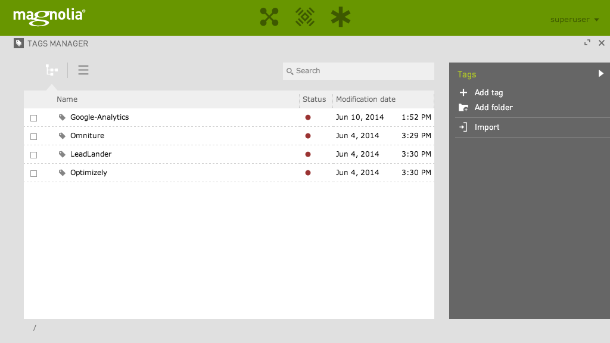 These tags can be used for a number of purposes and you aren't required to use any specific vendors, it's simply a way to quickly integrate code with minimal effort. What's nice is you can determine whether they show within your content and which platforms you'd like to display them on.

Is it revolutionary? No of course not. This type of functionality already exists in a number of systems but the implementation here is what counts in my mind. There are similar solutions in products such as WordPress for specific themes (I'm thinking Genesis snippets here) and with the use of third party plugins but this being an app that is developed for Magnolia by Magnolia makes me more likely to consider it over an unvetted third party solution.
Tasks Inbox
This is one of the items I've been waiting to see the most since my  first visit to the Magnolia offices last year. One of the features I saw missing was a workflow process that could be utilized to communicate between team members and Magnolia has done a great job in creating what I consider a solid implementation.
The new Tasks Inbox provides instant visibility into open tasks, allowing administrators to easily check status and assign tasks to users. The Tasks Inbox is integrated with the Pulse, so assignees get instant notifications of new tasks…and of course, it all works seamlessly whether you're at work or on the move.
In a demo by Andreas Weder and Mikael Geljic here at the 2014 Magnolia Conference, we saw a good example of how this Tasks inbox can be utilized when they demo'd the creation of an instagram based app that pulls photos and suggests them for future content to approvers.
Here's a great video that showcases a bit of what the Tasks inbox can do:
Content at home or abroad
Perhaps you use third party cloud storage or web services in addition to databases to store your content.
With Content Connectors, developers can now build Magnolia apps with the same great user experience as native apps, and quickly interact with any external data source while users manage the content in a familiar way.

All native Magnolia content apps in community and enterprise editions are updated to use the new content connector automatically. Magnolia 5.3 also introduces an improved DAM API making it possible to plug in external asset providers such as Flickr, YouTube or a file system, and integrate the DAM with WebDav and CMIS.
With Magnolia 5.3, you can manage all of it using your favorite Apps. Content can be stored in a number of places as illustrated by the diagram below.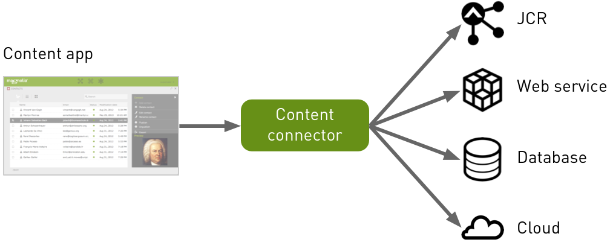 The obvious advantages here are that you don't need to create yet another repository just to make things work with Magnolia but rather, you can simply connect it to existing services and manage them from within.
In addition to these new features, Magnolia has also introduced their new App Finder, which is a centralized repository for Magnolia approved applications, modules, source code and partner contributions.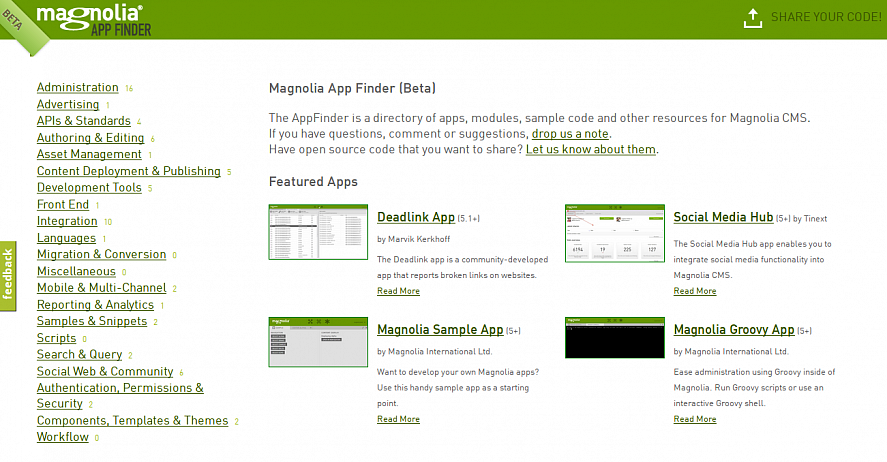 It is available to all customers and community contributors and can be found at http://apps.magnolia-cms.com
To learn more about this new release from Magnolia, visit https://www.magnolia-cms.com/home/campaigns/magnolia-5-3  and be sure to  follow us on Twitter to get the latest updates.