Launching your business website, you expect to benefit from your online presence. You take good care of your website proper layout and navigation, make it responsive and provide your customers with the most relevant content. Unfortunately, all your efforts can come to nothing if you aren't able to ensure your website seamless performance 24/7.
Make Uptime Monitoring One of the Main Priorities
Uptime is one of the most important factors that determines your website success or failure. It is an indicator of your "website health" and a decisive component of running an online business. That's why it should become one of the main concerns of any website owner.
Tracking your website uptime enables you to get "a wake-up call" about website outages as soon as they occur and and, maybe, question your hosting provider. You have an opportunity of resolving these issues before they become critical and badly affect your business.
Website Downtime Is Your Budget Buster
To tell the truth, downtime is an inevitable thing that happens even to the best websites. It can be caused by a poor web hosting, traffic overload, plugin or theme-related problems, hacking attempts or malware, or just by force majeure such as natural disasters.
If your website is down it can significantly affect your business. Downtime can result not only in lost sales and decreased profits. What is more harmful, it can cause bad user experience that will result in the loss of your business credibility and push your customers into the competitors' grasp. To prevent this, you should consider a few things.
Choose a Reliable Hosting
With a proper web hosting provider, you will always feel safe and sound. A good provider will constantly ensure that the hardware is in perfect order and the servers are never overloaded so that downtime can't happen to your website.
And even if it happens a reliable provider will immediately take control over the situation. Without a moment's delay, he will inform you and other clients about the downtime, clearly explain its reason, and start fixing the problem.
Check Your Website Every Time You Change Anything
After making any changes in the settings, installing a new plugin or updating never forget to check your website performance. Some installations or updates can go not so seamlessly as you've expected and result in the White Screen of Death. The sooner you know about the problem, the quicker you'll be able to solve it thus preventing your customers from the bad user experience.
Remember to Make Regular Backups
A good backup strategy is of vital importance for data security. A backup is your effective defense against any data loss giving you an opportunity of restoring original data. Most hosting services provide this option as an add-on. You can also use a plugin to automate the process.
Take Care of Your Website Security
Hacking attempts are a growing threat nowadays. According to Sophos Security Report, on average 30,000 websites are hacked daily. That's why you should take basic precautions to avoid this problem. Make sure your username is more original than "Admin". Use a strong password consisting of at least 8 characters and using a combination of lower-case and capital letters, numbers or other symbols.
Change your password at least once in 60 days. Use a security plugin or extension and run a website security scan on a regular basis. And if something unforeseen really happens to your website, never forget to inform your customers about it not to lose their trust.
MotoCMS Uptime Monitor Is Your Reliable Guard
It goes without saying that you can't constantly track your website uptime, opening and closing the browser day in, day out to make sure it works properly. MotoCMS Uptime Monitor will perfectly cope with this task for you and help you avoid problems caused by an unexpected downtime.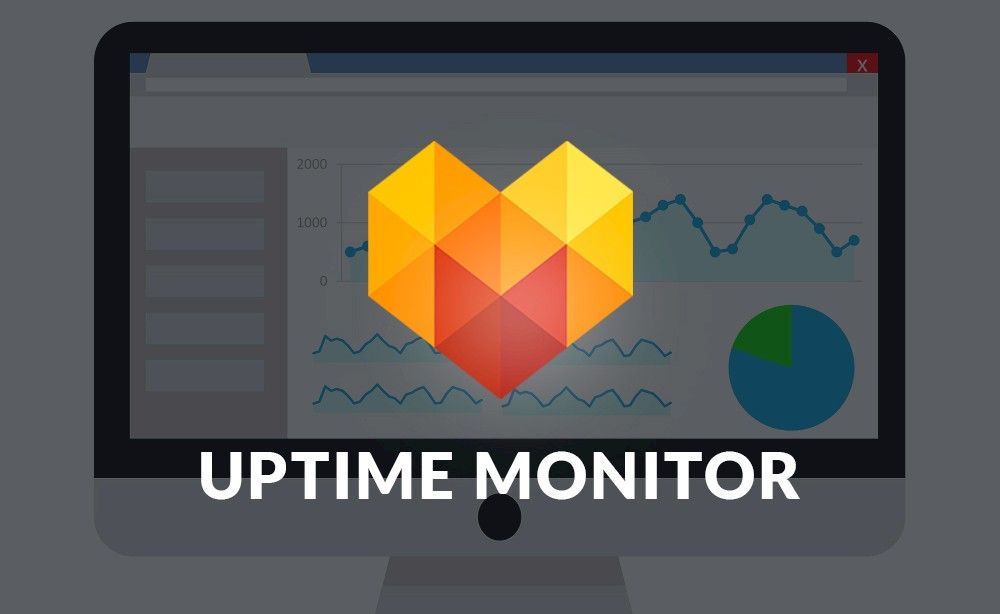 MotoCMS Uptime Monitor is a service that enables any MotoCMS customer to keep a close eye on a website performance 24/7. Don't forget to turn on email notifications on your smartphone. Because once your website is down, you will get your first email about your site crash. Why first? Because as soon as everything is fixed and your website is up and running, you'll receive one more automatic notification.
How to Subscribe to MotoCMS Uptime Monitor
If you are not a MotoCMS customer yet, you can easily become one and build your online business with a website builder from MotoCMS by yourself. Any MotoCMS customer is always able to subscribe to the Uptime Monitor service in a personal account. The subscription will enable you to track your website with the interval you choose and receive instant email alerts.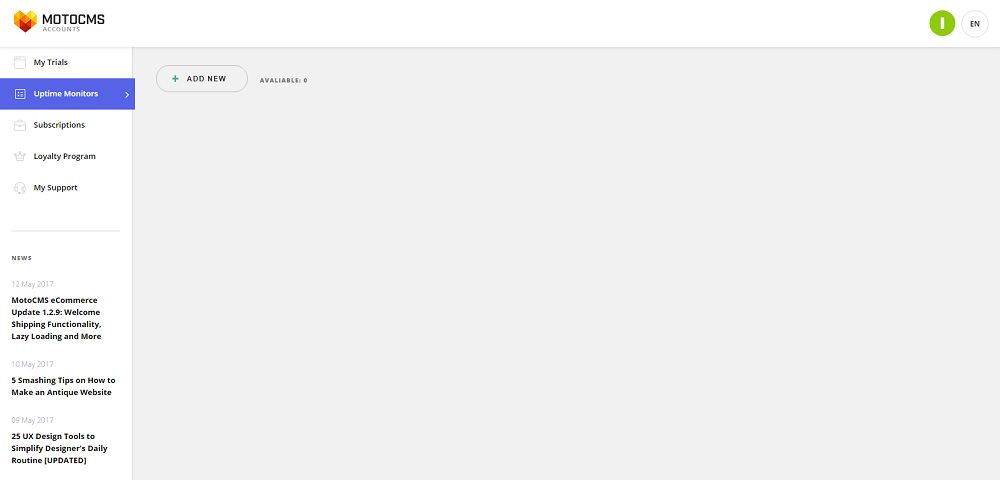 The process of subscribing is as easy as ABC. You should log into your <a href="https://accounts.motocms.com/site/login">MotoCMS personal account</a> and add a domain name for "Uptime Monitors" by pressing "Add New" button in the appropriate section. There are 3 types of available subscriptions you can choose from according to your business needs: "Starter", "Developer" and "Ultimate".
The Starter Plan is a basic one that will perfectly suit the owners of one website.
The Developer Plan is a good idea for the businesses with several websites or the web developers who make their first steps in a career. The plan enables you to permanently monitor up to 5 websites.
The Ultimate Plan gives experienced web developers an opportunity of tracking an unlimited number of their clients' websites.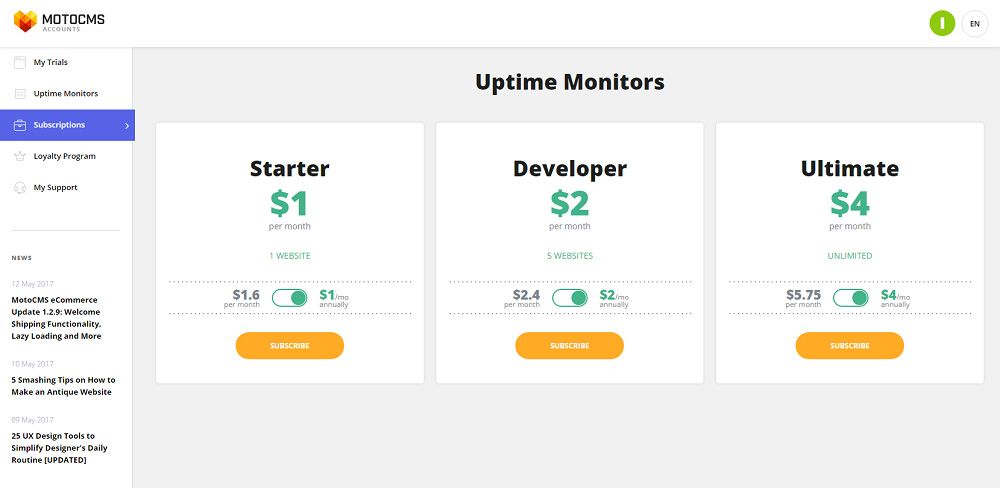 Moreover, you are free to choose between monthly and yearly subscriptions. You can check and upgrade your plan to a better one anytime with the help of "Upgrade Plan" button within the "My Subscriptions" tab. As soon as you subscribe to the Uptime Monitor, you will get a full access to all the necessary information concerning the status and downtime of your site.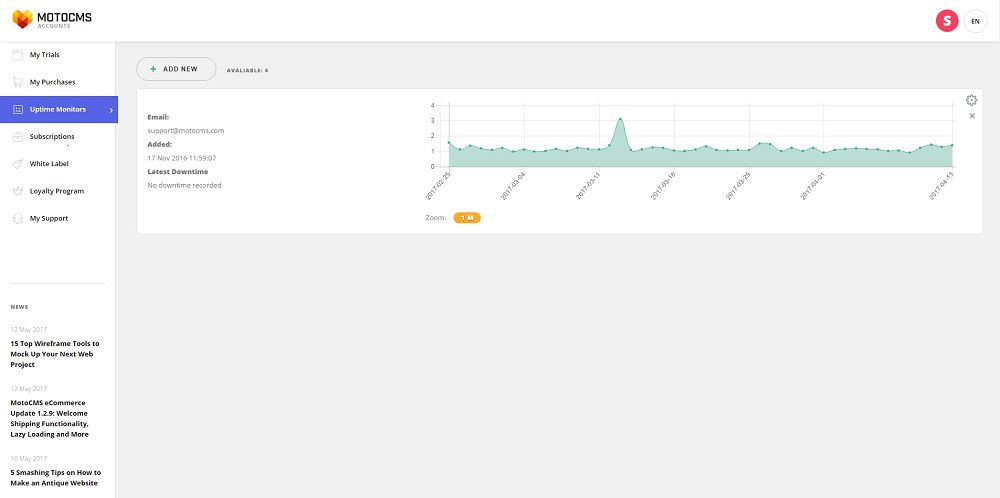 To cut a long story short, never let your business reputation or your bank account suffer because of your website downtimes. Don't waste time and do everything to ensure that your website is always up and running, providing you with satisfied customers and increasing your income.