Mautic is the totally free, open source, and cloud-hosted marketing automation system that packs all the features of an enterprise-grade marketing suite.
Although, that's probably because Mautic is an enterprise-grade marketing suite.
Mautic Cloud is the free flavour on offer, while their premium package – Mautic Cloud Pro – gives brands more freedom when it comes to the number of records, marketing emails, and user seats that they can make use of.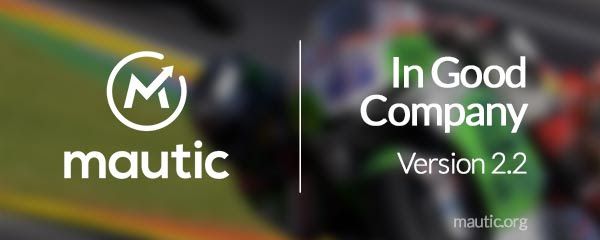 Here's an overview of what Mautic 2.2, the latest version, brings to the table:
Dynamic Email Content: Mautic 2.0 brought dynamic email content, but now you can further personalize your emails with ease.

Account Based Marketing: With the 'Companies' feature, you can now jump on the Account Based Marketing bandwagon by connecting people together in the context of a company.

Email Recency/Frequency: Yet more tools to show your contacts that you value their time and attention.

Update to Forms: The Mautic form experience has been vastly improved with themes and more.

New Plugins: Two new plugins accompany this release – one for Gmail and one for MS Outlook.
Account Based Marketing & Dynamic Email Content
One of the most vital elements to B2B marketing is the ability to connect people together in the context of a company. Mautic has created a new entity called 'Companies' to help brands do this.
Now, every contact will be associated to a Company and users will have an all-company view of their contacts. This means that marketers will be able to see all contacts associated with a company, as well as create filters and trigger actions based on company criteria. This allows marketers to focus on nurturing, analyzing and converting a targeted group of accounts (or Companies) and implement Account Based Marketing practices. No more contact confusion.
As for dynamic email content, this was introduced with Mautic 2.0 – but now there's more.
Users now have the ability to vary content in their email based on filters. Instead of creating multiple emails for slightly different messages, users can now save time by creating one email and can insert variations of content into the email! This means that at the time the email is sent, the content will become dynamic. Now that's what you call personalization.
Update to Forms & Email Recency/Frequency
The Mautic form experience has been vastly improved with themes that can be applied quickly and easily. Additionally, the results of a campaign form can be sent to a specified email address to help teams analyze the good and the bad.
Syncing data between contact fields and forms has also been upgraded. Changes made to contact fields can now be easily written to forms, and values from a form can be transformed and written to contact fields. You can also further personalize thank you pages using tokens, and page breaks have also been added, making long forms more achievable.
For contacts subject to frequency limits, emails sent to them are now put in a queue to send once the limit timeframe has passed. With Mautic 2.2, marketers can now specify the priority on their marketing emails to help prevent backlogs, ensuring important messages are sent in a timely, and respectful manner.
New Gmail & MS Outlook Plugins
Mautic has also announced two new plugins that are coming very soon.
First up will be the Mautic Gmail plugin. It will be a Chrome and Firefox plugin that will reveal timeline data from Mautic right in the user's browser. Also, when writing an email to a contact, the email can be tracked and written to the contact's timeline in Mautic by clicking a checkbox.
Mautic's MS Outlook plugin is the second plugin in the pipeline, which will allow emails sent from Outlook to be written to and tracked in Mautic.
It looks like both plugins will be free, so that's not too shabby on either front.
To find out more about Mautic 2.2, check out the official announcement.