What is Gutensite?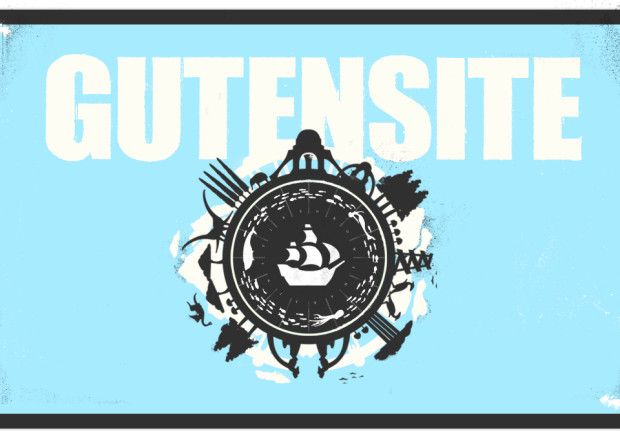 Gutensite is one of those small start-ups that have been around awhile, perfecting their service and earning a loyal following. Their passionate member base recently pushed them to second place in the CMS Critic People's Choice Awards, second to Squarespace.
Gutensite is a California design firm that helps small businesses and non-profits build and manage websites that are exceptionally designed and powerful. Gutensite's intuitive CMS is the backbone of an affordable, full-service ecosystem that supports businesses with strategy, design, development and ongoing website management.
Before reading more, you should watch their fun video below to get a quick feel for their design and how the CMS works.
About the CMS
Gutensite is unapologetically a Content Management System. That means it separates design and content creation/management roles. Gutensite's devotion to design is evident in their visually appealing control panel which is both powerful and simple, with uniquely illustrated icons and friendly buttons. The platform allows total customization of design and functionality, but unlike other "visual website builders" like Wix, Weebly or Squarespace, Gutensite ensures that only qualified designers can change significant visual elements. So tasks can be delegated throughout a team and content creators can easily publish anything without worrying about how things will look. The CMS includes all the essentials expected for modern websites, but it also includes powerful, industry-specific functionality that can be activated with one click.
What Makes Gutensite Unique?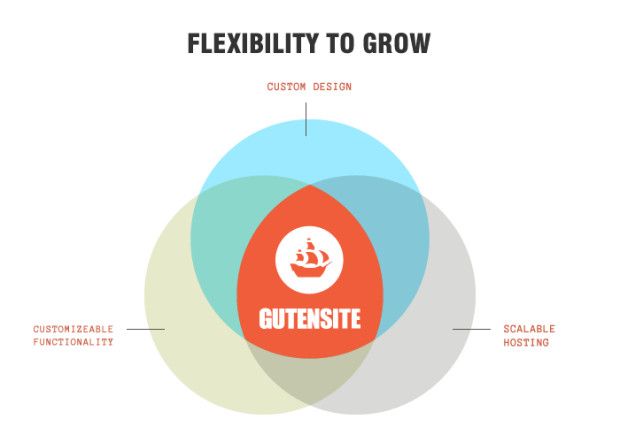 The first thing that sets Gutensite apart is the beautiful design of their CMS and of every website they create. Other CMSs like Squarespace have also made design a priority, but overall it's pretty special.
Secondly, Gutensite has targeted their CMS to serve professional organizations, and they offer an interesting hybrid of two extremes in the CMS market. Their platform has the power, flexibility and scalability of an enterprise level CMS like Drupal and Concrete5, but the instant setup and easy to use features of hosted platforms like Squarespace and Wix. It comes with a full support ecosystem that makes it a plug and play option for small businesses who need a website that delivers a great return on investment and a team to help them accomplish their goals. And it is hosted on a framework that allows anything to be customized so that there is flexibility to grow as business needs change.
The last obvious difference is that Gutensite's platform is more restrictive than visual website builders like Wix or Weebly. For people with design experience that want full creative license or people building a hobby site, that could be frustrating. But the result is that websites built on Gutensite are much more beautiful and professional. If you are a business, Gutensite's focused approach will result in a website that protects and promotes your brand much better.
Easy to Get Started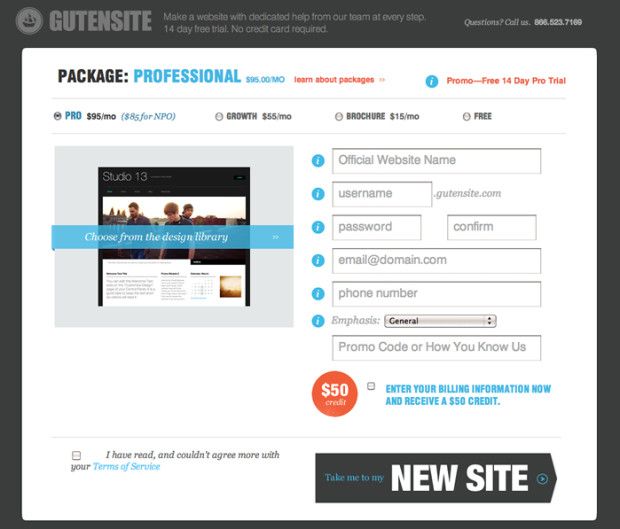 Creating a website is easy and instant by going to gutensite.com/Start. First you will select the package that fits your organization's immediate needs. There are affordable options for every size organization, even a free package. If you are just starting to get your business online you can start at the lowest $15/mo package and upgrade as your requirements increase. If you choose the top tier Pro package, you qualify for a free 14 day trial. And if you enter your credit card right away, you won't get charged right away but you will get an additional $50 credit on your account, so your first month is essentially free.
Next you will enter some basic information, including your website name and a temporary shortcut like mysite.gutensite.com (you can port over or purchase a new domain from the control panel when you are ready to go live). This shortcut will let you access your site until you point a domain name.
Beautiful Design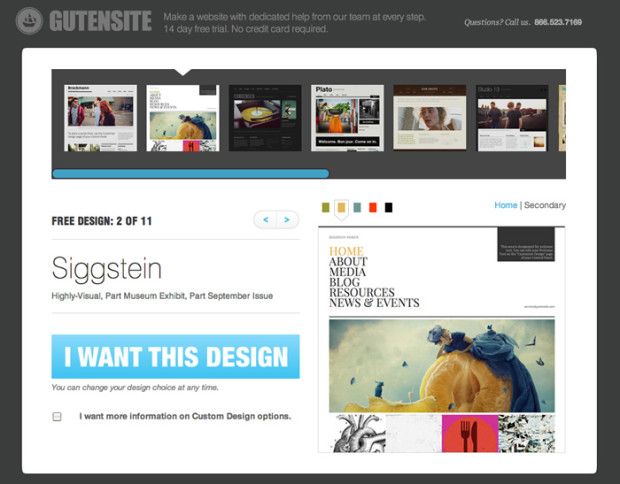 On the sign-up page, you can pick one of Gutensite's beautiful, free design templates to get started. To streamline the signup process they have limited the initial selection, but there are more choices within the control panel and you can preview and change at any time. Gutensite also works with top quality, third-party design agencies (including their own in-house team) and you can request a fully custom design or bring a design with you from your own favorite designer. Anything can be customized, from the look and functionality of the home page and shell, to individual content type pages. If you are on a budget, you can also request a hybrid by requesting tweaks to any of the free templates.
Setting Up a Site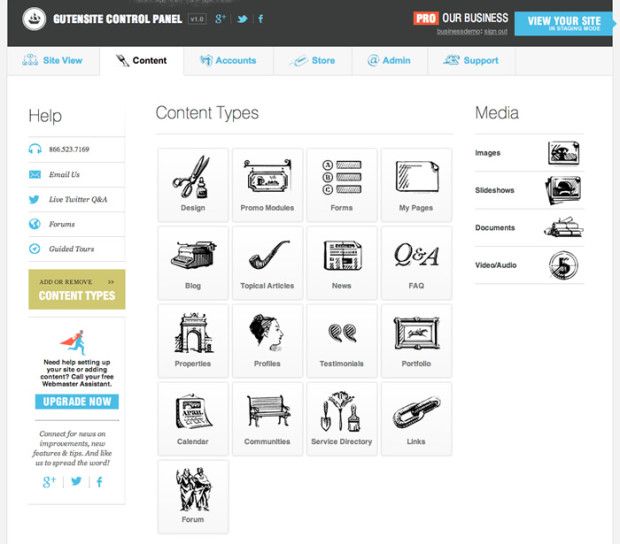 After you click the "Take Me to my New Site" button on the sign-up page, an entire website is created for you in a couple of seconds and you are immediately logged into your Control Panel. You can view your website by clicking the "View Your Site" button. This initial website has sample pages and a basic menu that are common for your type of organization, and it helps you understand how the Control Panel organizes your website content so that you can easily get started with your own content.
Orientation Tour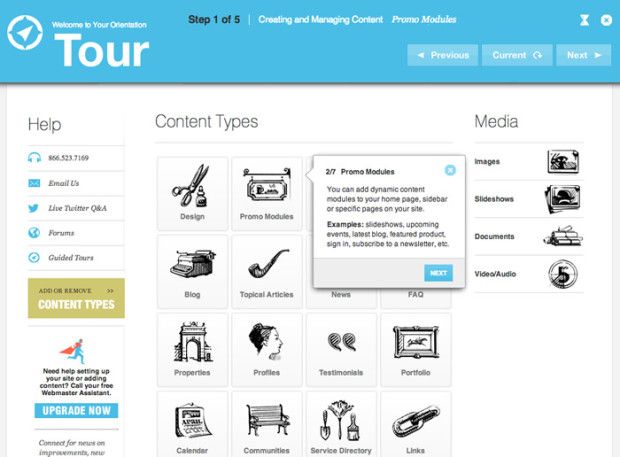 When you first access your account, you are greeted with a really slick orientation tour. There are 5 parts to the tour, with several steps in each part. If you actually read everything and follow the instructions it will take you about 15 minutes. If you decide to invest the time you will definitely understand how to manage content on the website and at least know where to find many of the advanced features once you need them. If that's not your thing, Gutensite will give you a human tour on the phone, or just help with specific questions when they arise.
The tour can be delayed or dismissed, and you can take any of the available guided tours again if you ever want. Every time you create a new admin account, the new user is greeted with the tour. You can check if your team members have taken their tour, how far they progressed, and you can reset the tour for them if you feel they need to take it again.
Creating a New Page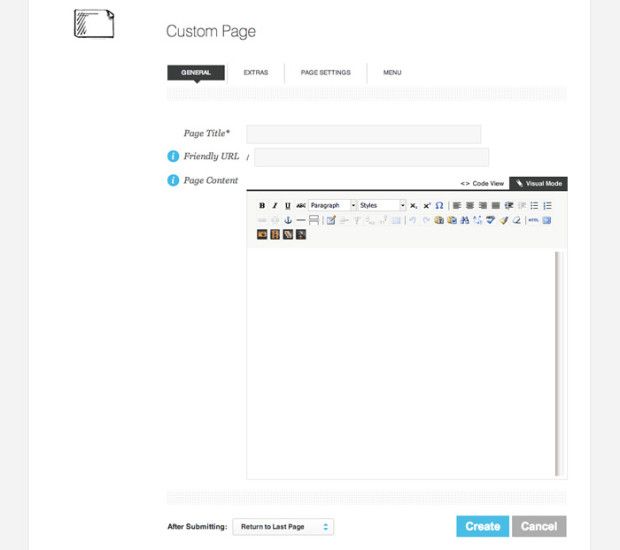 Creating a basic page is a lot like WordPress. From the main page of your Control Panel you select "My Pages", and then when you see the list of all your basic pages you click the big "Add" button. This provides you with a simple form that lets you set a page title, a friendly URL, and page content. You can use a WYSIWYG editor to layout a page yourself, or you can use some of the prebuilt layout options under the "Extras" tab to set a heading, sub heading, pull out quotes, info lists, secondary content, etc. And the result is a page that looks carefully designed. You can have a designer create custom pay layouts that can be applied for different purposes.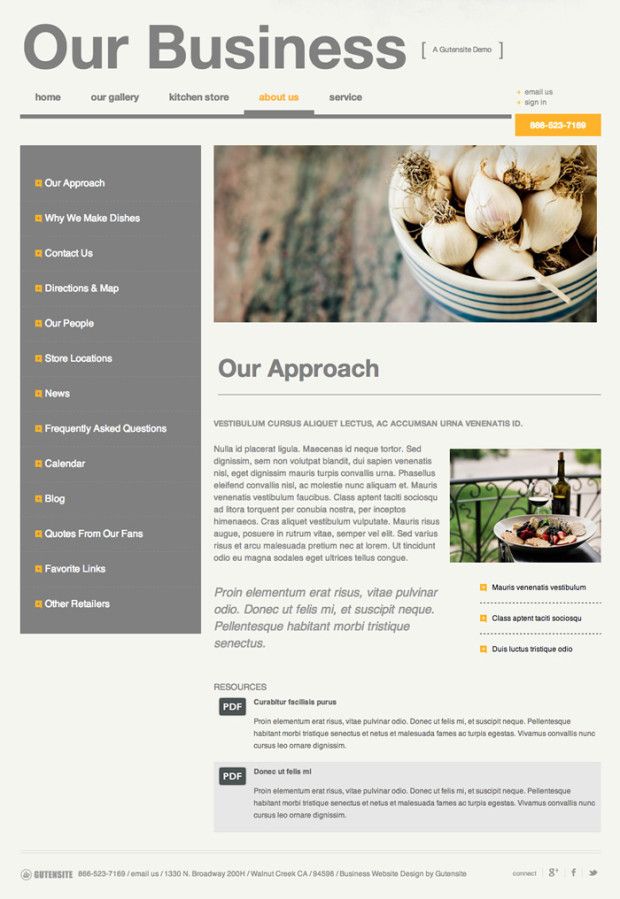 There are a lot of pre-designed content types that let you enter a few fields of data, and then Gutensite creates a page layout with images, headers, description, comments, sharing, slideshows, video, file downloads, etc. The default layouts are beautiful, and you can have a designer create custom layouts for each content type if you need something special.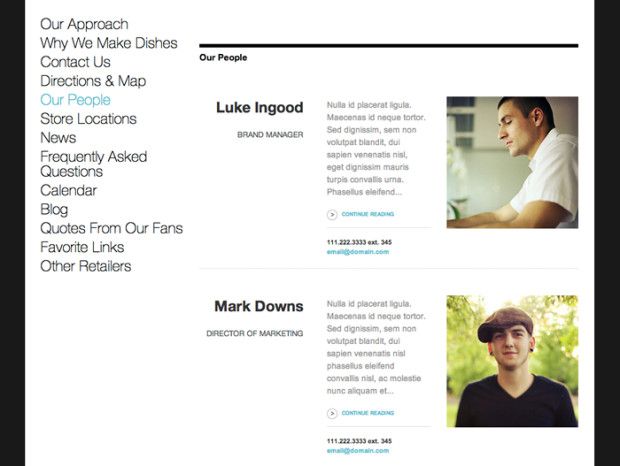 So if you want to create a team page, you simply go to the Profiles icon in your Control Panel and create a new category page called "Our People". Give it a friendly url like /Our-People, and under an advanced tab you can control a lot of different display options, decide if you want a list format or an image grid, etc.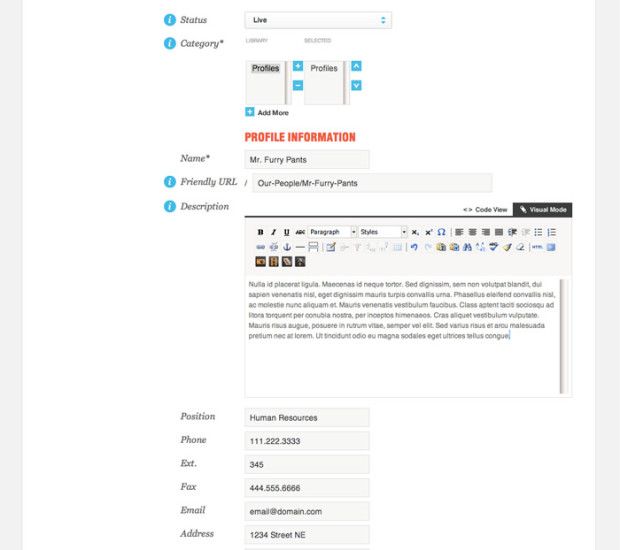 Then you can add individual team members one by one and associate them with the "Our People" page. You can enter basic profile information like name and bio, as well as contact information, slideshow, files, and even associate the team member's calendar. The result is a beautiful team page that links to the details for each team member.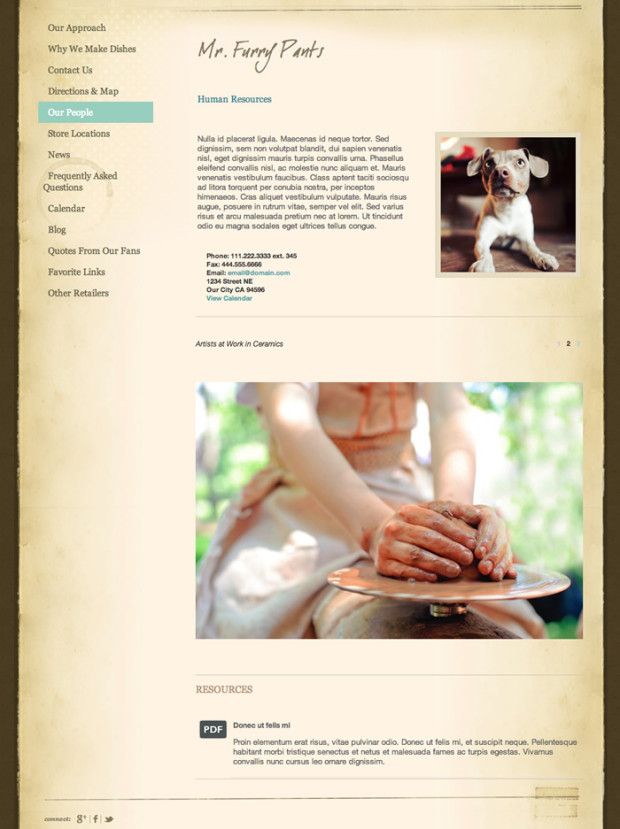 Proactive Support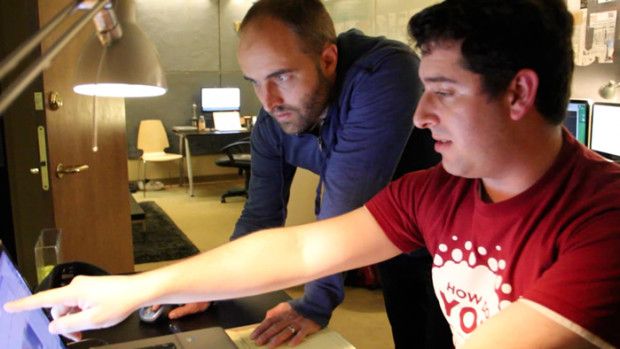 Gutensite makes it clear on their website that customer service is really important. They make sure their team is empowered to do whatever it takes to help you accomplish your goals and they want to make sure you never feel frustrated when calling. You can tell they are serious about proactive support because they don't bury their contact information in a dark corner, but give it prominence on the Control Panel Dashboard. They actually want you to call, and they will even help you transfer or set up your site. If you are on their Pro package you get a dedicated webmaster assistant that you can call or email requests to and they'll add pages, update menus, upload photos or videos, or whatever you need. And it's free.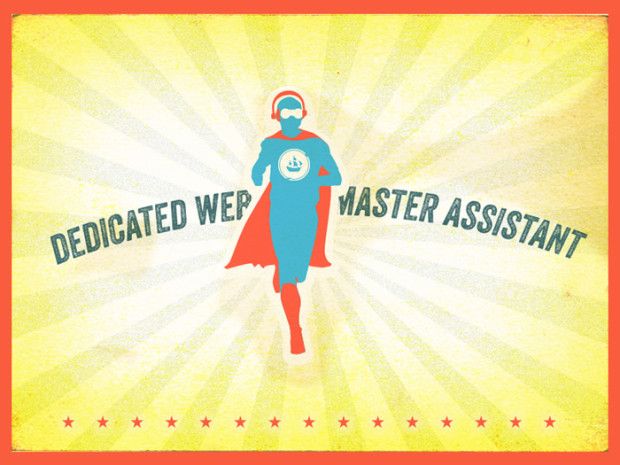 They seem to understand that many small businesses are overwhelmed by the options and are too understaffed to create and maintain a value-driven website on their own. In addition to phone and email support, Gutensite also has guided tours, tutorials, how-to knowledge base, community forums and live Twitter Q&A.
Noteworthy Administrative Features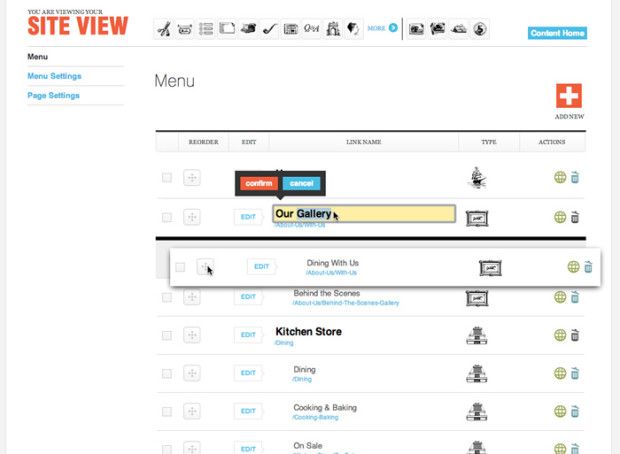 After using the control panel for a little while, you begin to realize there is a ton of power tucked away in subtle "Advanced" tabs and special tools. Here are a few of the things that will come in handy:
Multiple Administrators. Add an unlimited number of team members with different editing roles.
Content Staging. Make simple or complex changes to your by setting the status of any content (pages, menu, promo modules, etc) to "Staging" or "Deactivate on Staging Sync" and then preview how your site will look before pushing everything live at once.
Preview Designs. Preview how new designs will look for your website before switching. Use in conjunction with Content Staging to make sure that the content is compatible with the new design.
Enhanced Lists. Drag records to reorder. Click words to edit directly in the list. Click icons to toggle status or delete individual records, or select multiple records to perform group actions.
SEO. Control everything that you need to optimize your site for search engines, e.g. keywords, descriptions, metadata, friendly urls, etc.
Shortcuts. Create friendly shortcut links to any page on the site.
Custom CSS, Javascript, Metadata. Add custom css, javascript or metadata to interact with third party tools on any site, control search engine access to specific pages, etc.
Custom Design Shells. Set special design templates for special landing pages, or for entire sub-sections of your site.
Header Images. Set single or random image headers on individual pages, or for entire sub-sections of your site.
Custom Page Layouts. Choose alternative page layouts for basic pages or specific content types.
Gutensite FX. Add simple classes to elements in your content to create interactive FX, e.g. sliders to show and hide parts of the page when you click a link/button.
Member Accounts and Private Content. Create custom access keys for your members and restrict access to pages or files based on those keys. Set menu links to be hidden if visitors don't have the correct access level.
Account and Sales Tracking. Track new account and sales referrals, which page was last visited, which promo codes were used, etc.
Analytics. Integrate with Google Analytics and other third party optimization tools.
A/B Testing. Alternative Page Versions for A/B testing or delivering custom content based on referrals.
A Few Other Features to Love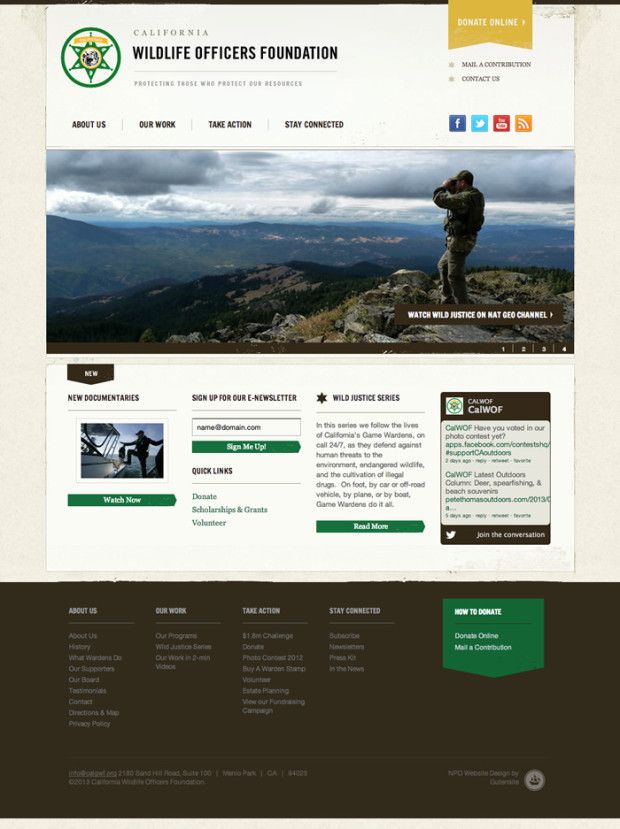 Dynamic Home Page. The home page allows for a lot of dynamic content, linkable image slideshow, tons of promo modules, social media links, interactive image buttons, contact information, welcome text, logo, etc.
Content Types. Adding beautifully designed pages to your website is easy with pre-designed content types, e.g. blogs, forms, link lists, profiles, portfolio, maps, video library, FAQ, MLS property listings, Shopping Cart and Online Store, etc. (see a full list of content types).
Custom Display Options. There are tons of options to customize how lists are sorted and limited, which elements are displayed on a page, what size images should be used, when articles should be published, how menus should work, etc.
Promo Modules. Add custom promotional modules to your home page, sidebar, or integrated with page content, e.g. calendars, slideshows, link lists, search, account login, featured videos, latest blog, image buttons, Subscribe to Newsletter, etc.
Search Engine Site Map. All sites publish their full content map to search engines for better indexing.
Private Intranet for Collaboration. For those that need a private intranet, Gutensite provides a lot of productivity and collaboration tools in a private intranet, that includes a CRM, Project Management, Task Management, Hourly Reporting, Creating of Quotes, File Sharing, Management of custom billing types, and more.
Gutensite is Not Ideal for…
Gutensite is optimized for creating websites for professional businesses and non-profits. You can easily create a simple portfolio site or a blog on their platform, but there are definitely other platforms that are better for the hobby website builder and which are more streamlined for just displaying art or writing blogs (e.g. Tumbler, Wix, WordPress).
Gutensite makes websites that are HTML5 compliant and their control panel is also accessible on mobile devices, but the control panel is not optimized for mobile resolutions yet (although they are working on it). So if mobile management is absolutely critical, look elsewhere.
Gutensite has a robust framework that works for many enterprise level sites that started simple and grew over time (some eventually migrating to independent servers). But because it's a shared platform, it's not ideal for large corporations or companies that are developing a fully customized platform for their own online product.
Gutensite is Great for…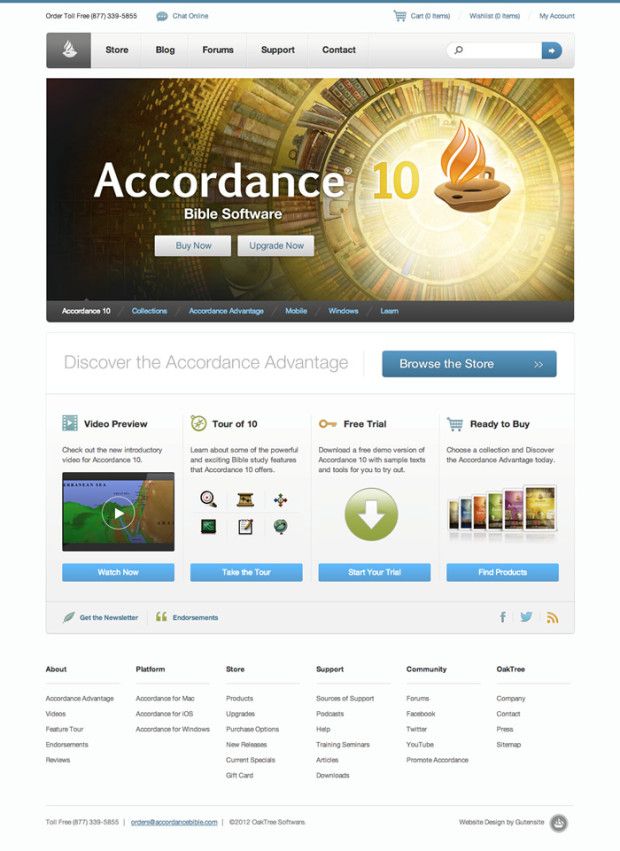 In summary, Gutensite would be a great platform for a wide range of websites, from simple brochure sites to enterprise, mission-critical websites that need advanced customization. It has the cost advantages and the simplicity of a shared hosting website builder, but it's a platform that can grow with you, because like an open source CMS literally anything can be customized. Gutensite for those that value good design and need customer support or a dedicated webmaster.
Design Agency Partnership
As a final note, Gutensite is positioning themselves as a platform that designers and agencies can use to build websites for their clients, so that designers can serve more clients and focus on what they love. Gutensite promises to share the monthly subscription revenue for the hosting and support, and Gutensite will provide technical expertise wherever the designer's interest and expertise reach their limits. This moves Gutensite toward their stated goal of becoming an open platform and provides you with more options for customizing the design.
Check them out today at Gutensite.com