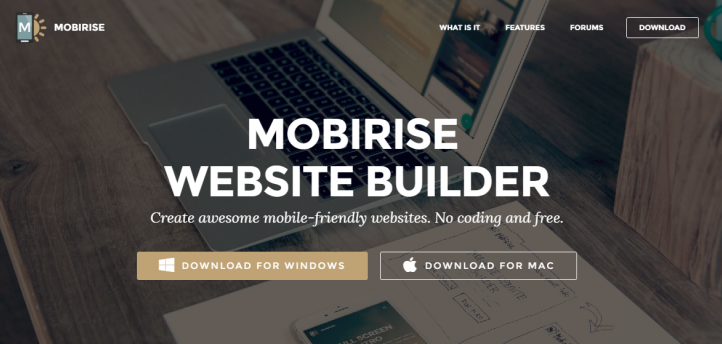 When I first got my hands on Mobirise (and published my Mobirise Review), I was impressed by the just how sleek and approachable the desktop-based website builder was.
I used the Bootstrap website builder offline to drag-and-drop elements into place, edit content inline and publish via FTP. It was so pleasant to use, I even selected it to help me finish a small personal project a few weeks after the review was published.
But things have changed a bit since then.
Today, Mobirise 3.0 stands as a far more rounded version of its former self.
A Video Walkthrough of Mobirise 3.0
Recently, I dedicated episode one of Software Explorer – CMS Critic's first YouTube series – to none other than Mobirise.
I tinkered with many of the new features found in Mobirise 3.0, and I found it to be an excellent update.
Check it out for yourself:
What's New With Mobirise 3.0
Where do I begin?
First up, the brand new default theme for Mobirise kicks the old theme's butt. And the old theme wasn't even bad.
The new theme comes with a darker color scheme (which can be customized), new blocks, and new fonts.
Here's a summary of the other Mobirise 3.0 features:
A new dropdown menu
Over 40 new page blocks
Accordions, toggles, and tabs
Progress bars & cycles
Icons are now available in default theme
New slider and gallery which includes video slides
Many new block parameters
The inline editor is now faster
Animation on scroll
'Cookies Alert' extension
'PayPal Shopping Cart' extension
Image gallery with a tag filter
A 'BlockPack' with 50+ unique blocks including sliders, animated backgrounds, 'typed' text effect, and countdowns.
The inclusion of a PayPal shopping cart adds a new dimension to Mobirise. It makes it more than just a simple website builder – it makes it an eCommerce solution, too.
In an exclusive interview, Mobirise told CMS Critic that, "the concept of the new Shopping Cart was devised a long time ago, since we got large numbers of requests from our customers. Now, we are very pleased to introduce this new [eCommerce] extension that will enable our customers to create modern looking e-store websites straight in the application, without coding and server-side integration."
Interestingly, I've also noticed that the Mobirise team has already busied themselves with building upon Mobirise 3.0. In fact, there have already been five additional updates to Mobirise 3.0 in the space of three months. Now that's what I call work ethic.
Third Party Development
The mobirise community is already forming on the official Mobirise Forums. But what's more exciting is the fact that third party development has started to take shape.
Despite Mobirise announcing that their API for themes and extension is still not publicly available, third party themes like Unicore have already sprung up.
Mobirise say they will be unveiling their first API release, and they hope it will spark even greater third party development projects. Which is awesome news.
I also sincerely hope to see the Mobirise team continue with the same enthusiasm, because if Mobirise 3.0 is anything to go by, Mobirise has a bright future.
Get started with Mobirise.