MODX has announced a host of new updates to their MODX Cloud product line yesterday. These new updates bring with them a selection of enhancements such as improved custom domains, SSL and more.
The addition of a new Add-ons tab is one such addition: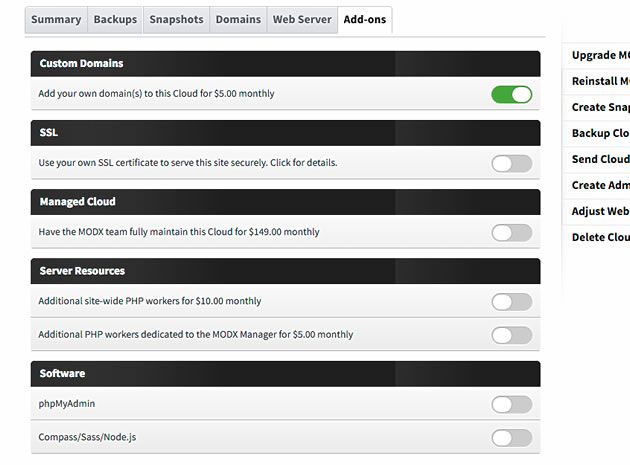 With the new Add-ons tab, MODX Cloud customers can quickly and easy perform additional tasks such as:
Requesting SSL for increased security and visitor trust, and to boost your SEO,
Ordering the Managed Cloud service, so you never have to worry about monitoring or maintaining your site at all, and
Adding server resources (PHP Workers) for higher traffic or more complex sites.
One of the most important updates in this announcement, in my mind, is the addition of SSL for everyone. Especially with the importance of SSL certificates nowadays as they relate to Google rankings, I think MODX has done a smart thing in making them accessible to everyone. With their new update, users can update to a secure site at no additional cost. SSL is now available at all plan levels, including their Basic plan. According to their release announcement, they are working to make this even easier in the future as well.
Last but not least, the following additional improvements were made:
The MODX Cloud user guide and knowledge base now lives in our Zendesk Help Center. You can search our KB articles straight from the Dashboard help widget, and open a ticket if you don't find the answer you need.
Need to grab a file you accidentally deleted a few days ago? Now it's a whole lot easier: restore a backup into another Cloud instance straight from your main Backups tab in the MODX Cloud Dashboard.
Added latest version of MODX Revolution (2.4.4).
And finally, we were able to make faster nightly backups. Faster is better, right?
Interested in MODX Cloud? Check them out at https://modxcloud.com/