MODX  have announced the release of MODX Revolution 2.3 . This long-awaited and "huge" release incorporates over a thousand commits by dozens of code contributors, translators, and bug reporters.
MODX offers customizable core to fit almost any project requirement or scale. It aims to be the go-to product for projects involving a multi-domain global presence, a mobile API, or anything in between.
Revolution 2.3 features a refined and updated MODX Manager, boasting a new and improved theme. In 2.3, the user friendly and less intimidating workspace enables you to build and manage your sites faster and easier.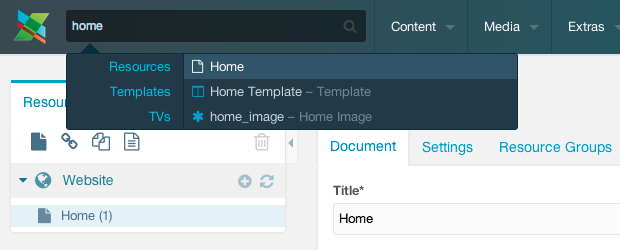 Faster, Sleeker, More Accessible & More Secure
Here's what users can expect from MODX Revolution 2.3 in terms of the newly improved MODX Manager User Experience:
Noticeably faster page and screen loading / more performant ExtJS DOM
New überbar to find any Resource, Element or User by a variety of criteria
All new default Manager theme with Gravatar support
New Manager theme customization workflow using Sass
Open Manager Views in Tabs or New Windows
On top of these interface and usability enhancements, MODX Revolution 2.3 also brings about the following new features:
Custom Headers for Content Types
FontAwesome icons replace PNGs in the Manager UI
Open objects like Resources or Elements in new Tabs or Windows for a multi-tabbed workspace
Updated languages from our many translators and proofreaders thanks to moving to Crowdin for group translations
Five new manager translations added: Chinese, Finnish, Indonesian, Romanian, Danish and Belarusian
Full-screen Media Browser
Security patches from all 2.2.x releases
Hundreds of bugfixes, enhancements and more
The full list of improvements can be found via the changelog .
Here's the official blog announcement of MODX Revoluton 2.3 , with further details.
MODX Cloud Updates
On top of the new MODX Revolution 2.3 release, updates have also been made to the MODX Cloud stack.
In addition to numerous behind the scenes improvements, here's an overview of what's new:
PHP updated to latest stable release version 5.4.30
Added the Libevent extension to PHP
Browser-based file upload limits increased from 8MB to 25MB
Updates to ensure Composer works from the command line
Convert database connections from Unix to TCP sockets to improve command line functionality with MySQL and MODX
Updated Sass and Compass to work for MODX Manager theme development
Here's the official blog announcement.
For more information on MODX, check out their website.
To see an introductory video and an overview of features, visit MODX via our CMS Directory.