Affiliate programs have changed the way marketing is functioning these days. Starting with Amazon back in the 1990s, affiliate programs have turned into effective tools to earn money online. If you have enough motivation to earn money, then you can also get your piece of the pie.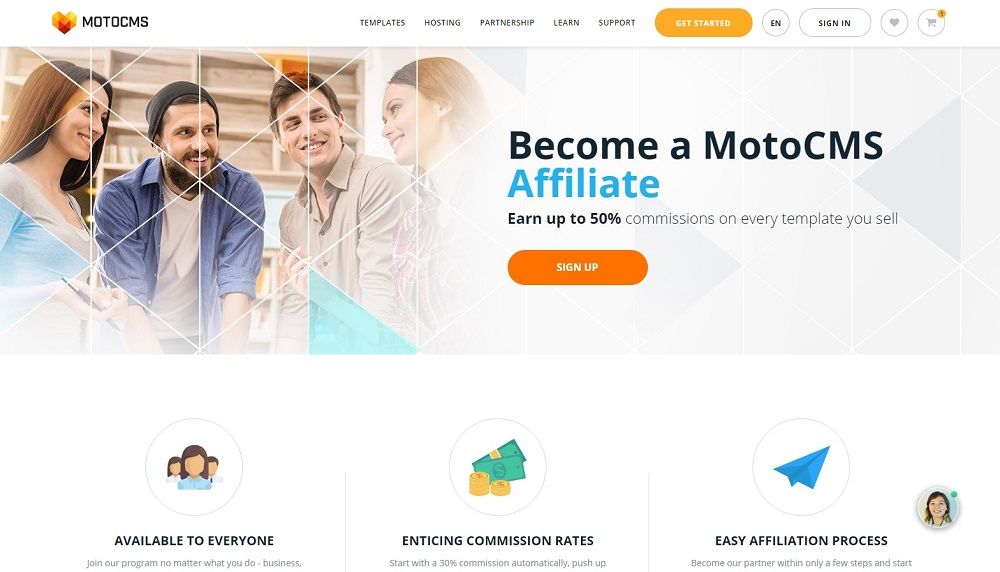 The trick part is, however, to choose the merchant site wisely. Today we will try to demonstrate why it makes sense to join MotoCMS Affiliate Program. In this article, you will learn about who this program is for, what you actually need to do to join MotoCMS as an affiliate, how you get paid and much more.
No Knack for Web Development is Required
If you are considering joining an affiliate program, then the most important question for you is whether you fit in. With MotoCMS, the answer is always "Yes". In practice, it means that any person can join the MotoCMS Affiliate Program. You are free to become a MotoCMS affiliate if:
You need an additional income source that is reliable and trustworthy. Having a status of a MotoCMS affiliate partner, you automatically get access to all the necessary resources to start earning decent money from day one.
Your level of expertise in the web development varies from 0 to 100%. You may know next to nothing about content management systems or website templates and still become a successful MotoCMS affiliate.
As you see, to become a MotoCMS affiliate, you do not need a solid startup capital. Nor are you required to possess any web-related skills or educational background in the IT industry. In fact, there is only one prerequisite that is necessary for joining the MotoCMS Affiliate Program. This is your wish to earn money. Quite simple.
Do Business with Pre-Built Online Shop
You are probably wondering how the whole process of joining the MotoCMS Affiliate Program looks like. The answer is that you simply register as a MotoCMS affiliate partner. To sign up as a MotoCMS affiliate, you will need to provide your name, email address, your website's URL etc. Basically, signing up for the MotoCMS Affiliate Program means that you have already done your part of the job.
MotoCMS takes care of the rest. Our team will provide you with all necessary promotional materials, so you can spend minimum efforts on your campaign advertising. If you want to raise more money, our professional support team will optionally install the free Pre-Built Online Shop on your website.
Once it is there, we will fill the shop with the collection of the templates with a <a href="https://www.motocms.com/">webste builder</a> from MotoCMS. The definite advantage of the Pre-Built Online Shop is that you can sell all the MotoCMS products under your own name. As you can see, the whole process is quite simple and does not require much time or effort on your part.
Increase Sales with Updating Promo Materials
Let's assume that you have already decided to become a part of the MotoCMS affiliate community. What happens next? Getting started, you need to start your own advertising campaign to motivate your visitors' interest in MotoCMS. This is where ready-to-use advertizing tools from MotoCMS come in handy. These tools include:
Text Links
The easiest way to start for promoting MotoCMS on your website is using a text link. All you need to activate the link as an affiliate partner is to add ?aff=username after the URL of a product. Once a prospective visitor buys a template from MotoCMS after clicking on the text link, you earn your money.
Banners
One more idea to stir your customers interest is to apply eye-catching banners, developed by MotoCMS web designers. For instance, banners can boost your sales considerably on the front page of your website.
Landing Pages
Another way to increase your sales as a MotoCMS partner is to launch a landing page. There are 12 ready-made landing page designs you can choose from. You can also create a multipurpose landing page to demonstrate the full scope of products from MotoCMS.
Increase Your Commission Rate
Of course, the whole point of joining the MotoCMS affiliate program is to get additional income. But how much can you get? As a MotoCMS affiliate, you can earn from 30 to 50% commissions from every successful bargain. The more you sell, the higher the commission level becomes. Earn even more with 365 cookies that MotoCMS offers. Get your commission even 364 days after a client uses your affiliate link!
Do not forget that you are always free to sell the website templates from MotoCMS as your own products under your own brand. So, basically, you can decide yourself what pricing policy is more appropriate for your services.
Use The Convenient Way to Get Paid Fast
MotoCMS offers its affiliate partners a few well-known payments methods. You are free to choose between Skrill, PayPal, Payoneer, WebMoney, and others. And most importantly – whatever payment method you opt for, you will get your commission right on time.
Get 24/7 Professional Assistance
The last but not the least advantage of the affiliate program from MotoCMS is the direct tech support we offer. The thing is that our consultants support the clients of each our affiliate program participant.
Another good piece of news is that a client can choose the way to contact our support team. Depending on the urgency of the situation, s/he is offered two communication channels. Any client is able to request a callback and leave a message in the live chat. With MotoCMS, you can be sure that all questions of your clients are answered promptly by the professionals.
Now when you know pretty much everything about the MotoCMS Affiliate Program, there is little room for doubts. So, spread the word about MotoCMS via your website and get an additional reliable income source!