MotoCMS is a WYSIWYG (What You See Is What You Get) website builder, capable of building professional-looking responsive websites.
The latest major release, MotoCMS 3.0, brought about enhancements to speed, user experience and mobile responsiveness.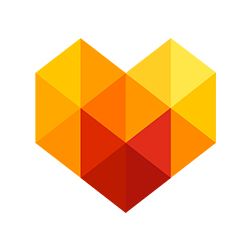 MotoCMS is equipped to handle eCommerce sites, portfolio sites and businesses sites alike, boasting an array of well designed templates to give users plenty to work with from the get go.
In short, it's a website builder, and like all website builders, it's designed to be beautiful on the outside, and simple on the inside.
The plan is, you use it to modify and tweak existing MotoCMS templates, before purchasing your finished website and hosting it yourself, however you see fit. It's a model designed to get you crafting a website quickly and professionally, without any ongoing expenses.
Let's see how well MotoCMS lives up to its website builder label.
First Impressions
The MotoCMS website is sleek.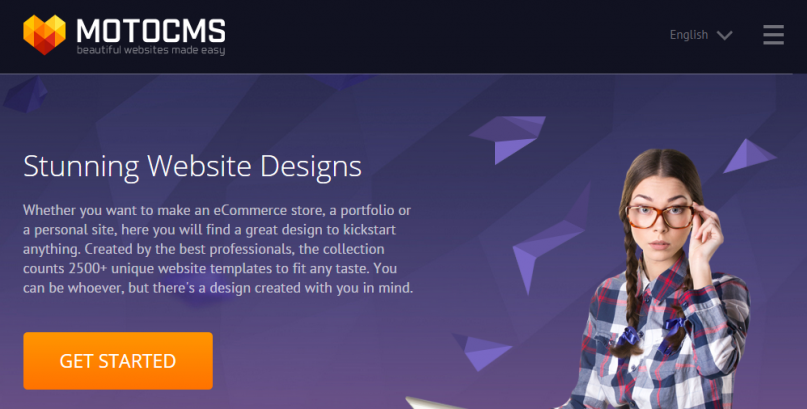 Vibrant purples dominate the design, information is plentiful and a range of languages can be switched between to appeal to a worldwide market.
Clicking the "Get started" button on the homepage gets you into the action. After selecting my template, I was asked to type in my email, my name and my phone number, although only the email field was mandatory.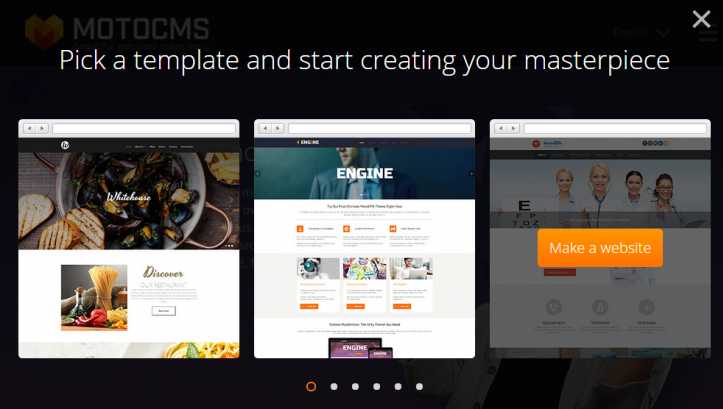 I was able to try out the optional phone-activation feature though, only to find out that it doesn't replace the email verification feature. You'll need to verify your phone number first, and then verify yourself again via email in order to log in to MotoCMS. Long winded stuff.
As usual, I'd recommend sticking to email verification only.
Getting Started
Thankfully, things got better when I was eventually granted access.


"Welcome to the Future".
It may sound a little cheesy but that's totally okay with me. Cheesy, in this environment, can definitely be a good thing. Especially when the platform actually delivers on its futuristic promise.
The dashboard page itself though, is empty.
It simply gives you that "Welcome to the Future" message, and then forces you into clicking away to other areas of the admin panel. Perhaps here would be a good place to have a short instructional step-by-step guide, or perhaps a video? Anything would be better than the emptiness it currently boasts.
Pages
After heading over to "Pages" on the navigation bar, a help window pops up explaining how to use the interface.
The window is useful and easy to digest. It's good that it's there, but it's not so good that it isn't centered on the screen, nor is it small enough to comfortably fit on the screen. A minor issue, but an issue it is.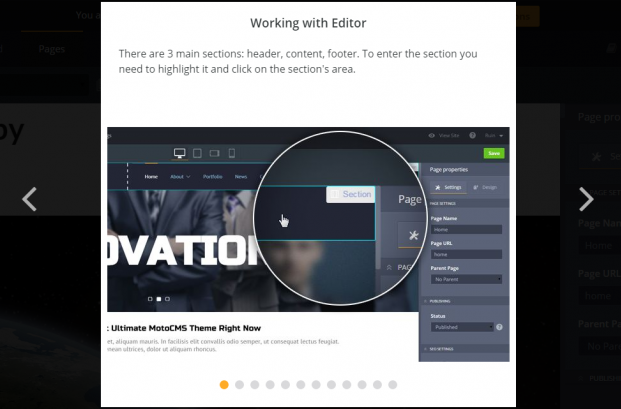 The options down the right-hand side allow you to edit page names, URLs and assign parent pages. Switching over to "Design" section provides you with page-specific design options that enable you to hide sections of the page, like the header or footer.
Pointing and clicking at any section of the page though, brings up new options.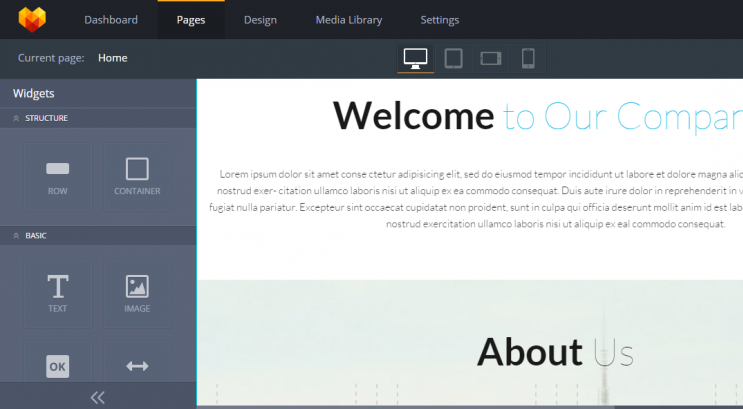 You can edit text and insert widgets like sliders, galleries, images, contact forms, iframes, videos and maps, all right there on the page. It's WYSIWYG technology at its traditional best. It works just as you'd expect it too, which is precisely how it should be.
Adding a new page is simple, too. You just click "Add New" button on the top left corner, and insert your page name and URL (or slug).
You can then proceed to edit and tweak as you would with an existing page.
MotoCMS also lets you instantly preview your website through the screen or a desktop, tablet or smartphone. A handy feature.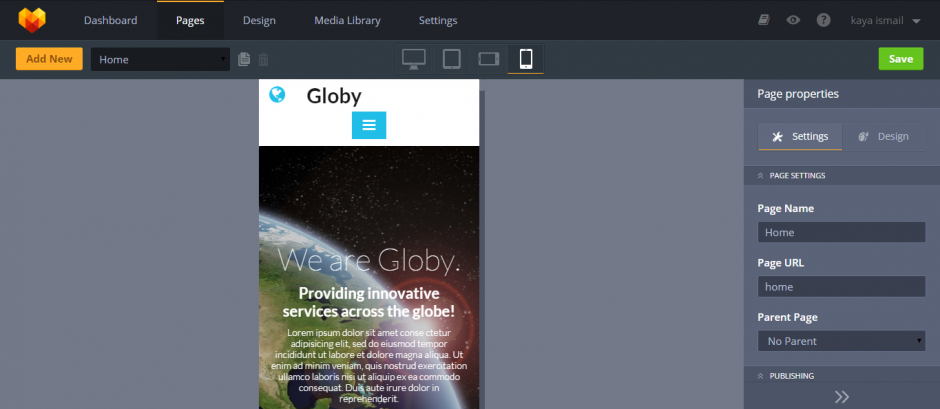 Design
The "Design" section within the admin panel controls, well, the design.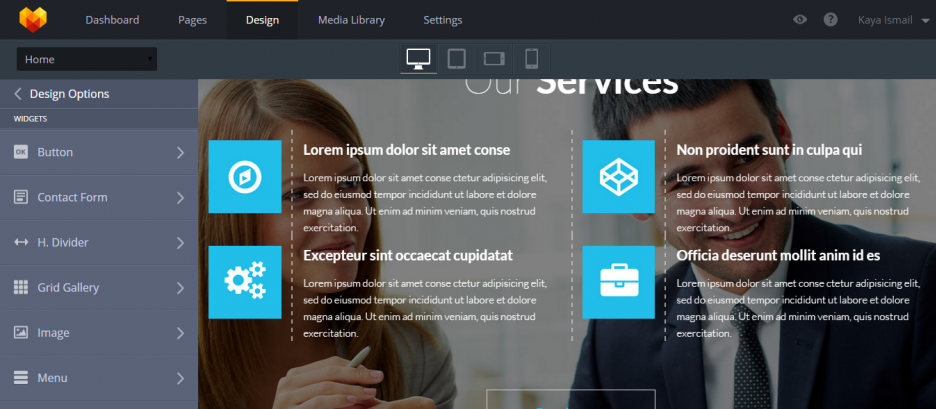 MotoCMS gives you a lot of ways to edit their existing template, and it's quite simple to do as well. Settings relating to the theme, font, text sizes and widgets can all be configured. It's pretty detailed.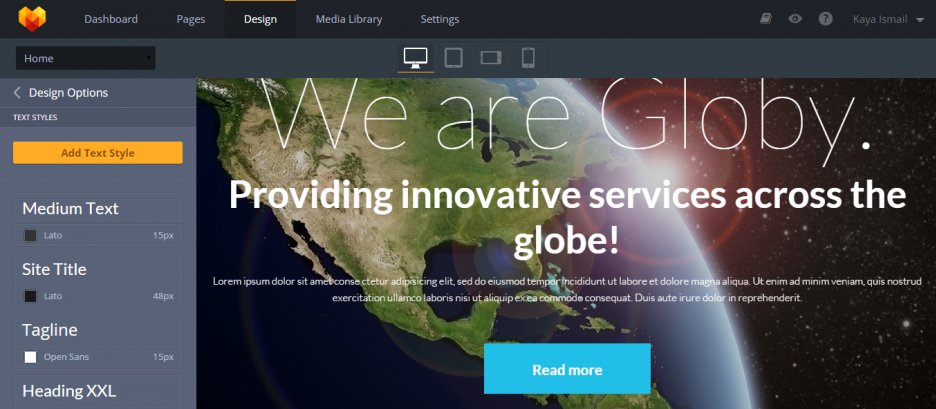 Elements like social media links, page dividers, buttons and so forth can all be configured.
No doubt this is where a website builder earns its stripes for being, well, a website builder. For me, MotoCMS does enough to make life simple for inexperienced web designers looking to re-brand and re-jig a template.
Media Library
Another option within the admin panel is Media Library.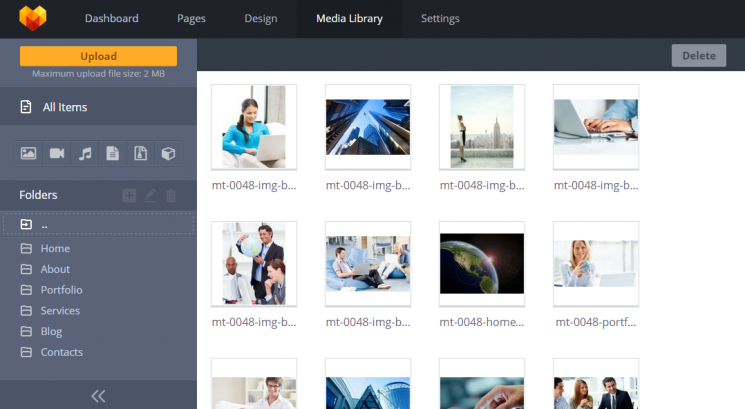 As the name of the section suggests, here is where you can manage media files for your website.
MotoCMS throws in quite a few images that come bundled with the theme. Plus, there are categorized sections for videos, sound files, documents and more.
Clicking "Upload" is how you add your own files to the mix.
Extras
I'd like to take a moment here to focus on MotoCMS's templates. Because they're excellently crafted.
You can choose between six upon signing up (not sure why the number is limited in this regard), although more can be found at their template marketplace.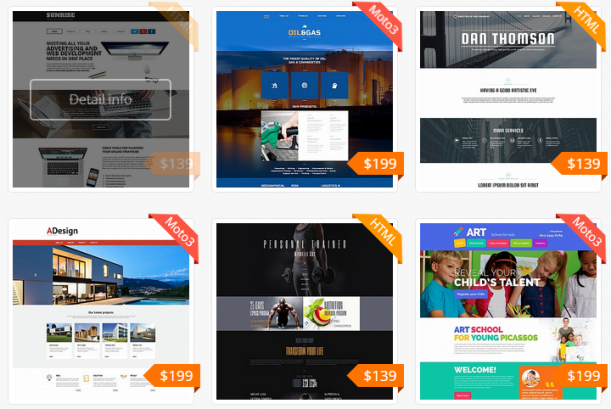 Each one looks highly professional, and thanks to some detailed customization options within the MotoCMS admin panel, you can quite easily make your chosen theme unique to your brand. Starting templates are important for website builders, and MotoCMS has excelled in this area.
Unfortunately though, other than templates, MotoCMS is lacking severely in the extras department.
It does an awesome job of actually building highly professional websites, but that's pretty much all it does, unfortunately.
There is a "Settings" page on the admin panel, which governs general website settings, basic SEO options, code injections and so forth. Blogging doesn't seem to be something that comes easy with MotoCMS either, as there aren't any settings to configure an actual blog.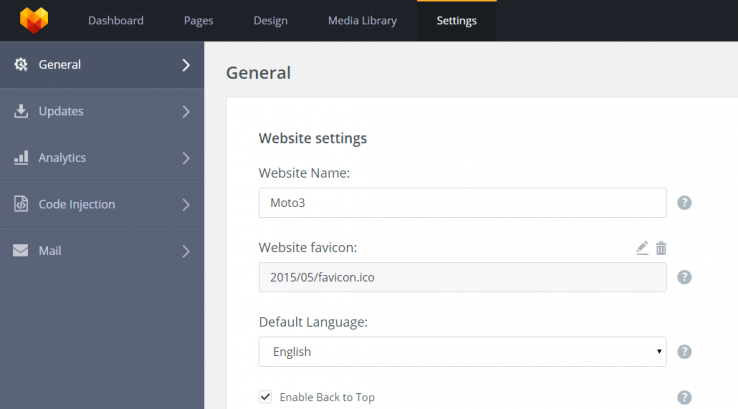 As for eCommerce features, you'll need to dish out an additional $99. Yet for blogging, there's not even a purchasable add-on available.
The only other extra functionality is the ability to configure Google Analytics and Webmaster Tools codes. It's bare minimum, to say the least.
Getting Help
MotoCMS does well when it comes to providing support.
Every page on the admin panel has a "?" icon that leads to their Help Centre. That help centre, is home to a searchable knowledge base, and can also be used to submit a support request.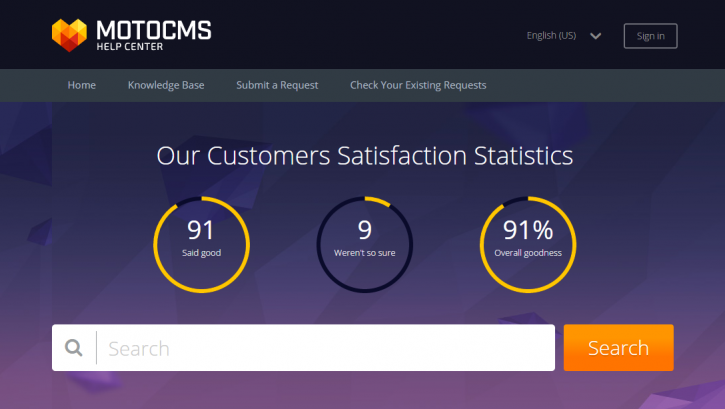 Furthermore, the MotoCMS community can be accessed from here, where users ask and answer questions in order to help eachother out. There's also live chat available for sorting out smaller issues.
Pricing
As far as pricing goes, MotoCMS gives you a free 7-day trial to get your website together. You can tinker away for that first week, but thereafter, you'll need to purchase your (modified) template in order to keep it and use it.
Templates advertised on the MotoCMS template marketplace start from $139. However, when I went to purhase my own modified template, I was asked for $199. Although this is probably down to the template I selected.
Extras like the eCommerce plugin and an installation service can also be purchased at the time of checkout.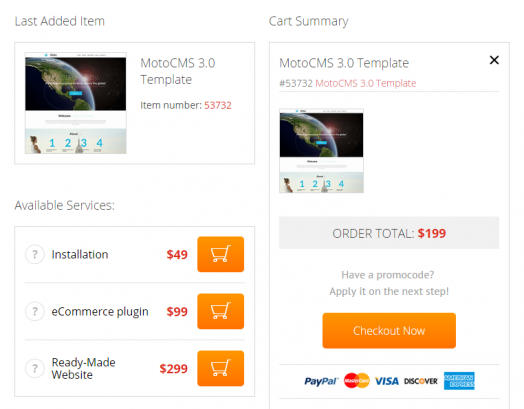 For me, the pricing is probably about right. The templates are awesome as they are, so after a week of editing, it's worth the relatively reasonable price tag.
The Verdict
To describe MotoCMS, one word springs to my mind again and again; crisp.
Their website, their interface and their templates are all delicately refined. I'm a big, big fan of the MotoCMS visual user experience across the admin panel, too.
However, a CMS needs to be more than just a pretty face.
With no blogging features, and eCommerce coming at an added price, the average startup might pass on this attractive platform. Plus, despite being WYSIWG, I wouldn't say it's the easiest website builder to use, as you're never too far away from some technical options.
Would I recommend MotoCMS to first-time website builders looking to start a business? Probably not. But I would recommend it to a web developer who wants to churn out classy websites for clients who need static websites. Because that's where MotoCMS really shines.
Pros
MotoCMS is a very sleek and beautiful platform. That makes it a joy to use.
Templates are plentiful, and expertly designed.
It's fast. 40% faster than WordPress, according to MotoCMS.
Editing as you preview your website on desktop, tablet and smartphone is simple and slick, just like a website builder should be.
Widgets like galleries, contact forms, maps, iframes, sliders and so forth help kit out the feature set.
General editing is easy, with point-and-click interfaces and extra menus for more sophisticated tinkering.
Live chat, a knowledge base and an online community make up the decent support system in place for MotoCMS users.
Cons
MotoCMS is not hosted. You'll need to source your own web host.
There are some (slight) display issues when it comes to help windows.
The eCommerce Plugin requires an extra $99 payment.
MotoCMS doesn't really offer much as a blogging solution.
Final Remarks
MotoCMS prides itself on offering awesome looking templates, and rightly so.
A quick look at their template selection tells you that you can build a pretty slick looking website. They're beautifully crafted, and the website builder itself makes it quite easy to build on what's already there.
However, it just feels like a slight technical step above the most basic website builders on the market. For web design newbies, that spells trouble. But for experienced web developers with clients on hand? It's a platform worth exploring, for sure.
MotoCMS needs some touching up, but it seems to be coming along nicely. I personally like its charm, and I'll be keeping a close eye on its progress in the coming months and years.