A departure from the normal CMS and software related posts I normally do but I recently managed to acquire a Google Nexus 7 Android tablet, one of few that are available worldwide and I thought I'd take a few minutes to share my opinion of this new Android tablet in this Nexus 7 review. The Nexus 7 Android tablet contains a quad core Tegra 3 processor, 16G of storage (in the model I have anyway), 7" 1280×800 HD display (216 ppi), 1 GB RAM and the usual wifi and Bluetooth connectivity options. It has a front facing camera as well which can be used for apps like Skype or Google+ Hangouts.
What makes this Android tablet unique is the amount of power that you get the for overall cost of the tablet. Weighing in at around $260 if you buy it new here in Canada, this is a crazy cheap 7″ tablet. Obviously, it was brought to market to help compete with Amazon's already popular Kindle Fire tablet. What makes the Google Nexus 7 different, however, is that Google has made it available in Canada and other countries straight from launch. The Kindle Fire, however, is still not available in Canada and some other countries which I consider to be a huge mistake on Amazons' part.
If buying the tablet new, you get a $25 credit to Google Play (the Android store) which can be used on any of the following: books, movies, music, apps or games. This makes the value of the Nexus' $260 price tag feel even better. <informercial voice> But wait! There's more! </infomercial voice> you also get a free digital copy of the movie, Transformers: Dark of the Moon as well as a free ebook edition of The Bourne Dominion. Not bad for $260 is it?
Now, I know a lot of people love hacking their devices and I'm certainly one of those people who frequents places like the amazing  Nexus 7 development forums @ XDA but in this case, I chose to keep the tablet stock so I could experience things as Google intended them. I would strongly recommend that if you do end up getting a Google Nexus 7, you bookmark the above forums as there are tons of great threads on apps, accessories and usage that I frequent and found helpful.
On with the Nexus 7 review!
Battery Life
First off, let's talk battery life since this tends to be what most people concern themselves with first when it comes to these types of devices. This tablet has been running with WiFi connected and an intermittent Bluetooth connection to my phone (a Samsung Galaxy Note) for Tablet Talk for about 2 days now. I am at 41% battery life and haven't charged the tablet at all.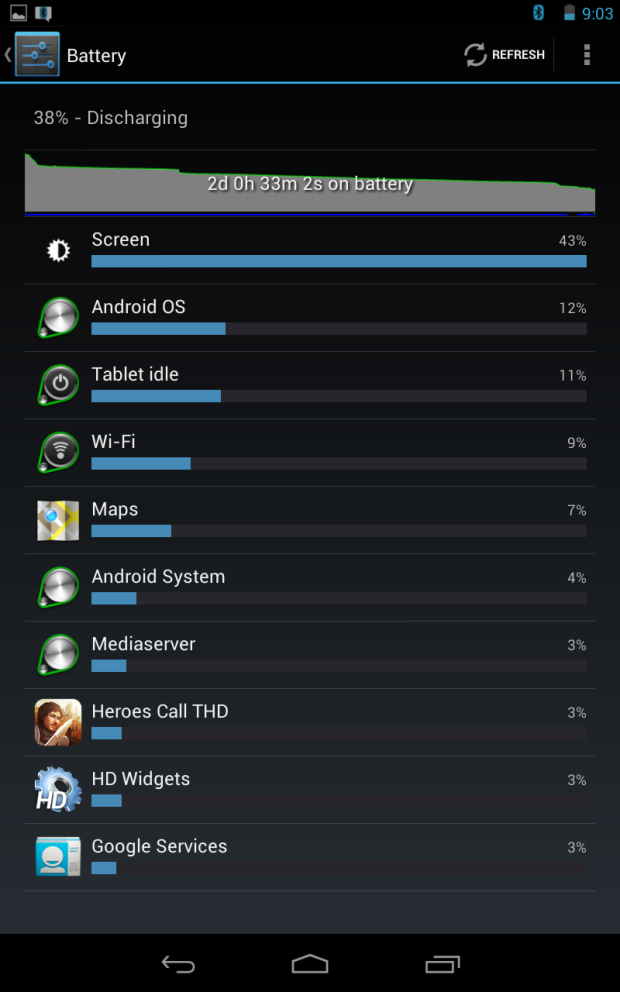 I'd consider that pretty good given that I've spent that time checking email, updating apps via the Play store, web surfing, reading news and playing some seriously sweet games like Heroes Call THD (highly recommended if you are a fan of games like Diablo). I'd consider this pretty decent for an Android tablet and certainly have no complaints here.
Interface
The interface is, in my opinion, pretty attractive. I'm a fan if minimalism so I don't have a ton of widgets on the home screen and like to keep things simple. I'm a huge fan of how smooth Android feels. Moving between menus and the home screens is literally just like they planned and I can understand why they called the interface "Project Butter".  It certainly impressed me.
The fact is, to me, everything simply feels faster and more fluid on the Google Nexus 7.  It feels the way a tablet should feel and the integration of Google's amazing array of services is something I've been longing for for quite some time. The interface is so smooth that it makes me want to use it, even if just to flick between screens every once in a while.
Here's how my home screen currently looks: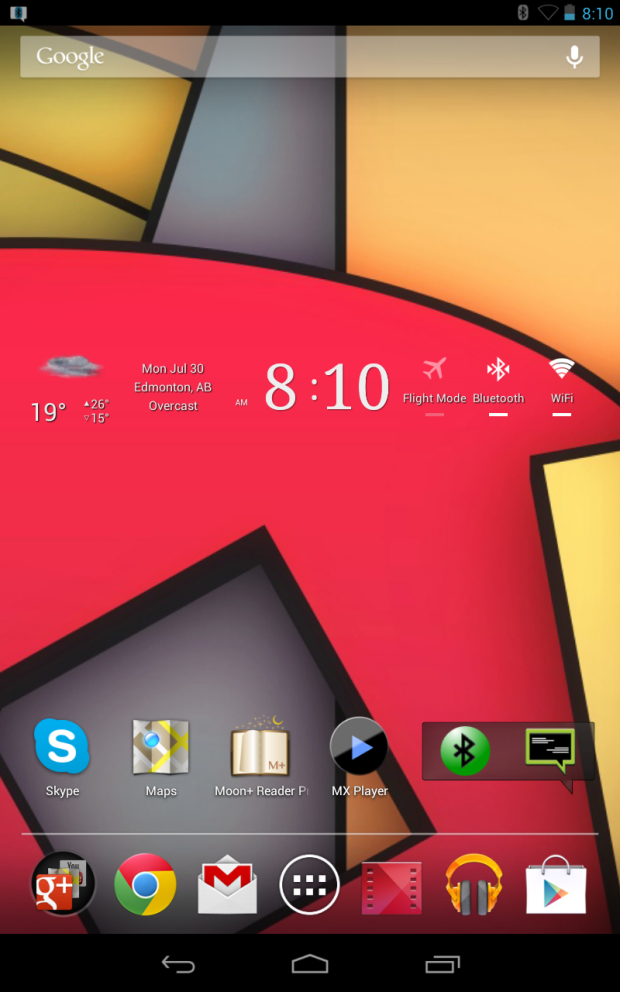 Another impressive feature with the interface is the improved Google Search and the introduction of Google Now. Google Now brings with it a number of "cards" that show up when you click in the search bar.  These cards can give you anything from the local weather to sports scores and traffic details.
Here's an introduction video explaining how Google Now works:
Here's how the Google Search with Google Now integrated looks on my Nexus 7: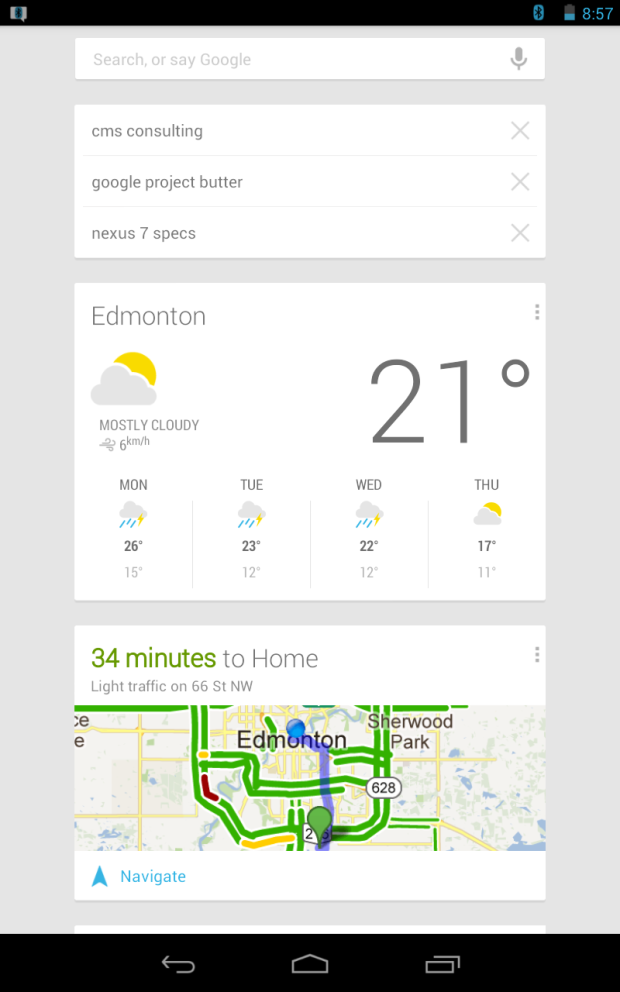 As you can see, it shows my last web searches (these come from my desktop but since I have web history enabled, I get them on my device as well), the current weather conditions (can be configured to use AccuWeather or Google for forecasting) and the Traffic conditions for my commute home.
The notifications pull down has changed as well with Jelly Bean (Android 4.1.1) and is much more visually appealing. For emails, it shows excerpts and if you take screenshots like I did for this review, they show up as well.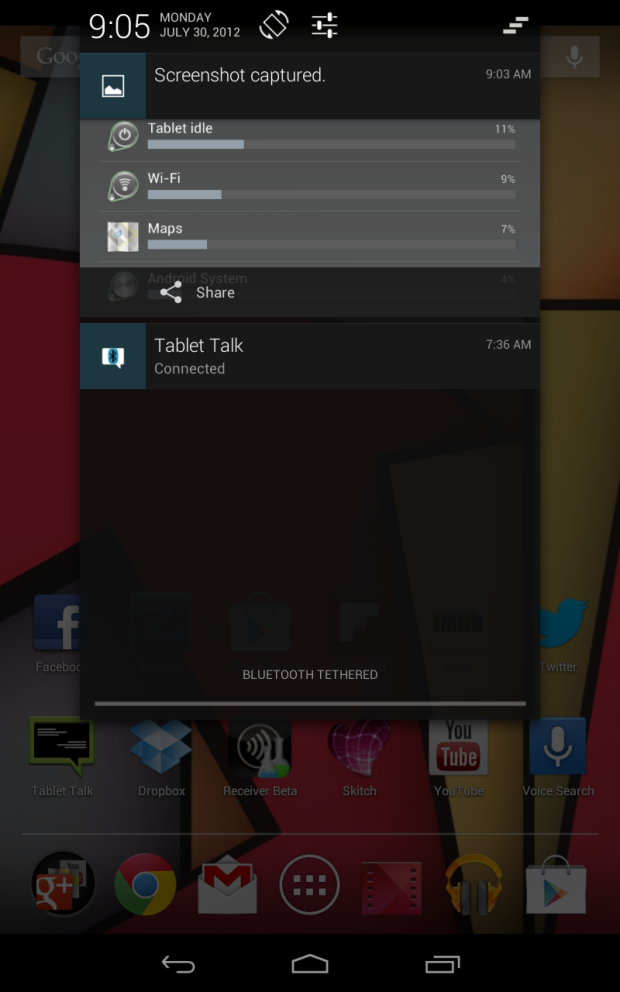 As you can see in the screenshot above, the words Screenshot Captured appear, followed by a preview of the screenshot and a share button which, when clicked, allows you to share via a number of services (depending on what you have installed). In my case, I have the option to share via Bluetooth, DropBox, Evernote, Facebook, Flipboard, Gmail, Skitch, Google+, Picasa, Skype or Twitter.
Using the tablet day to day, I've found Android 4.1.1 to be fluid and well implemented. This is something that was definitely missing in previous versions of Android but I'm happy to say, I think they are making the right amount of progress and are definitely distancing themselves from the competition with this latest release.
Hardware
The Google Nexus 7 was designed in collaboration between Google and Asus. The latter has been a top tablet manufacturer since they started to get popular and I'm glad to see that Google chose Asus as their partner for the Nexus 7.
The screen on the Nexus 7 is a 7″ 1280×800 HD backlit IPS display designed using scratch resistant Corning Glass, which, in my opinion, is nicer than those found on the Galaxy devices. Having said that, there are some who would argue that Super Amoled Plus is better. I've personally always found IPS more appealing to my eye but it's something you are going to have to try for yourself. I'd recommend taking a look at a Nexus 7 and then a Galaxy Tab and seeing which suits you more. I also like the idea of running on Official Google hardware myself, but that's just me and others may feel differently.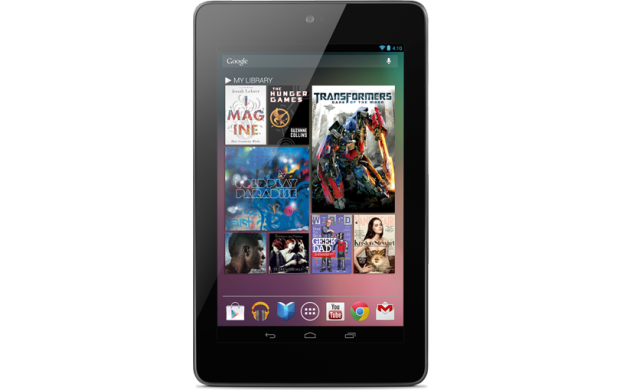 I find the colors to be clean and bright enough to satisfy my needs and haven't had much issue seeing the screen outdoors. In direct sunlight, of course, it certainly isn't easy to see but I don't normally try to read my tablet under the blazing sun so this doesn't bother me at all.
Build quality feels excellent. The tablet is light (weighing in at only 340g) and the 7″ form factor really is exactly what I've been looking for in a tablet. The back of the Nexus 7 is covered in a nicely textured rubber that makes it easy to hold and grip and doesn't make me nervous about putting down on a counter. With other devices such as my previous Asus Transformer Prime, I was always worried about scratching the tablet whenever I put it down.  With the Nexus 7, I don't think about it at all given the rubber backing.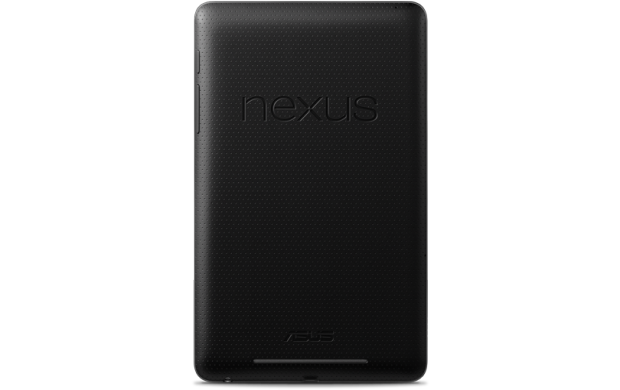 The Nexus 7 has volume rockers on the right side below a power button (which You can see in the screenshot above) and a micro usb charging port on the bottom with a headphone jack. So far, I've got no complaints with the way things are laid out.
As I mentioned in the beginning of this Nexus 7 review, this tablet packs a powerful quad core Tegra 3 processor and it's definitely proving itself to be no slouch, as far as I'm concerned. I haven't found any instances where things have become slow and I'm a fairly heavy user. It's also the top of the line as far as current processors are concerned so I'm not feeling unsure about future performance either.
Overall, I have to say that I love this tablet. The Nexus 7 is exactly what I was hoping it would be and much more. I've had a hard time putting the thing down and, when paired with my phone, it makes for the perfect setup for my needs. If you were on the fence before reading this, I hope I've convinced you to try one out. Obviously, given the worldwide shortage of these devices, there is definitely a demand for them and I think you can see why. If you get the opportunity, pick on up. You can also order from the Play Store here: http://www.google.com/nexus/
Questions about this Nexus 7 Review or the tablet itself? Drop me a comment and I'll do my best to answer them. Have one yourself and want to share your experiences? I'd love to hear your thoughts below.