Offiria today announced its release of its enterprise social network program Offiria Enterprise 3.0 for download.
Offiria is an advanced, fully-featured enterprise social networking software that offer a flexible, collaborative workspace for teams to get work done. What's unique about Offiria is, instead of offering it as SaaS software, we focus on delivering a self-hosted, highly customizable solution for organizations with modern collaboration requirements.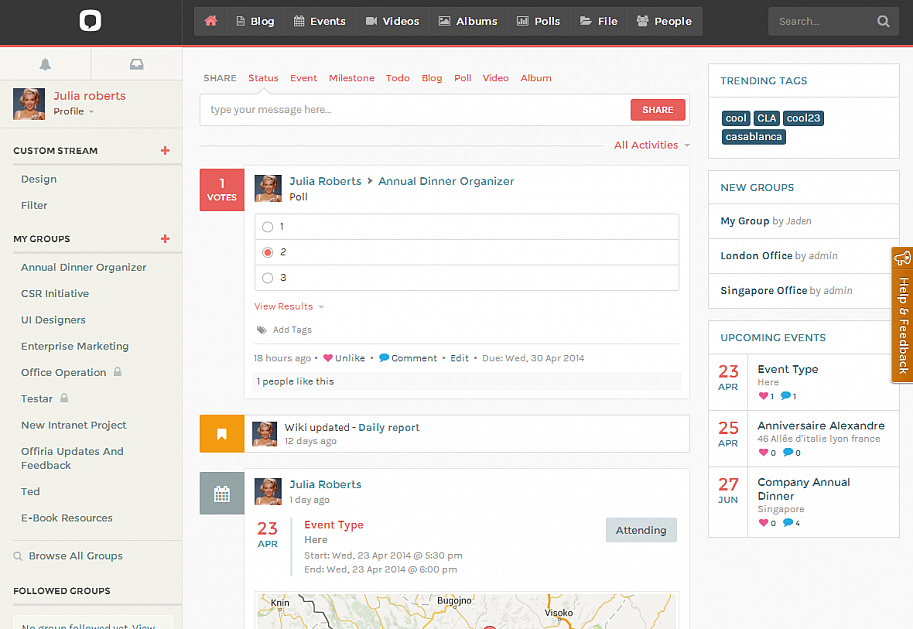 That reputation has been further strengthened by the release of Offiria Enterprise 3.0.
Key updates in this release:
Fresh, updated design
(New) Wiki pages
(New) Advanced file management system
(New) Photos and videos gallery
(New) New poll module
New features highlight – Wiki document and robust file management support
Among the new features on Offiria 3.0 is wiki document support, which allows a team to collaboratively share information on a document.
Offiria stores a history of all the changes made to a wiki page and allows all users with access to the page to update it. It also uses a modern wysiwyg editor instead of cryptic wiki syntax.
File management in this latest version has also been massively improved. We introduced a more intuitive folder structure and an "Official Files" feature where common files can easily be shared across the whole organization
Photo and Video Gallery
Support for photo and video gallery has also been added in this latest version.  Although it is not strictly a collaborative feature, support for photos and videos gallery has proved to be useful in a work environment. 
This makes the feature an added benefit for those who frequently use and share photos and videos in the workplace. User can organize these photos and videos within categories, creating an extremely structured content that is easy to search.
Pricing and Enterprise Edition
Offiria Enterprise 3.0 (self-hosted) is now available with two support package options.
The first and cheapest option is a 6-month support package at a highly affordable price of $249. The second and more comprehensive option is the 12-month package at $350 for an unlimited number of users.
In-line with Offiria's open source commitment, the software will continue to operate even after the support package has expired.
Community vs Enterprise Edition
| | | |
| --- | --- | --- |
| Features | Community | Enterprise |
| Social stream | YES | YES |
| Work groups | YES | YES |
| Event Management | YES | YES |
| Task/Milestones | YES | YES |
| Employee Directory | YES | YES |
| File management | YES | YES |
| Advance file management | – | YES |
| Poll and survey | – | YES |
| Wiki pages | – | YES |
| Photo gallery | – | YES |
| Video gallery | – | YES |
| MS SQL Server support | – | YES |
| MS Active Directory integration | – | YES |
| Dropbox integration | – | YES |
| Support | – | YES |
| Pricing | FREE | FROM $249 |
About Offiria
Offiria is an open source, enterprise social networking software that focuses on providing tools for companies to deploy internal collaborative workspace within their own secure technological infrastructure.
Unlike other companies who increase SaaS deployment costs as more users are added, Offiria offers a fixed cost to its customers.
For more information please contact email@offiria.com