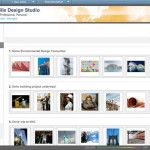 Omnium Software, an emerging network provider in the Web2.0 scene, launches its unique software geared towards online collaborative creativity for e-learning, social and business needs ñ with all profits going towards assisting and aiding communities in need.
Who, what, why?
Rick Bennett, and his team at the College of Fine Arts, UNSW, Sydney, Australia, have developed Omnium Software, an intuitive, easy to use, fully customisable and secure Web2.0 system that can be set up in minutes.
Omnium Software's technically advanced and graphically attractive interface allows anyone to create online communities and social networks for use in business, social and education (e-learning) contexts. Three software categories ñ Classroom, Social and Business ñ are available, with tailor-made versions such as; Higher Education, Sports clubs, Family, Mates, Creative Studio and Office Network.
Unlike other Web2.0 systems Omnium Software offers a secure and private interface through an invitation only log in, a secure password system, and where content is blocked from search engines.
Originally aimed at enhancing the learning and teaching experience for art and design schools, Omnium Software is a visual based interface, with an emphasis on multimedia. Users can openly customized their interface to suit their individual needs, as well as showcase their photos, create galleries and share media within their network.
How much?
Up until now, no other Web2.0 system has offered a free version with so much, flexibility and customization potential. Omnium's Free version includes disk space of 250MB and a maximum of 50 users, that lasts for an unlimited time.
Users can upgrade to Omnium Lite version if they have more users, need more disk space or want additional features for only $100 a year. Alternatively for those who want the complete software package where they can entirely customize their own network Omnium Full is available at a starting price of $1000.
Where?
Omnium Software is fully hosted by the company, meaning the software will not take up space on your computer, so anyone can go online and get their network started today. Simply, go to the Omnium Software website at http://omnium.net.au/software/