OpenText, an Enterprise Information Management (EIM) platform, has announced two new content services platforms: OpenText Core Content and OpenText Core Case Management.
Both platforms are a part of OpenText Cloud Editions (CE) and were unveiled during the keynote address at the OpenText World Europe event. CE provides customers with greater choice, enabling them to run their software anywhere – off-cloud, in a private cloud, in a public cloud, or through cloud API services.
OpenText Cloud Editions are cloud-native, helping users to accelerate innovation and simplify app management. The two new content services join CE's AppsWorks, AI and Analytics, Customer Experience, eDiscovery, and Security solutions.
"The future of the workplace is digital. Organizations today need digital business process solutions that are quick and simple to deploy, configure, govern, and use," said Mark J. Barrenechea, OpenText CEO & CTO. "Core Content and Core Case Management deliver the strong records management, case management, API's, and integration into leading applications that OpenText is recognized for – all delivered as a simple-to-deploy, multi-tenant cloud application."
Within OpenText Cloud Editions 21.2, OpenText Core Content and OpenText Core Case Management are multi-tenant cloud offerings that are quick and easy to deploy – and can be tailored to address unique lines of business, departmental, and industry needs.
OpenText Core Content
OpenText Core Content offers robust content management capabilities and key integrations with leading business applications like the SAP S/4HANA Cloud and its intelligent ERP system. Some key attributes of OpenText Core Content include:
Customizability: OpenText Core Content features template-based business workspaces with team access to content. This enables users to keep everyone on the same page while boosting productivity and collaboration with capabilities like viewing, annotation, and workflows. Core Content's Smart View UI feature allows users to customize their widgets and dashboards as shown: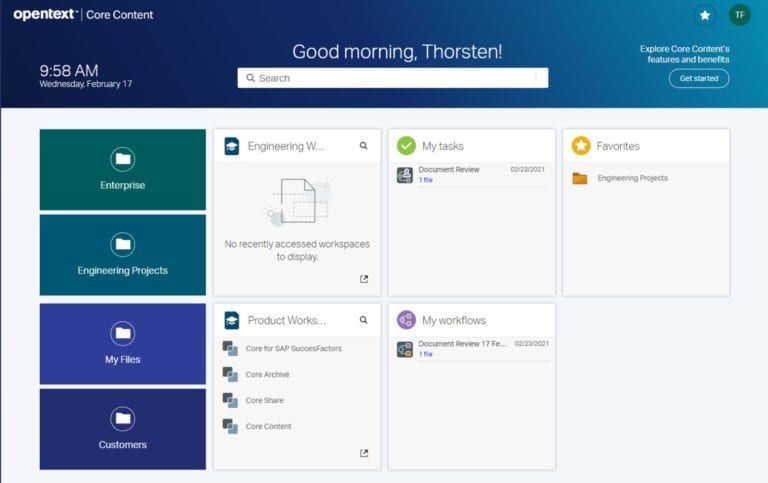 Ease of deployment: OpenText Core Content is easy to deploy, maintain, and update, requiring little (or no) IT involvement. With Core Content, organizations can leverage out-of-the-box, use-case templates that fit business process needs, and create custom case flows with zero coding.
Enhanced control and governance: OpenText Core Compliance Services, powered by OpenText Core for Federated Compliance, provide automated, comprehensive content lifecycle management for Core Content. It delivers an entirely SaaS-based solution to address governance needs across all corporate records and enterprise information holdings.
You can learn more about OpenText Core Content here.
OpenText Core Case Management
With OpenText Core Case Management, users get a no-code SaaS application that empowers workers to make better decisions – and create, adjust, and monitor workflows and tasks in real-time while improving stakeholder visibility.
If you're wondering what "Case Management" is, here's a bit of context. According to the Association for Intelligent Information Management, a "case" is any project, transaction, service or response that is "opened" and "closed" over a period of time to achieve resolution of a problem, claim, request, proposal, development, or other complex activity. It is likely to involve multiple persons inside and outside of the organization, with varying relationships to each other, as well as multiple documents and messages.
A simple example of a case is car insurance. It involves many types of information from many sources such as accident reports, body shop quotes, and more. All of this information is collected, analyzed, and summarized to help find a resolution.
OpenText Core Case Management helps businesses by:
Improving decision-making: Access all information and collaborate with stakeholders in a unified workspace for smarter, more informed decisions.
Increasing productivity: Create, track and manage cases with a centralized dashboard for a single view of tasks, approvals and case status.
Expanding visibility: Enable internal and external stakeholders to visualize information via dashboards, widgets, and notifications for greater real-time insight.
Accelerating case resolution: Eliminate manual, disjointed processes with seamless access to case information and easily create ad hoc tasks and workflows.
You can learn more about OpenText Core Case Management here.
17 consecutive years on the Gartner Magic Quadrant
OpenText has been included in the Leaders quadrant of the 2020 Gartner Magic Quadrant for Content Services Platforms (CSP) – marking its 17th consecutive year. Being one of Canada's largest software companies, OpenText has a big global presence and a strong ecosystem of over 600 international partners to implement and support multinational clients. Its deep partnership with SAP and its strategy of in-market acquisition have made it number one in the overall CSP market share.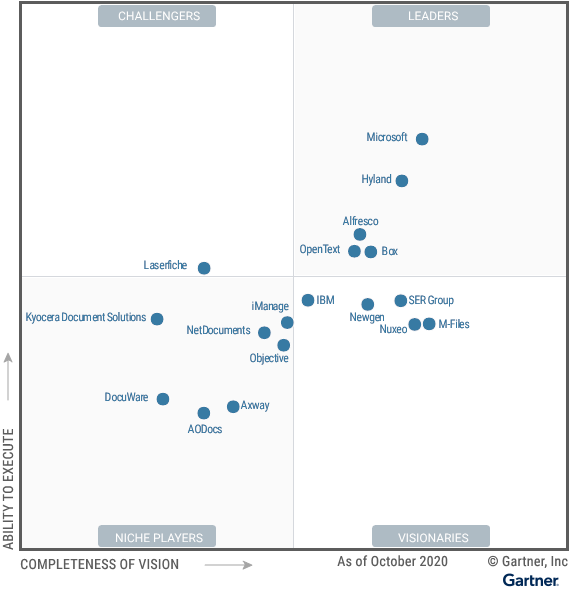 About OpenText
OpenText is a leading Enterprise Information Management (EIM) company that enables organizations to gain insight through market leading information management solutions, powered by OpenText Cloud Editions. OpenText software applications manage content or unstructured data for large companies, government agencies, and professional service firms. OpenText aims its products at addressing information management requirements, including management of large volumes of content, compliance with regulatory requirements, and mobile and online experience management.