PDFFiller is an online PDF form filler and editor that has been on the market since 2006. It allows you to not only fill out PDF documents, sign them and send them out but also to host them on your own website complete with the ability for people to do the same. Today, I'm going to share with you my PDFFiller Review.
I first came across PDFFiller when they reached out to me to ask if I was interested in taking a look at their software. Being a long time Docusign user, I was eager to check out an alternative and see if it met my needs. I'm glad I did. PDFFiller is significantly easier to use and felt far faster in my time using the software. For the purposes of this PDFFiller review, I've used a W8 form from the IRS (something I often have to fill out being Canadian and working with US companies).
When you first log into PDFFiller, you'll be greeted with this screen: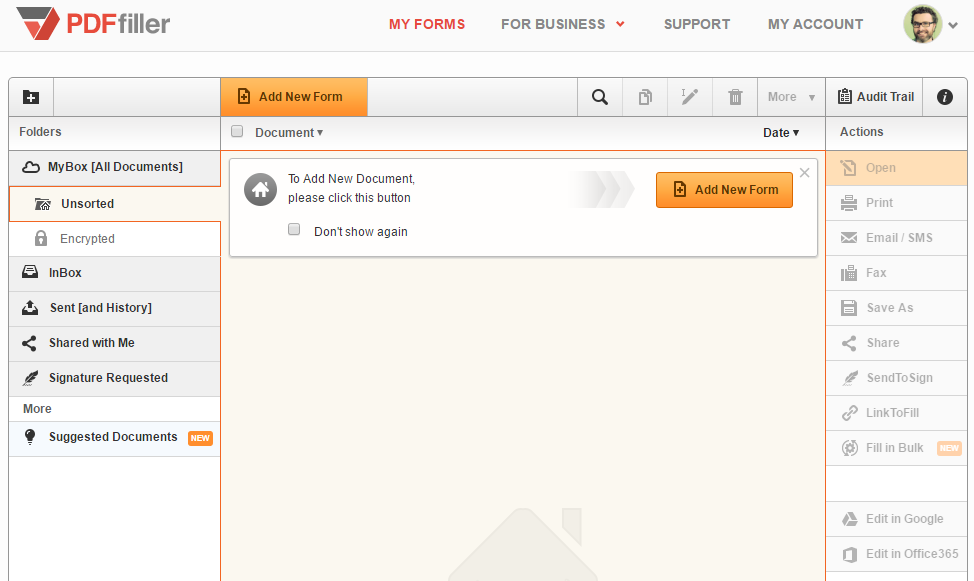 To add a document, simply click on the Add New Form button.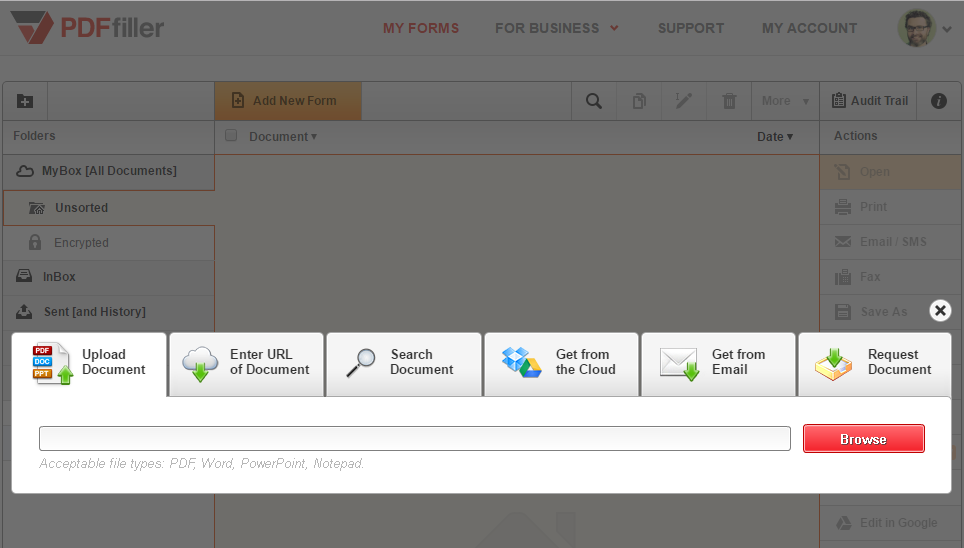 Now upload your document to PDFFiller and it will instantly be available for you to fill out.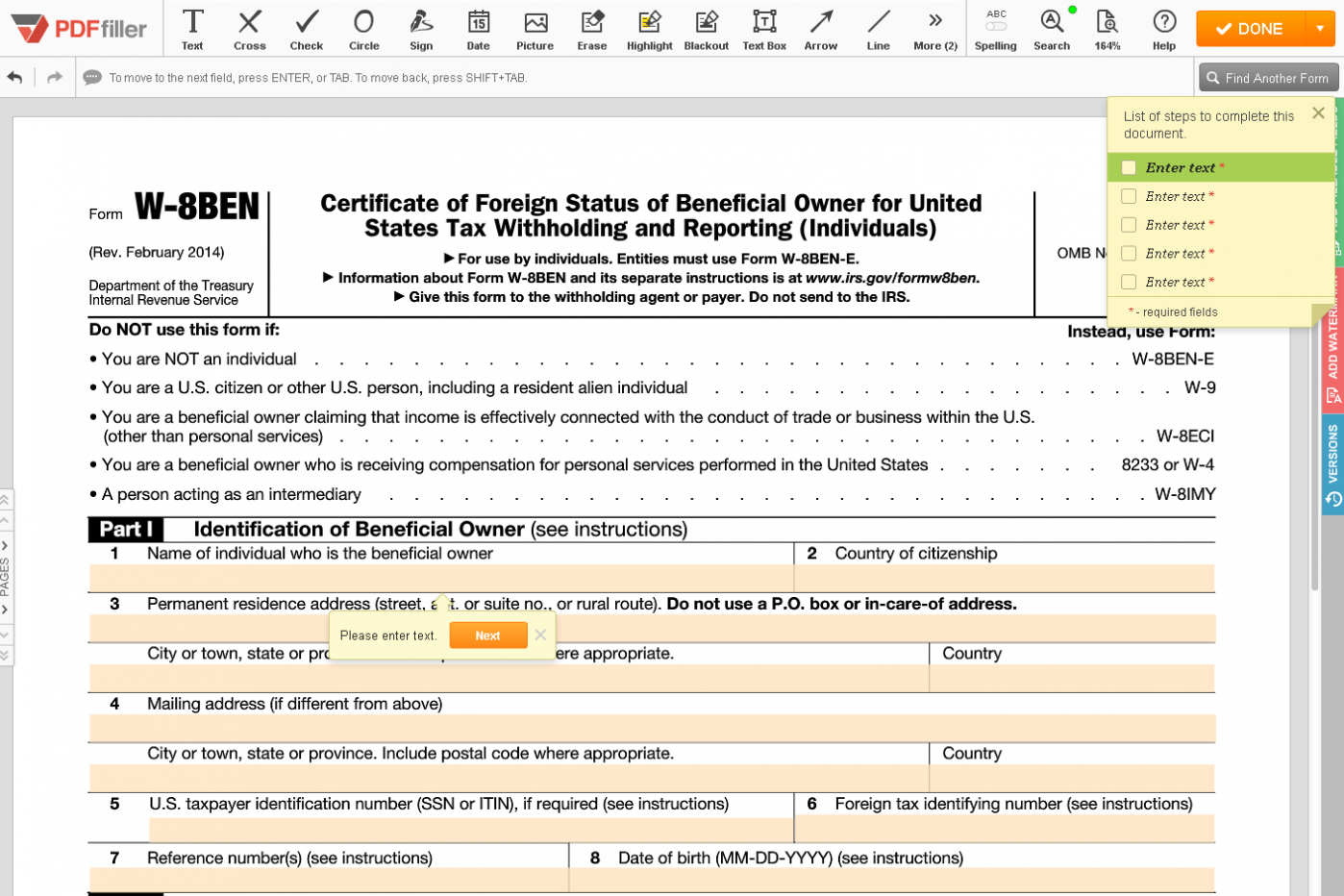 Now that you've uploaded your PDF document, just click in the fields and fill out the information required. It's as easy as clicking and typing.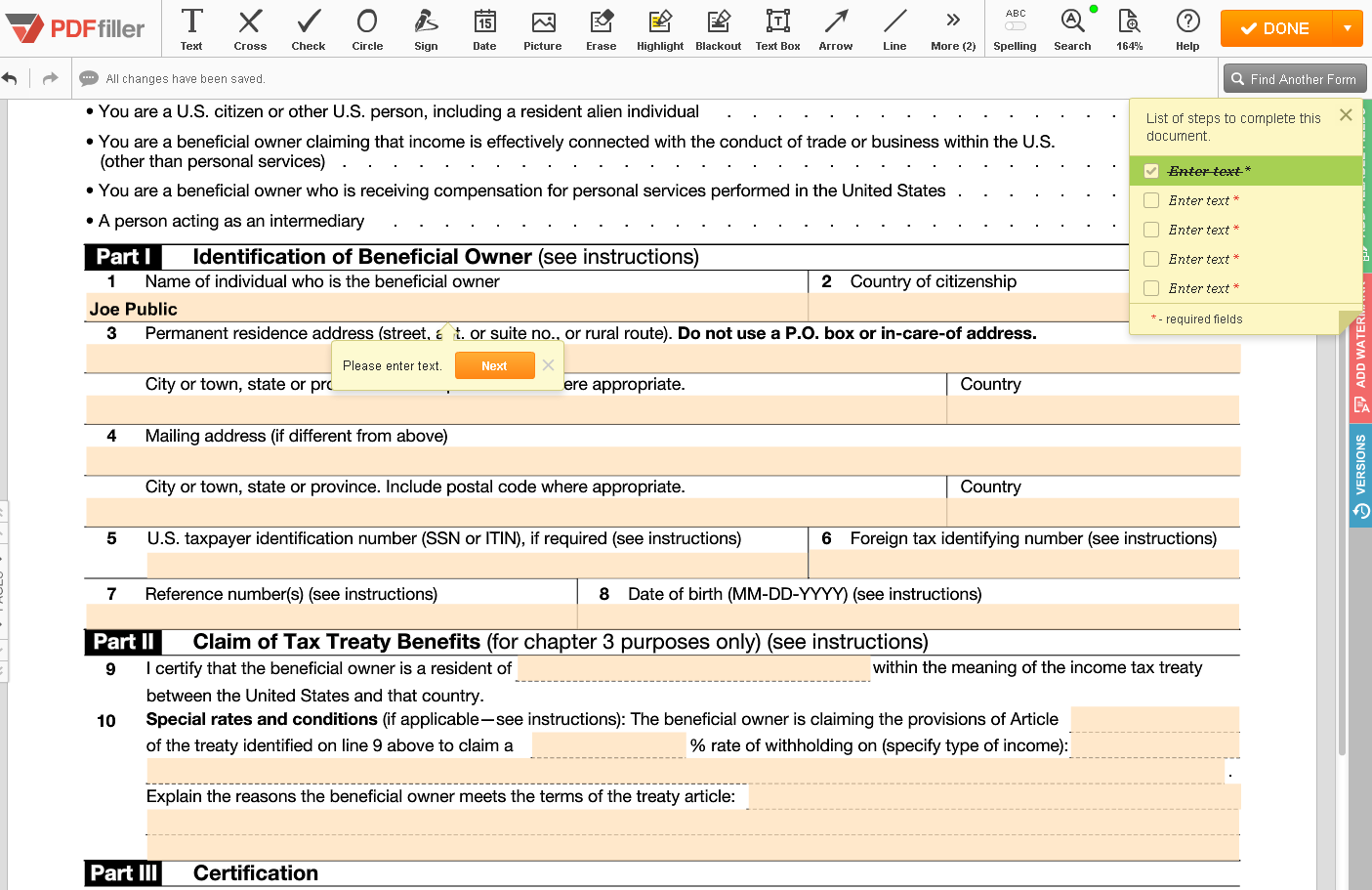 Once you've filled out the form, it's time to move to the signature stage. Adding a signature is incredibly easy, you can type one out, draw it with your mouse, use a touch screen device (if you have one), capture a signature or upload one.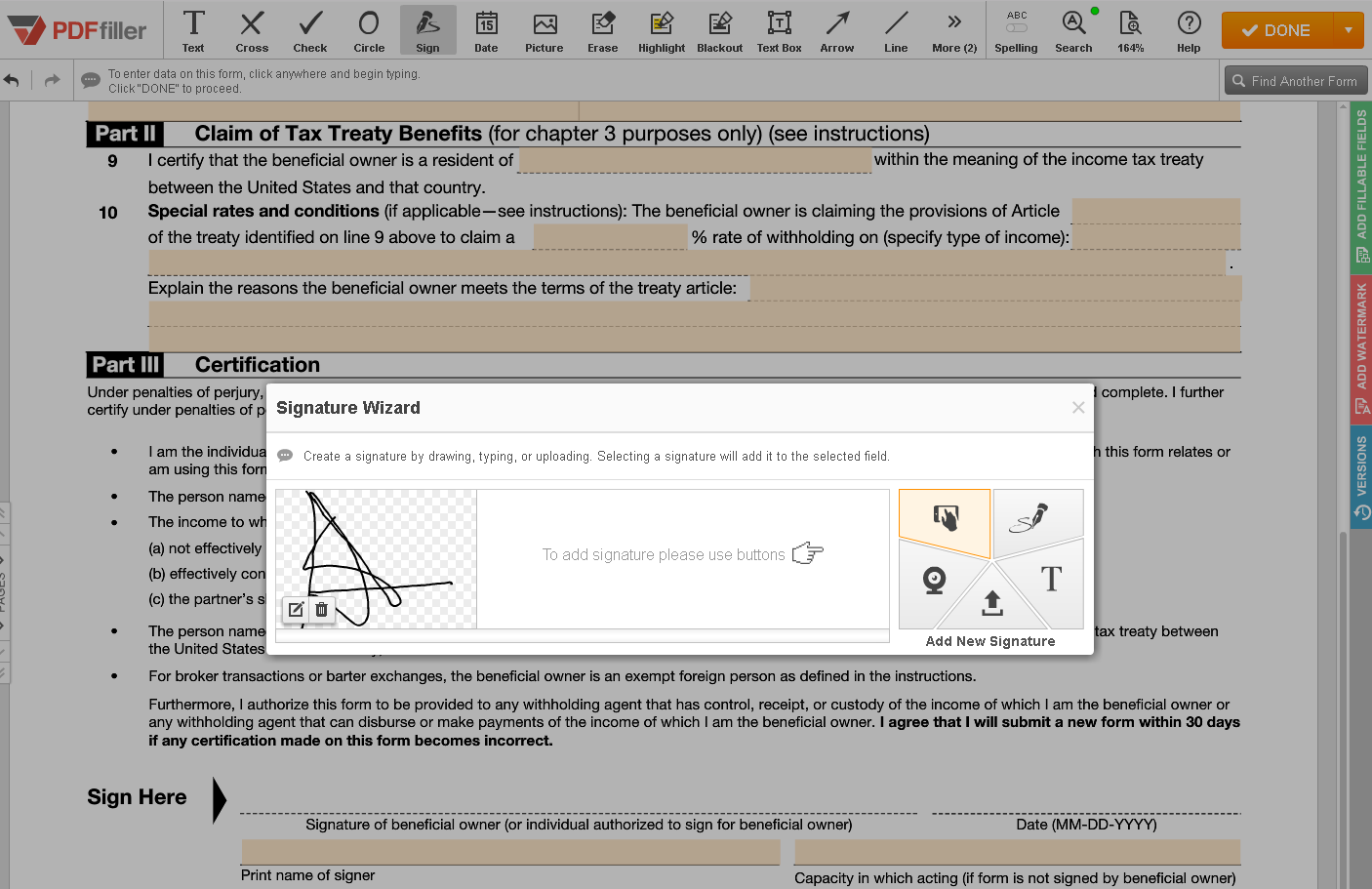 In my case, I chose to draw one with my mouse, which I find is as close as I can get to real life. In this instance, I'm using a fake name so I'll just sign the document as "Joe".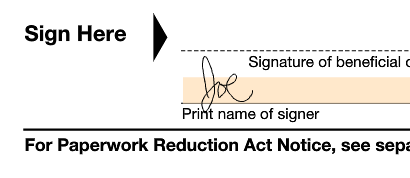 That's all there is to the signing and filling out process. Pretty simply isn't it? Let's take a quick look at a few other slick features you get with PDFFiller. Adding a watermark to documents is always handy and doing so simply requires you clicking on the watermark tab on the right side of the screen and creating yours.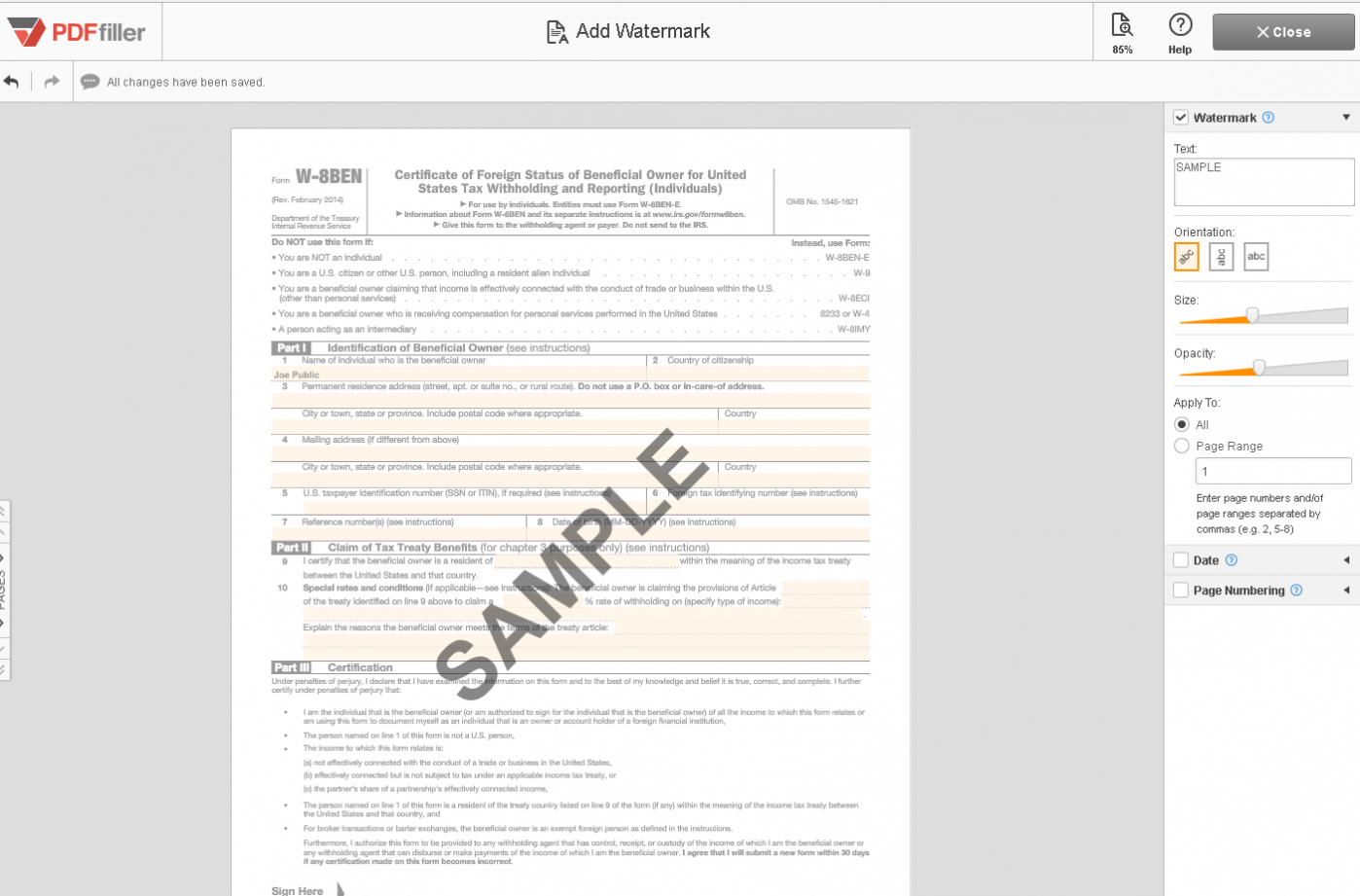 This is incredibly handy for those of us who want to show people how a form should be completed but don't want it to be re-used somewhere else. Adding in a SAMPLE or VOID watermark is useful.
Adding even more features, PDFFiller also allows you to spell check your document. Of course, it can only spell check the information you've typed out but it's a great feature to make sure you haven't made any mistakes on your form. To enable it, simply flick the switch as shown below.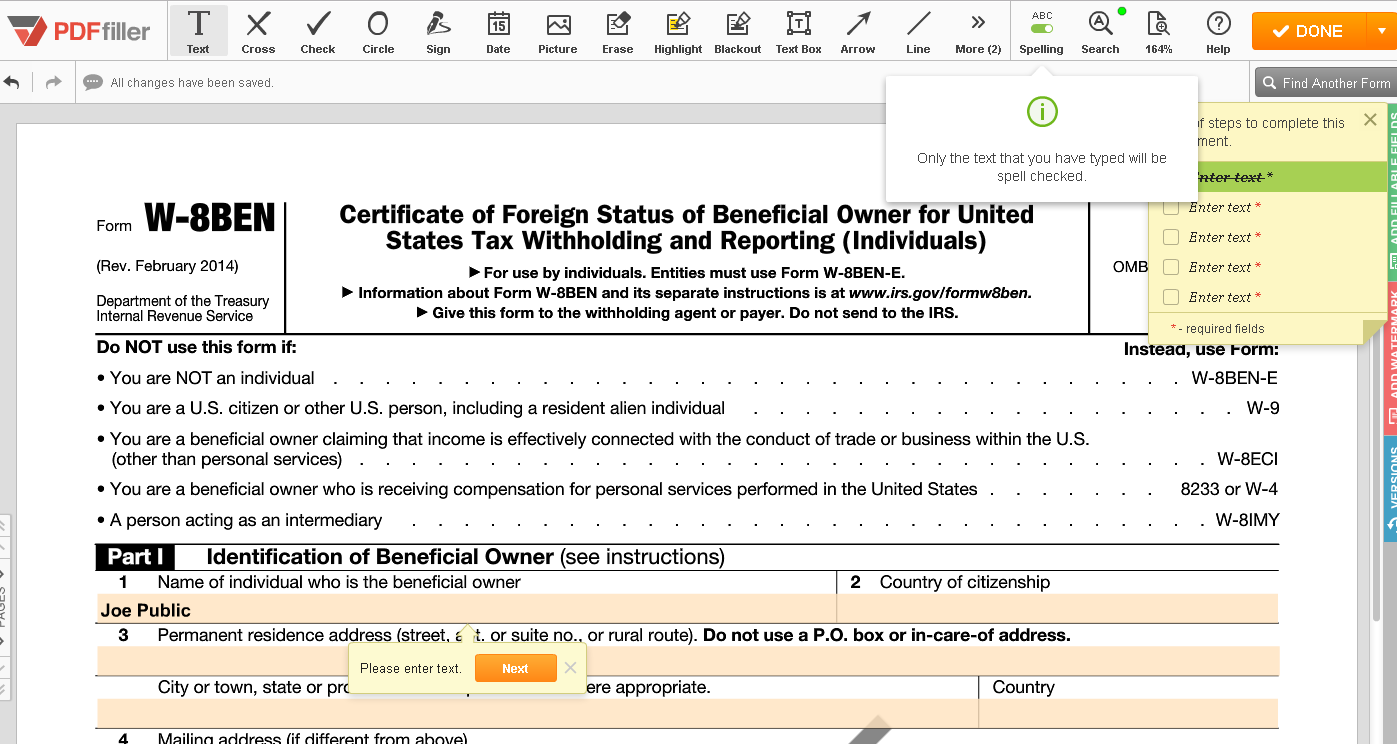 Once you've finished with your document, it's time to send it off. You have a slew of options such as printing it, saving it as Word or PDF, emailing, faxing, SMS and more.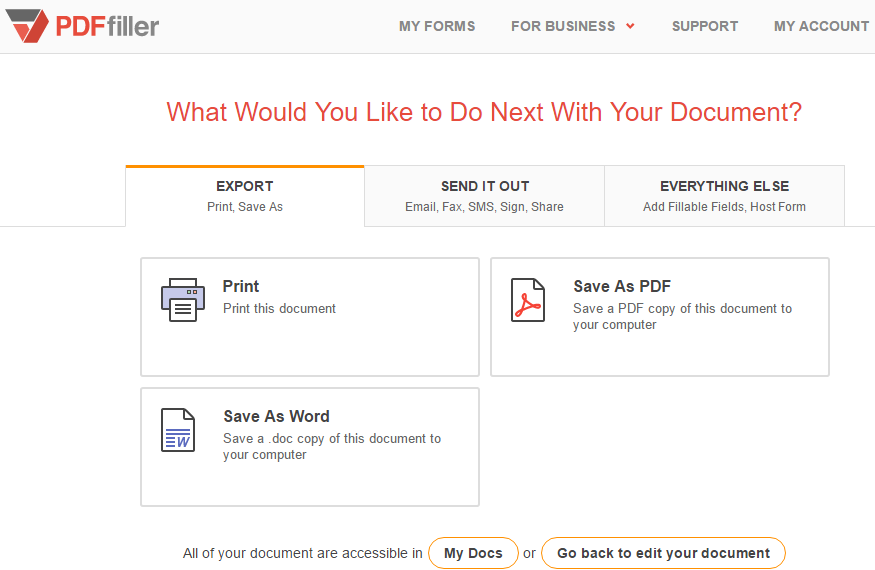 There you have it, as you can see, it's a very easy to use piece of software and incredibly handy for busy professionals who don't have printers with them on the road. Last but not least, they have one feature I can see people using on their websites that is incredibly handy, the ability to share a document that can be filled out and signed by visitors to your website. Check out the video below to see how it works:
Simply sign up for an account with PDFFiller and you'll be well on your way to signing contracts, PDFs and more. They also have handy iOS and Android apps that are just as easy to use.