Thanks to a sly Fox, we all recently got a sneak peek behind the scenes at PHPFox headquarters. More specifically, we got to know a little about PHPFox 4.2.

The online community builder used to come in two flavours; Neutron, their latest offering, and Nebula, their classic flagship platform. Now, though, they've left classic stuff in the past, and are now pressing forward with a unified, modernized platform.
Now, close to the date promised, PHPFox 4.2 has landed, And it brings with it a nice range of new features and apps. Let's take a closer look.
Easier Theme Customization
PHPFox's theme manager now includes much easier customization and theme management options.

Also, IM chat and Video apps are now available in the AdminCP, thus making management of those apps easier. PHPFox users can find tutorials for enabling these in newly improved PHPFox knowledge base.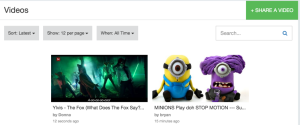 The PHPFox team has also has added Facebook Connect, Google reCAPTCHA and Twemoji to the core product as apps.
More Breaks for Developers & Pricing Adjustment On The Way
A few months back, PHPFox scrapped all developer fees in order to encourage third party app and theme development. With PHPFox 4.2, more benefits have rolled in for those same developers.
PHPFox's Bootstrap theme is now the product's core default theme, a move which PHPFox hopes will help them fully extend their theme system in a more modern way.
Clients and developers are able to make themes based on Bootstrap, while Sync CSS has been integrated into the upgrade process to make it easier for upgrading. Theme changes can also be exported and imported whenever needed.
The PHPFox Apps system has been improved, too. Third party developers that have made V3 modules can now easily make them available as apps for V4 clients.
Plus, PHPFox's new knowledge base is almost complete, with tutorials for developers nearing publication.
As for future updates, PHPFox seem optimistic about what's yet to come:
"We've got more coming folks! This is just the tip of the iceberg. For those that stuck around, you'll be ecstatic with what's coming and in your choice to hold course. For those thinking about purchasing, you might as well do it now as our pricing will be changing as mentioned in earlier blog posts."
I'd consider that as a confirmation and final warning that PHPFox is about to get a little more expensive. So, if you're considering it for your project, I'd act sooner rather than later.
To take PHPFox for a spin, check out their live demo.
To find out more about PHPFox 4.2, check out the official blog announcement.