Prestashop is an industry leader in the ecomerce solutions sector, with over 230,000 stores hosted online. This popular platform completely took over the ecommerce space with the launch of Prestashop Cloud in 2014 and has been thriving ever since.
Prestashop Cloud is the only free, cloud-based ecommerce platform in the world. Yep, that's right, it's free.
So what's the catch?
Whilst I'd love to join the Prestashop Cloud fanclub solely on the basis of its incredible pricing (i.e. the pricing that doesn't exist), I had to suss it out for myself. Read on for my review of the popular ecommerce platform.
The Initial Setup
This was a doddle. To get set up with Prestashop Cloud, you simply have to select the 'cloud' option on the homepage and a window will pop up with 3 sections.
In the first section, you type in your email address and a name for your site. In the second section, you'll be asked to create a domain, select your home country, and select your reason for joining the site. The final section then asks for your first and last name, and a password.
The whole process takes about 60 seconds.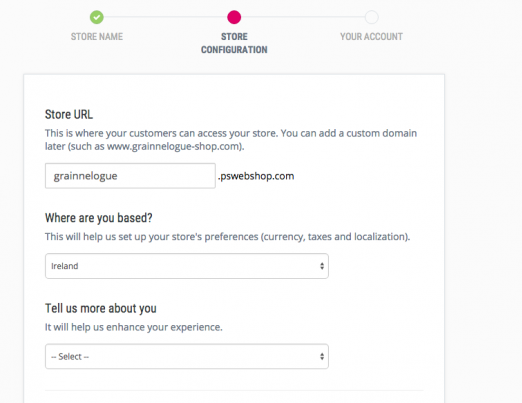 When you've completed this, an email will be sent to your inbox with a link to verify your account. Easy.
Oh, and if you don't want to receive any Prestashop news emails from these guys, remember to untick the little box beside the fine print before confirming your details. I've previously expressed how much that default tick irks me on these sites and I'm sure a few of you feel the same.
The Dashboard
After signing up, you'll be redirected on the admin dashboard. Here, you'll find access to domain configuration, settings, support/help. There is also a link to bring you to the management panel for your online store.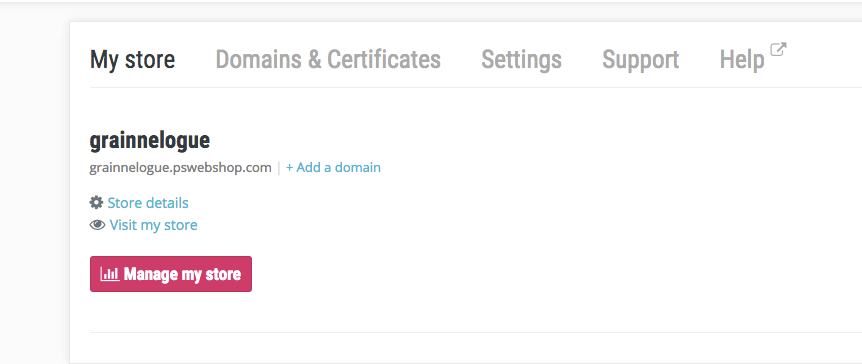 Help/Support
The Help section offers assistance via tickets, and each user is assigned 10 of these for free to start with. If you require more assistance, though, you'll have to pay for it. (aha, catch number 1?).
$179.00 for some customer support? Seriously?
That said, it is a free platform – so I can't get too peeved on this one.
With the support that's available on the website itself, you may not need to access this extra help at all. There's plenty of information available on the Prestashop Cloud forums (probably because no-one else wants to pay for it either).
The forums are packed with insider info and tips and definitely worth a look before you send off a ticket, as you'll probably find the answer to your query there instead.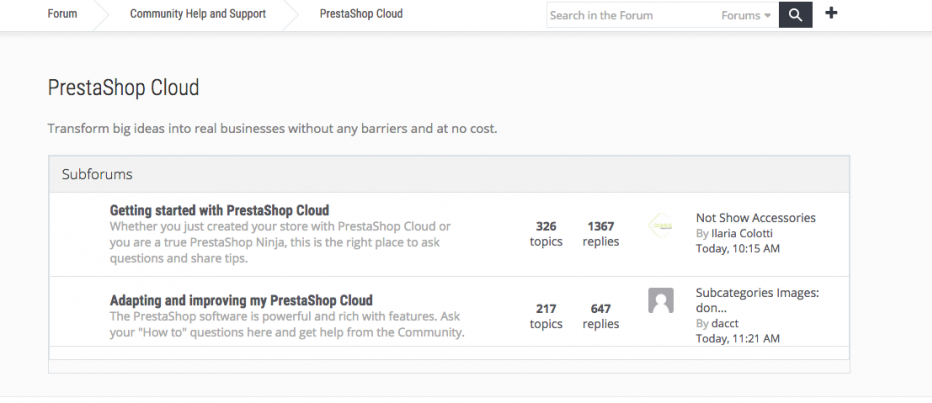 The Back Office
To get to this part of the platform, you have to select the 'Manage My Store' tab and log-in again to be brought to the back office of your site. I'm not sure why you have to log-in again, though, seems a bit pointless and time-consuming. Once you get there, however, you'll be impressed enough to get over it.
In the back office, you'll find the admin panel for each store. The layout here is easy to navigate, sleek, modern, and designed with the user in mind.
The first thing that pops up here is the PrestaShop tour, which has 4 sections to work through: Customize Your Shop, Add Products, Configure Payments, and Choose Your Shipping Options. It stays on the page every time you log in until you complete it. I'll come back to these later.

The top menu and left-hand sidebar both provide easy access to all of the tools you need to manage your site, from latest orders to registrations, and the activity overview section is unbelievably comprehensive – considering that it's free.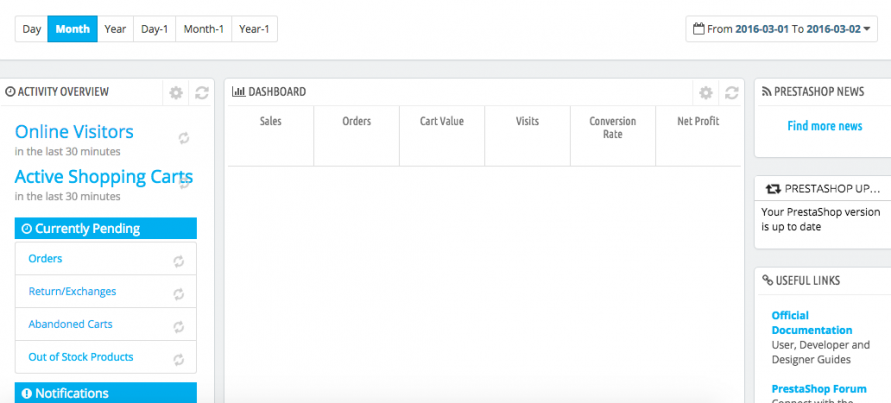 Here, you can monitor online visitors, orders, visits, product reviews, and many more relevant notifications/statistics.
Customizing Your Store
This is Step 1 in the Prestashop tour. Once you click the link, you'll be brought to page where you can adjust the settings on your default theme or choose a new theme for your store.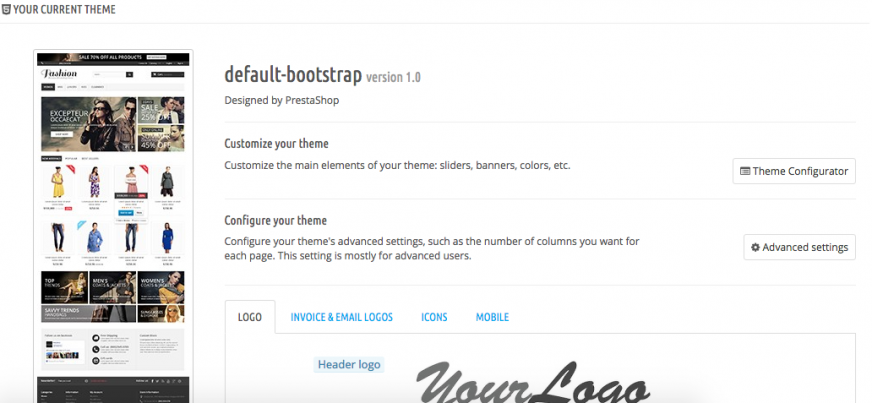 Clicking on the 'Theme Configurator' will present you with a number of options, depending on the theme you're using.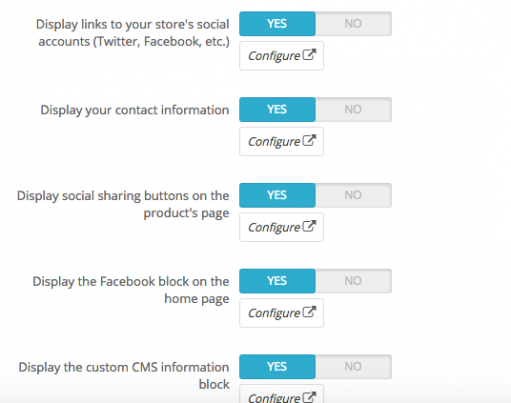 If you want a new theme, it'll cost you – as these fall under the 'add ons' section in Prestashop. These add ons are basically how the site makes money, since there's no sign up fee. However, there's still a lot you can do to make the default theme 'your own' and it is free after all.
Adding Products
To get here, go to the 'click access' menu on select 'new product'. This process can be as simple or as technical as you want it to be. The left side of the screen, there are a range of options including SEO, attachments, and more.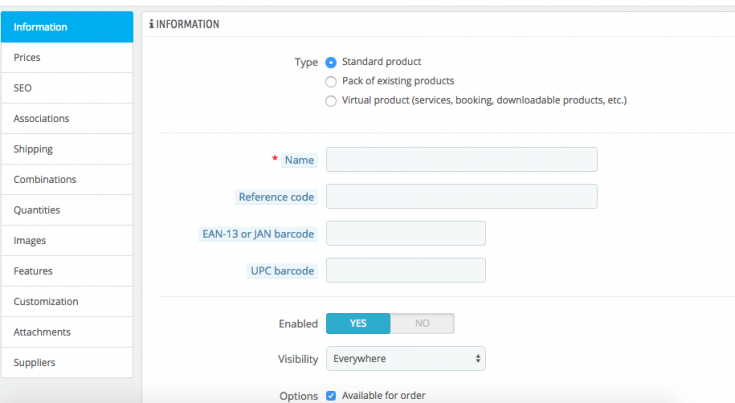 Configure Payments
Prestashop's official payment solution is High Pay, and the 2 other default options are Bank Wire and Payment by check. Prestashop also supports and recommends further options such as Skrill, Realex, and Cash on delivery.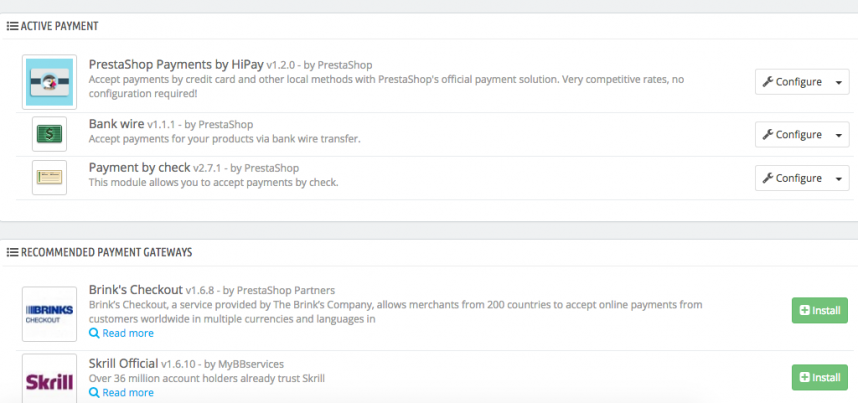 Shipping Options
Prestashop allows users to set up different shipping carriers. Users can also set default carriers, handling charges, and configure where order free shipping value starts at.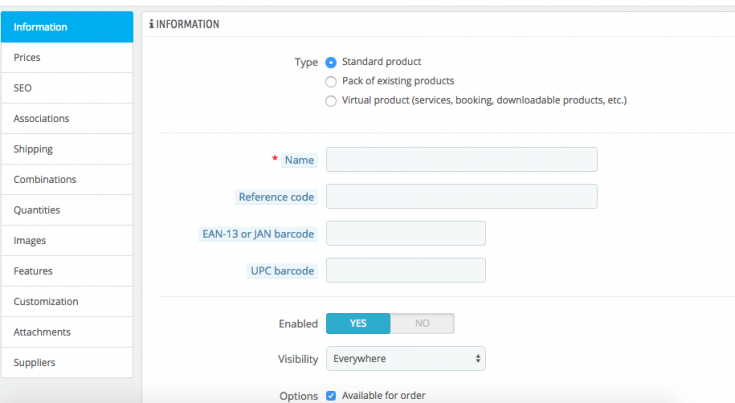 To organize taxes, you have to head over to the 'Localisation' page and go to 'Taxes', where you can add the name of the tax and give it a percentage value. To determine 'Tax Rules', you have to go to select this in the sidebar and go to a third page. It's not a massive hassle, but it's all a bit messy and could be laid out more intuitively.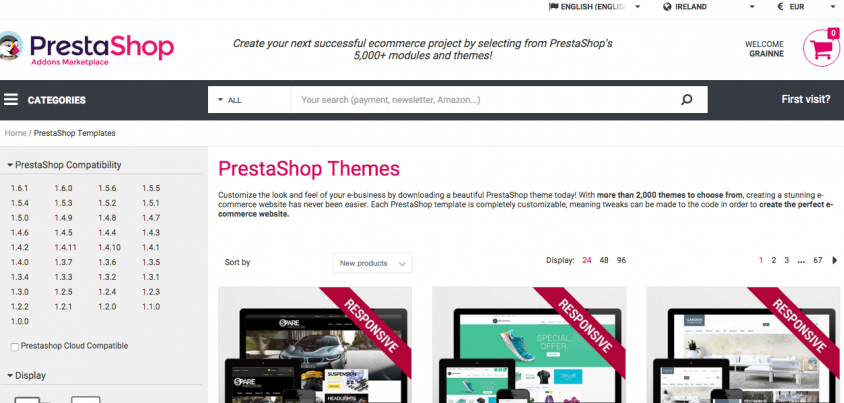 Front Office
Once you're finished in the back office of the site, you can head over to the front office to preview the fruits of your labor. Here, you can also adjust your theme color and the fonts used in your store. There could be more done with this section, but it works fine as a simple preview tool for now.
PrestaShop Apps and Addons
This is the main revenue stream for Prestashop and there are bucket loads of apps and extensions to choose from. If you're the type to pay $10 for a flight on a budget airline, and then spend 5 times that on 'in-flight purchases', then you'll probably end up with a few PrestaShop addons in your pocket too. And I don't blame you – sometimes you just need to indulge and Prestashop offer a number of tempting online treats.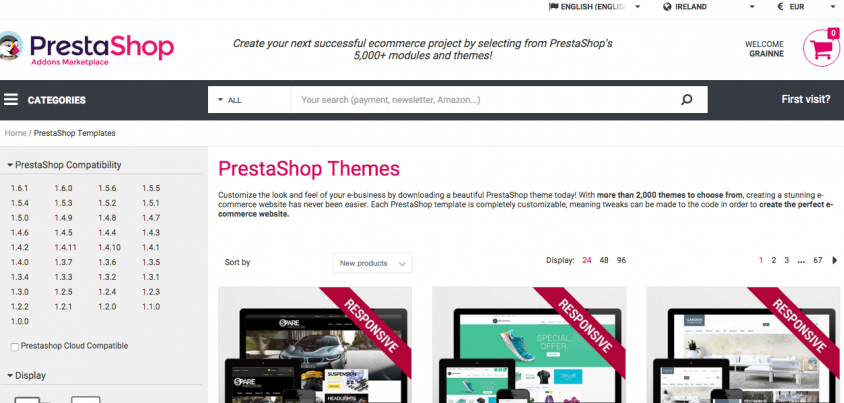 Whether you need help with marketing or web design, Prestashop has your back. You do have to re-register for it though, which is a little annoying. Plus, when there's effort required, you'll probably think twice.
Pros:
Completely free, cloud-based ecommerce platform

Easy to navigate

Extensive customer forums for support

Incredibly comprehensive range of features available including forecasting and analytics

Excellent 'add-on' options
Cons:
Customer Support gets a little pricey after you use up your free allowance

The add-ons are great, but they're paid extras

Front Office section could be utilized more, it's a little bare

Taxes section is a little bothersome to navigate
The Final Verdict
Overall, Prestashop Cloud is a powerful ecommerce platform that outperforms a number of similar platforms on the market at the moment. And, it's free – which makes it a seriously attractive option. It includes all of the core features you'd expect in an ecommerce platform and it throws in a few quality extras too.
Is there a catch? Kind of. The add-ons will set you back a bit and the payment for support is a little steep once you go over your initial 10 tickets. But who's going to complain about that when it's completely free in every other way? Not me.
This is an incredible ecommerce hosting platform with a strong community, an impressive design, and an array of quality features – especially in terms of forecasting and analytics.
Just click here to check it out for yourself.
Have you tried Prestashop Cloud out yet? We would love to hear about your experience in the comments section below.