Salesforce, the CRM powerhouse, has just acquired Demandware, the ecommerce solution trusted by the likes of Addidas, Converse, Panasonic, and others.
This move puts Salesforce right in the middle of the rapidly growing ecommerce market.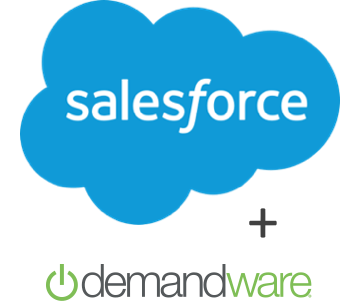 In fact, Salesforce has made a point of citing a Gartner report to illustrate just how well the ecommerce industry is growing. Gartner forecasts that worldwide spending on digital commerce platforms is expected to grow at over 14% annually, reaching $8.544 billion by 2020 (Gartner, Inc. Forecast: Enterprise Software Markets, Worldwide, 2013-2020, 1Q16 Update, March 17, 2016).
Through this purchase, Salesforce's is hoping to extend the company's CRM leadership and position it to capture this multi-billion dollar ecommerce market with their latest product, "Salesforce Commerce Cloud".
"Salesforce Will Be Positioned to Deliver the Future of eCommerce"
The CEO of Salesforce, Marc Benioff,sees this acquisition as a way forward for Salesforce in the commerce industry:
"Demandware is an amazing company—the global cloud leader in the multi-billion dollar digital commerce market.

With Demandware, Salesforce will be well positioned to deliver the future of commerce as part of our Customer Success Platform and create yet another billion dollar cloud."
Meanwhile, Demandware CEO Tom Ebling, is confident that becoming part of Salesforce will help guide Demandware in the right direction:
"Demandware and Salesforce share the same passionate focus on customer success.

Becoming part of Salesforce will accelerate our vision to empower the world's leading brands with the most innovative digital commerce solutions that enable them to connect 1:1 with customers across any channel."
Salesforce Commerce Cloud
By absorbing Demandware, Salesforce has announced Salesforce Commerce Cloud; which we're hoping to see before the end of 2016.
According to Salesforce:
"The Salesforce Commerce Cloud will be an integral part of Salesforce's Customer Success Platform, creating opportunities for companies to connect with their customers in entirely new ways.

Salesforce customers will have access to the industry's leading enterprise cloud commerce platform, and Demandware's customers will be able to leverage Salesforce's leading sales, service, marketing, communities, analytics, IoT and platform solutions to deliver a more comprehensive, personalized consumer experience."
For more information on the technicalities surrounding the sale itself, check out Salesforce's official announcement.
And as usual, be sure to check out the Salesforce hub on our CRM directory.