Pardot, the B2B marketing automation system from Salesforce, has just received a noteworthy update aimed primarily at helping sales reps.

The popular marketing platform made it on to our list of top eight enterprise marketing automation systems. It encompasses email marketing, lead generation, lead management, ROI reporting, sales intelligence, and more.
Salesforce Engage for Gmail & Faster Data Syncing
Extended Gmail functionality has come to Salesforce Engage, with the aim of empowering sales reps.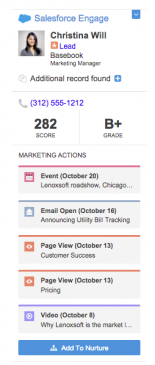 Engage for Gmail is the first marketing automation plug-in built specifically for sales reps, empowering them to send emails directly from Gmail. In addition, the side panel, shown above, displays detailed lead information directly within Gmail.
Here's a further summary of what's new:
Gain a holistic view of prospects, including name, company, title, address, phone number, whether the a record is a lead, contact, or prospect and their corresponding Pardot lead score and grade directly within Gmail.

Add and remove the prospect to and from Pardot lead nurturing campaigns with one click using the "Add to Nurture" button. If a sales rep clicks to add a recipient to a nurture campaign and that prospect does not exist in Pardot, a prospect record will be automatically created and assigned to the user.

Send and monitor one-to-one sales emails from Gmail in one click.

Log all Gmail email interactions–including clicks and opens within Salesforce.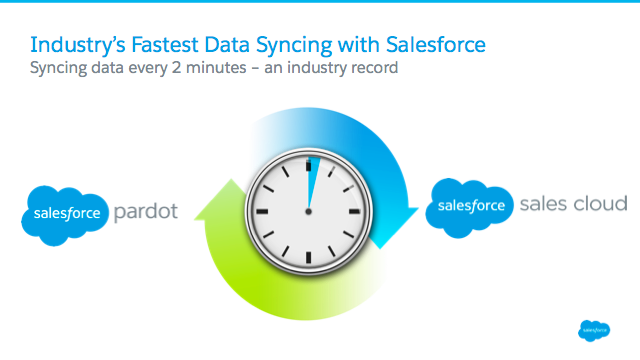 Salesforce has also addressed data syncing's need for speed.
With the Pardot update, they claim that the platform now boasts the fastest data sync with Salesforce out of any marketing automation tool on the market. Impressively, it can automatically checks for changes every two minutes.
Data Visualizations & Report Customizations
A deeper integration with Salesforce is also gives users new ways to visualize data on a variety of different reports.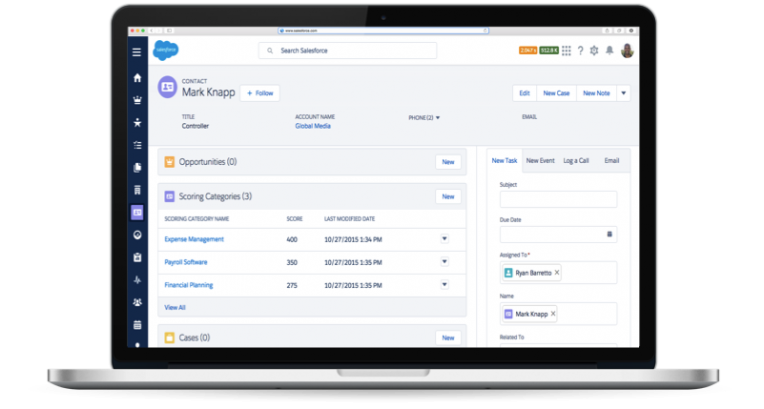 For example, the new visitors report displays reporting of anonymous visitors and identified prospects to the website. And new multi-score lead scoring, shown above, allows marketers and sales reps to discover which products a prospect is most likely to buy at any moment.
These revamped reporting capabilities extent the existing functionality of Pardot's reporting features, empowering marketers to:
Tie each closed deal back to its original source with closed-loop reporting.

Match website visitor behavior and Pardot prospect data using the Google Analytics Connector.

Get a high-level view of sales cycle health.

Monitor the performance of paid search campaigns.

Gain greater insight into email open rates, deliverability rates, email client and browser usage, read rates and more.
So, all in all, it's a pretty robust update for Pardot.
More information about this Pardot update can be found on the Salesforce blog.