Every athlete says their team will win before the game, and yet afterwards half of them are sure to be wrong. 
It's hard to trust someone gloating about their own product, so we're a bit skeptical to believe Selectica CEO Blaine Mathieu when he describes the sixth version of their Contract Lifecycle Management system as "CMS on steroids."  Still, their newest installment boasts an array of advanced features, so is polite modesty really necessary? 
Everything Contractual
Selectica CLM spans the entire lifecycle of a contract, from birth to death to rebirth (renewal), and is said to simplify all the stages in between.  It categorizes its service into nine key stages:  Contract Request, Authoring, Negotiaion, Approval, Execution, Obligations Management, Amendment, Audit & Reporting, and Renewal.  It can be configured to any platform you're already using, with full mobile accessibility on iPhone, iPad, and Android devices.  Plus, due to the sensitive nature of contracts, each document is protected with an industry-grade 128-bit encryption, and is backed up and recoverable if need be. 
That all sounds luxurious, but do you really need a management system for your contracts?  Selectica seems to think so, and they make some good arguments.  They claim that their CLM will "turn potential revenue leaks into revenue generators," and that its implementation will "accelerate sales cycles, create opportunities, mitigate risk and prevent revenue loss through a streamlined process that's fast and compliant."  It makes sense:  some of the most important, strategic business decisions are made surrounding contracts.  Better organization means you're better informed, and if you're better informed, you make better decisions.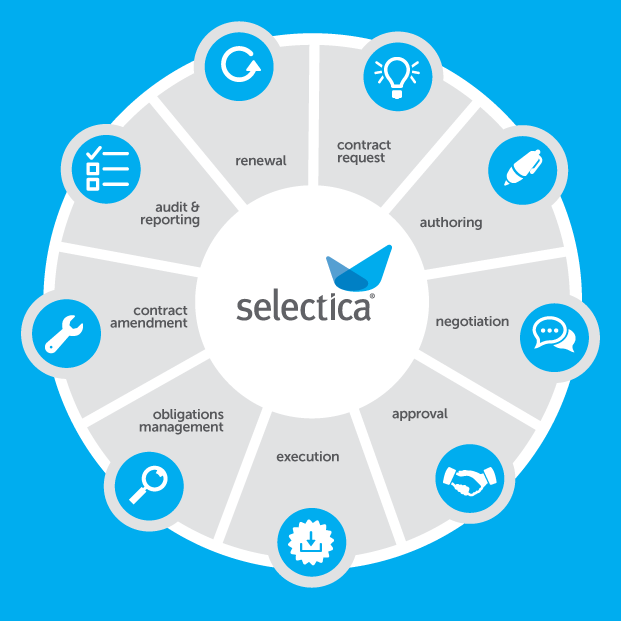 By the Numbers
The statistics of Selectica CLM are indeed impressive: a 1-2% increase of revenue, a 50% reduction in contract cycle times, a 25% increase in contract renewal rates, a 55% improvement in contract compliance.  Plus, these numbers come from Forrester and Aberdeen, so they're a bit more trustworthy than the brags of the product's CEO.  It seems that more and more companies are coming to understand the importance of organizing contracts. 
New Additions
And what does version 6 bring to the table that makes the CEO so excited?  Most of the new features involve better integration with other platforms, namely DocuSign, Salesforce, and Microsoft Office.  Further, users can now create contracts using a variety of templates, and examine documents simultaneously, which is a great advantage if you need to compare information or need to check-in a lot of documents at the same time.  Aside from these, the new version offers faster navigation and improved user interface. 
Bottom Line  
Organization and compartmentalization can give your business a subtle edge, and today businesses need every advantage they can get.  That's why we're supporters of Selectica, whether or not it's as great as Mathieu says. 
But if you're still skeptical about whether Selectica CLM is right for you, why not try it yourself?  Selectica is offering a demo version of their product, a bold move to back up a bold claim.  See for yourself if it lives up to its own hype.