SEO Samba have recently upgraded their CMS/Website builder, SEOToaster and we thought we'd take a look at their new release and examine the improvements. We previously shared our experiences with their tool back in 2010 and you can read that review here.
To get started, the installation process is pretty straight forward and within a few clicks, you'll be up and running with the latest version of SEOToaster CMS.
Once installed, you'll be greeted with a page that contains a number of steps you can take to get started. The first step is shown below:
I have a couple of issues with the way things are done with this page. First off, I noticed a spelling error with the very first paragraph on the page. As some of you know from reading my previous reviews, I've got serious issues with spelling mistakes. The issues are twofold. First, it shows poor quality control and as a result, lowers my confidence in the code and the rest of the product. Second, it's unprofessional. The word that's misspelled for those who can't tell is "Successfully" (note that it's missing the third S). To find a mistake this early on is not reassuring at all.
The second issue is that I am given a rather poorly highlighted error with no instructions on how to resolve it. The error, you can see in the screenshot above, is "can not create widcard plugin. You have to install the proper loader".  A bit vague isn't it?
I checked their website (seotoaster.com) to try to find a solution to the error after Google returned no results and could not find the support section for SEOToaster CMS. I ended up scrolling to the footer of their main website, where I found a link to the forums. Assuming this would be the place to look,  I searched the forums and received no results. Frustrated, I went back to the main page and again, scrolled down to the footer to find "Q & A Support" and clicked on it. I searched for the term "widcard" and finally found an article telling me I needed the IONCube Loader that the installation routine had told me was "optional" (see below):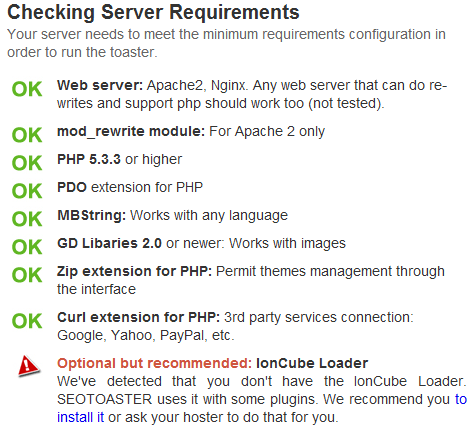 As a developer, if you are going to mark something as optional, tell the user what they will lose by not installing it so that they can make an educated decision or link to an article explaining what types of issues they will encounter when not choosing to meet the optional requirement. This will eliminate the confusion later on. Further to this, if it's going to create a confusing issue during the install routine, you are probably better off making it mandatory before proceeding.
With the installation complete, I moved to the theme selection piece, which indicates that I can choose from one of their themes, download it, then reupload it back to the system and select it as a starting point. Following the instructions, I went ahead and downloaded the insurance theme thinking it was a decent starting point. To my chagrin, after uploading it and selecting it, I can't seem to get past the theme screen. Clicking done appears to do nothing and the system just sits there on the theme selection page.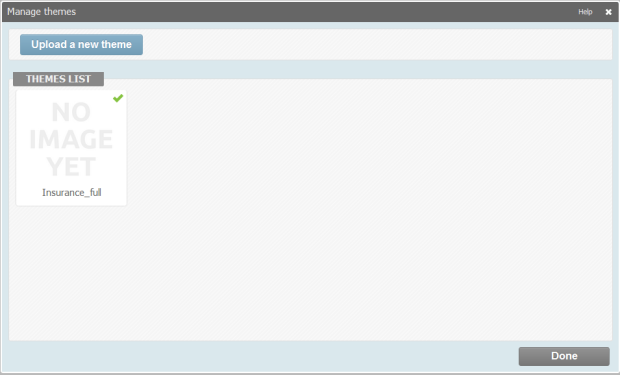 Also, oddly, it doesn't appear to show a preview of the theme either which I found rather odd.  Given that I was unable to move past the screen, I clicked the X in the top right of the window above and was greeted with a framework of the theme but not the actual theme itself: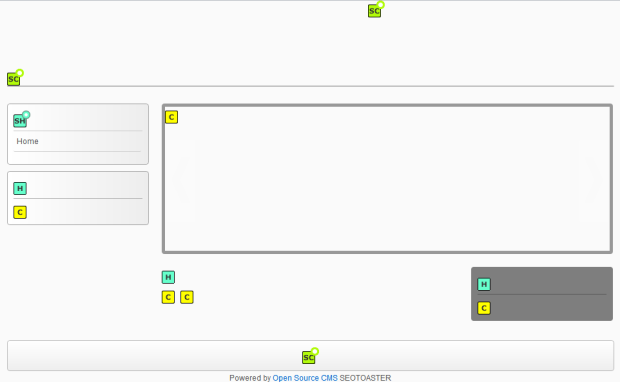 While it serves as a structurally usable template, it defeats the purpose of having a theme preset with sample data and colors. While I am able to enter content into any of these boxes without issue and can certainly make due, we're dealing with issue after issue so far and it's not making the process easy or giving me much confidence in how the experience will be for the end user.
Obviously, the installation process needs a bit of work but the bulk of the business SEO Samba does is with hosted installations which eliminates the need for an installation routine so we'll cut them a bit of slack for the issues I've encountered today.
Once installed, however, it's time to get to the meat of the system which is the adding and management of content. SEO Toaster uses inline content editing and to get started, you simply click in an editable area (defined by the small colored icon in the screenshot above) and the editor launches.
Here's how the editor looks: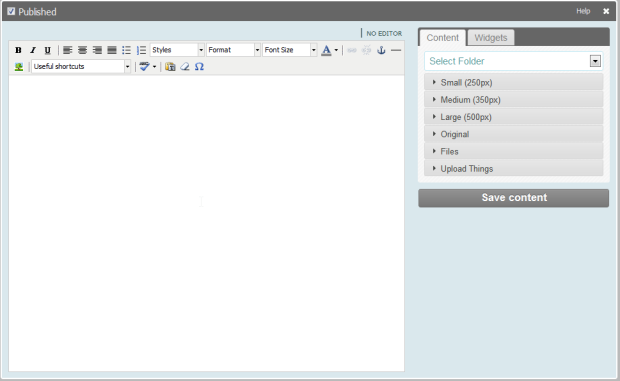 Obviously, it can handle the majority of typical formatting that you'd come to expect from a standard WYSIWYG editor but it also can be used to insert other content and widgets. To add an RSS widget to a content area for example, you simple fill out the widget details and click apply.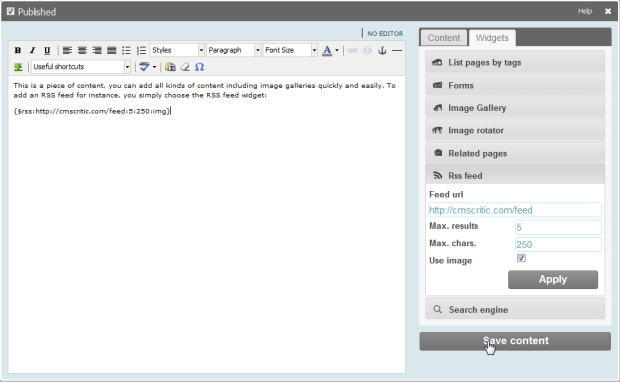 Once you've got the widget details entered, click Save Content and you'll see the end result: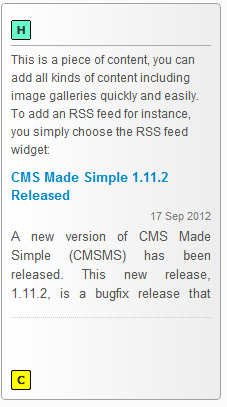 A cool thing about this RSS feed widget is that it cycles the content with a slider motion so that the most recent 5 items from the RSS feed are each displayed. It's hard to show via a screenshot but just trust me that it looks cool, ok? ?
Headers are defined by an H icon and clicking on those gives you a simple text entry box that you can type your header into:

Once you click save, it's instantly updated. Pretty simple isn't it?
The bulk of the work you'll do with SEO Toaster is via the inline content editor or the collapsible menu that floats to the right of the screen when logged in. It looks like this:

From this menu, you can create pages, edit page properties, organize them and much more. When editing the page properties, you'll get the following options: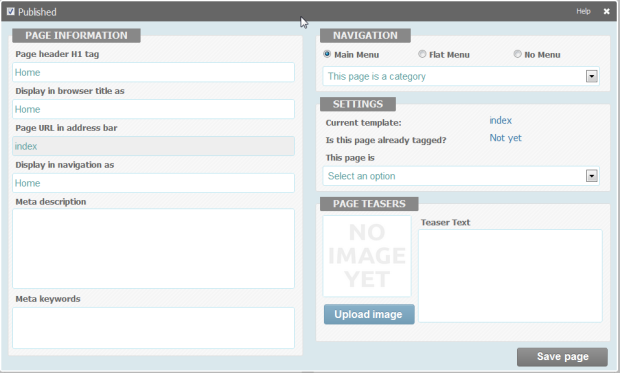 Adding media and images is quick and easy. I particularly enjoyed the naming of the menu items under the media menu: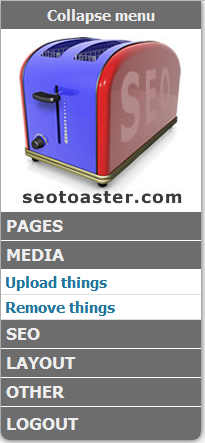 To add images, simply click on the aptly named "Upload things" menu item and you'll be presented with the following image upload window: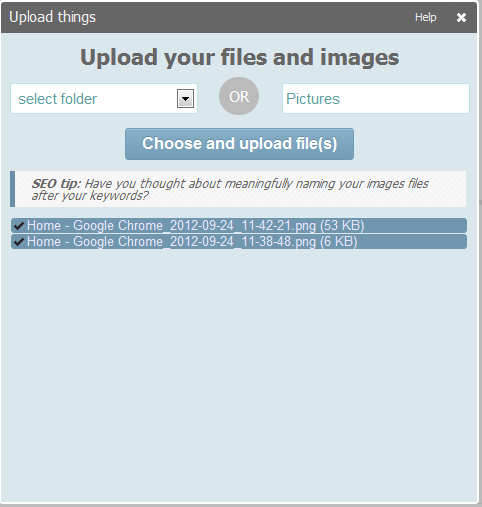 From here, you would either select a destination folder for your images, or create a new one and choose the files to upload. The whole process is quite quick and took a few seconds. Now, to add any of the images you've just uploaded to a content area, simply click and launch the inline content editor, select your folder, the size of image you want to insert and the image itself from the preview thumbnail and you are done.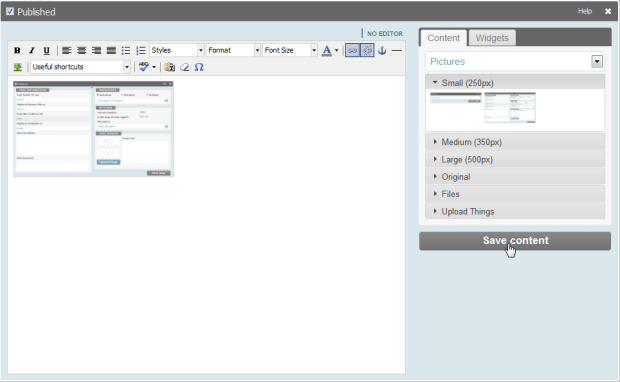 As you can see, adding content and widgets to come up with a unique design is very simple and straight forward and definitely where SEO Toaster shines. Working with the system, I encountered no issues or speed concerns and everything was snappy and worked well.
In the SEO section of the menu you are able to do a number of things including editing your robots.txt file, adding 301 redirects, creating deeplinks and sculpting.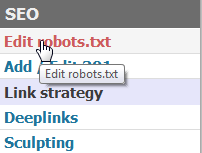 You can learn more about the various SEO options available and how they work from here: http://www.seotoaster.com/seo-website-design.html. They are a bit advanced for me to go through in this review but I will say that there are plenty of great options that can be integrated with SEO Toaster and they are well implemented.
If you are a developer or a coder, you'll be happy to know that SEO Toaster provides full editing functionality for your templates and CSS including line numbering. To edit, simply click on the layout section and choose either edit template or edit CSS.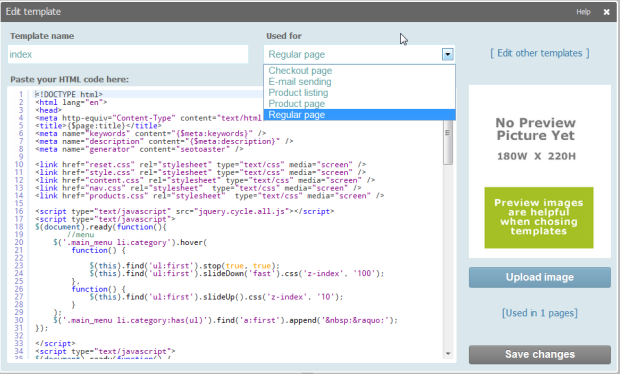 Under the "Other" menu item, you can change basic configuration settings including the default media sizes, email settings and more.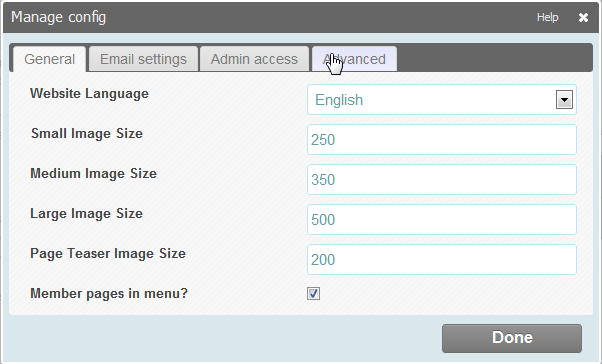 Perhaps one of the best features that potential users will be interested in hearing about are the plugins that SEO Toaster has available. Under the plugins menu, you'll be presented with a good number of great plugins that help extend the functionality of the system such as: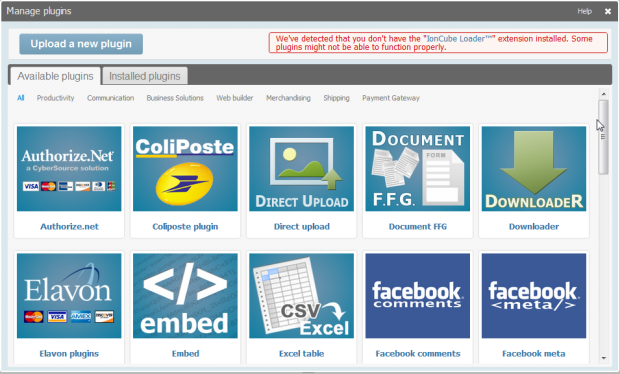 You'll note that on this page, the system does actually warn you about the IonCube Loader not being installed. For most people, you'll want to either ensure it's installed or use their hosted service. For this review, installing the loader wasn't something that could be done quickly and easily so I chose to skip it. As you can see, there are some pretty amazing plugins available including a variety of payment modules for eCommerce use. This is great news for those looking to use the system to create a store or sales page. There is also an eCommerce version of SEO Toaster coming soon which will likely implement things much better but for the interim, there are definitely some options.
Not all of these plugins are free, some are available on a month to month payment basis or for a onetime fee but hey, a company has to make money somewhere and it's good to see there are a number of options to choose from, including how to pay.
Overall, SEO Toaster is a pretty simply and straight forward CMS. I'd almost prefer to call it a website builder but since you can download it and host it locally, it's kind of a blend between the two. Installation process aside, it's easy to use, has a slick and simple interface that even the most inexperienced user could get used to within a few minutes and offers plenty of ways to extend the functionality of your site.
If you are in the market for a simple to use CMS that makes getting a page online quick and easy, SEO Toaster just might be something to consider. You can learn more at their website: SEO Toaster