SetSeed 8 adds an all-new interface with improved mobile experience and new APIs that allow web designers and agencies to use SetSeed to power an own-branded website builder product.
SetSeed was designed by Ben Vallack to solve problems associated with WYSIWYG-based CMSs.
"WYSWIG editors are simply not the right tool for the job. Websites are dynamic and responsive. Unlike print, webpages look different on different devices. Therefore, there can be no 'What You See Is What You Get' because everyone gets something different." Said Ben Vallack, SetSeed's designer and developer. "SetSeed uses an entirely different approach. Content is presented in a single portable list. It's presented without any of the style and layout that is shown on the actual website. This makes it really easy to work with your content in a way that works for the modern web."
Several APIs are also included with SetSeed 8 that for the first time allow SetSeed CMS to be used as a website builder.
More and more end-users are looking for a turnkey website builder product instead of shelling out for a bespoke website. As a result, web designers and agencies are looking to cash-in on this trend by offering their own website builder solution. Up until now, creating a website builder has been an extremely complex process, often requiring complete custom development to achieve. SetSeed makes it possible for web designers and agencies to launch their own website builder with very little time or cost investment.
SetSeed 8's new user interface is designed to welcome beginners from the start.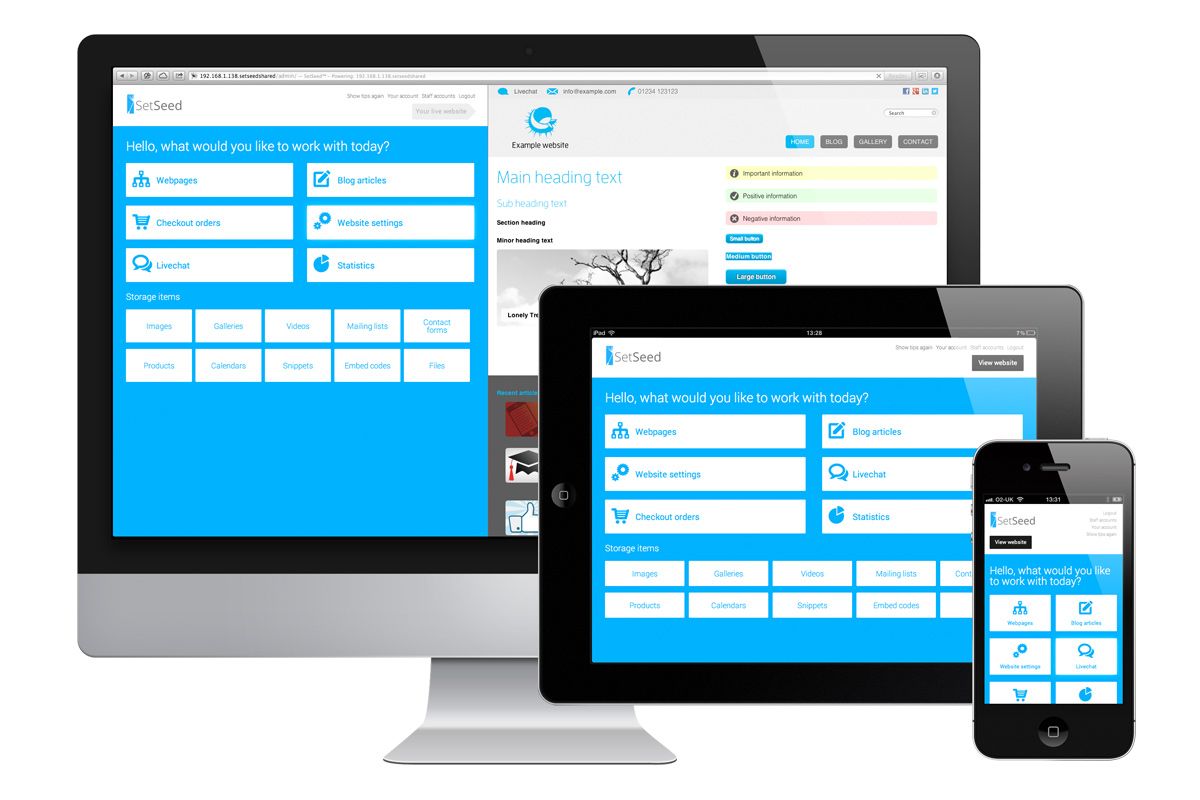 The new side-by-side live preview system clarifies and builds on SetSeed's beyond-WYSIWYG approach and allows all dynamic content to be seen in context on the webpage. Drag-and-drop an image, contact form, gallery or product into the content 'blueprint' and see it in the live preview straight away.
"Now that SetSeed 8 can be used as an automated website builder, it's crucial that new users can start using SetSeed to manage their content without needing any training." said Ben. "Content management for a modern, dynamic website can be very complex. But SetSeed's simple concept of Storage and Webpages makes it easy to grasp – even for novices".
SetSeed 8 also brings many improvements to the experience of editing content on mobile devices and tablets. Other CMSs often only offer feature-limited stand-alone apps to allow content management on the go. SetSeed CMS is a 'responsive' web application that runs just as well on a small touch-screen device as it does on a large mouse-based desktop. This means end-users can enjoy the full SetSeed CMS feature-set wherever they are.
Visit setseed.com to learn more about what's available with SetSeed 8.